Agents who know how to recognize, respond, and adapt to changing markets are the ones who outlast the competition. With inventory and interest rates at an all-time low, you should be adjusting what you say on the phone to land appointments and take listings. These low inventory scripts offer creative ways to craft your conversations and take more listings in today's crazy market!

---
---
*Pro Tip: The "Talk Track" Philosophy from Dan Elzer
Script 1: Just Listed Pattern Disruptor
Script 2: Just Sold Equity Script (Great for newer agents!)
Script 3: Find Five Friends a Day for Future Business
Script 4: Just Sold and to the Point
Script 5: "You can kick me out!" Old Expired Script
Script 6: Authentic FSBO Voicemail Dialogue (for a 50% Callback Rate!)
Script 7: Short Sale Script from Nicole Espinosa
---
*Pro Tip: The "Talk Track" Philosophy from Dan Elzer 
Before we dive into scripts, let's talk strategy. Even the best prospecting agents in the industry get knocked off course when the conversation doesn't go exactly the way they expect it to. Why? Because they're so set on following their scripts that they forget to have a flexible, authentic conversation. So rather than rigidly following scripts word-for-word, Dan Elzer encourages agents to follow this "talk track" philosophy on your calls: 
Start off the conversation by following a script or dialogue. 

Listen

to your contact's response(s).

Use your skills, resources, and other scripts to guide the conversation in a valuable direction for your contacts.
Keep in mind, we're not recommending that you abandon your scripts altogether. Scripts are carefully crafted the way they are for good reasons, but following them too rigidly may close doors that might otherwise lead to amazing opportunities. 
So even though this blog is still full of "scripts," keep Dan Elzer's talk track philosophy in mind while you put these low inventory scripts into action.
---
Script 1: Just Listed Pattern Disruptor
We're all familiar with this classic just listed script: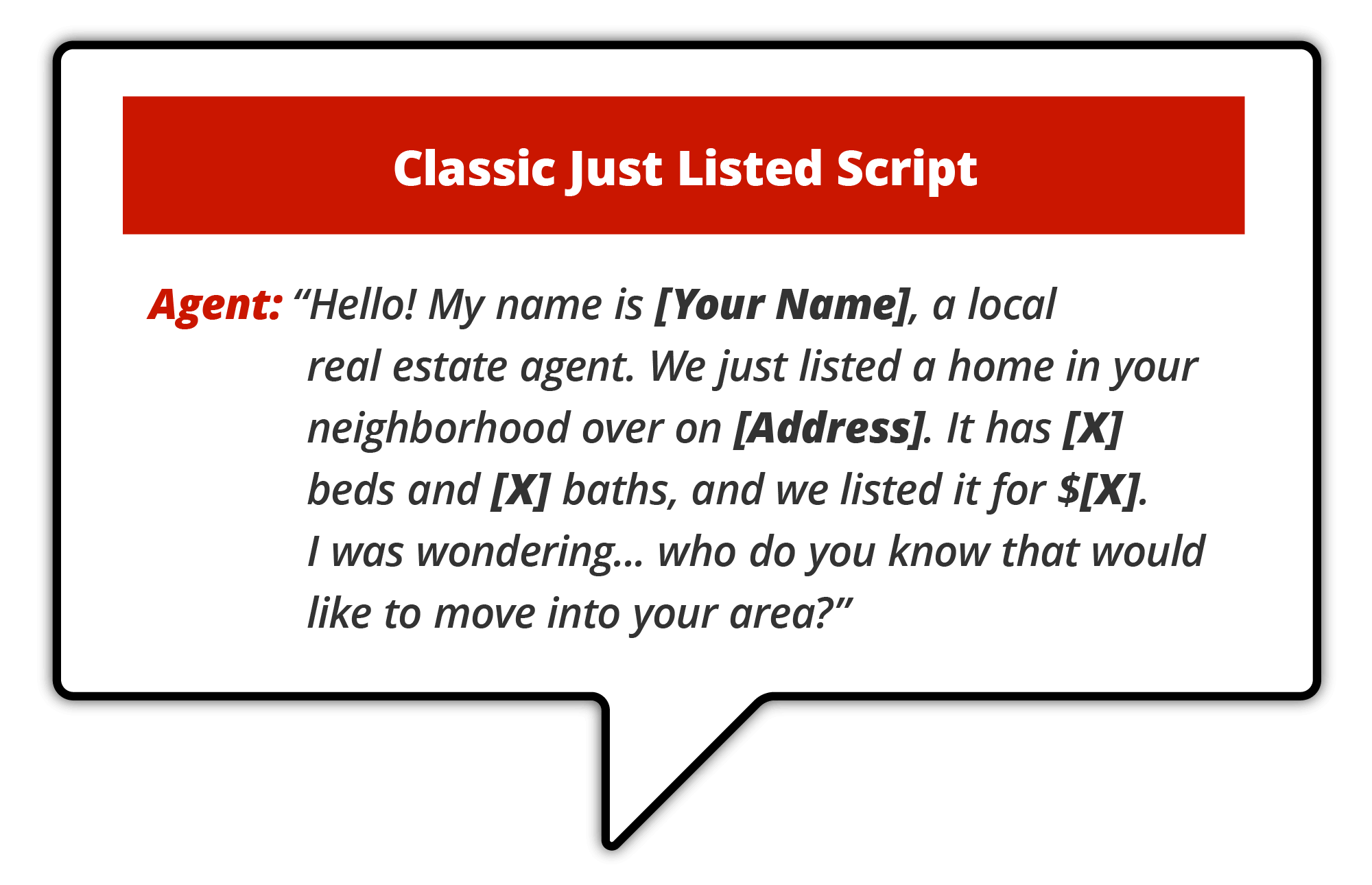 The only problem is, so many agents use a similar just listed script that it's hard to get your word in without getting rejected or hung up on. So find a way to be a pattern disruptor in your area by opening your calls with something different… 
When you're the listing agent, open your calls with: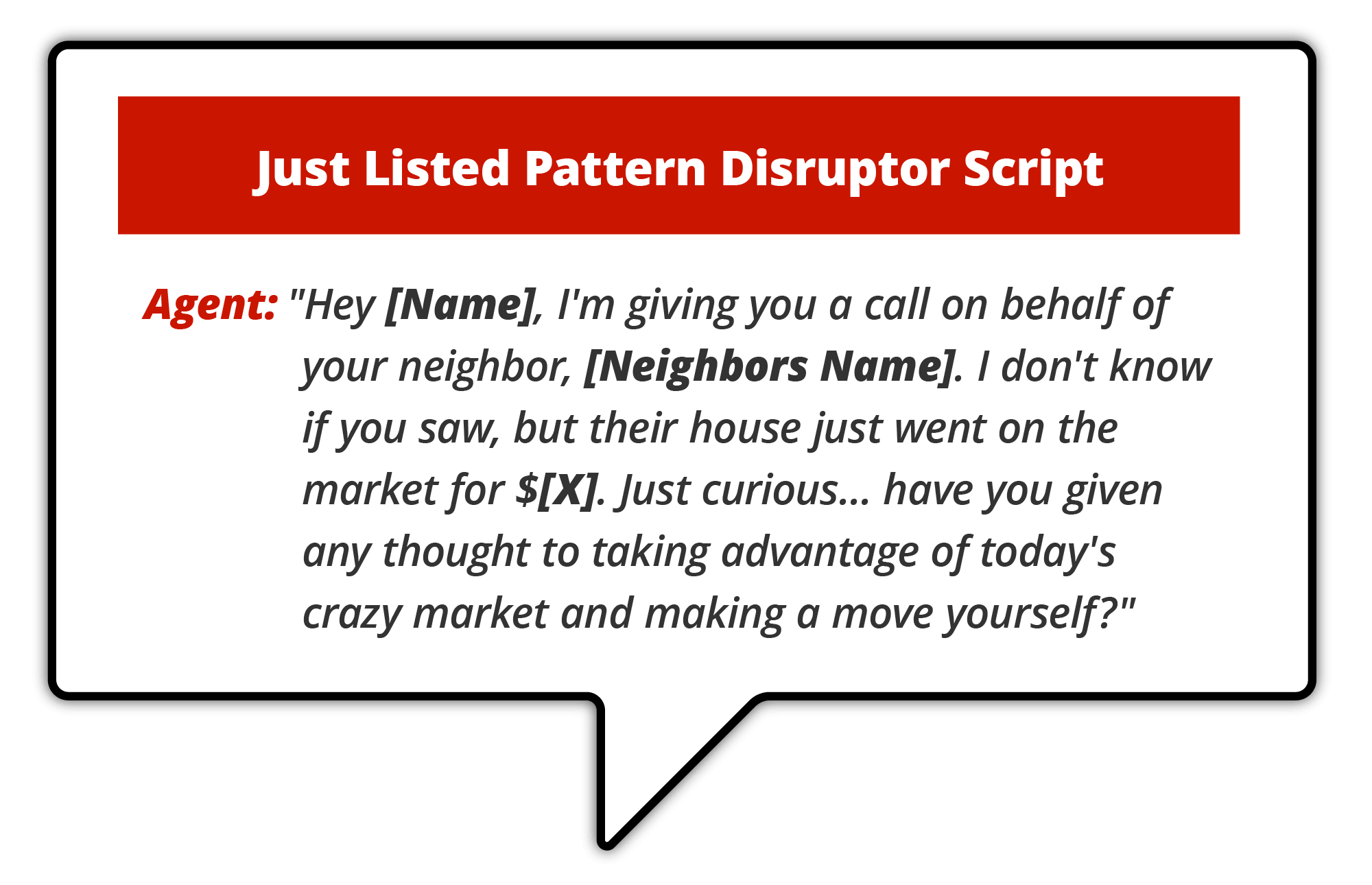 This opening line makes the owner think, "Okay! What does my neighbor want?" which gives you a much better opportunity to deliver your message and get the ball rolling. As the conversation progresses, dig deeper into hot selling topics like potential equity, downsizing/upgrading, or relocating for school or work. This script will help you stand out from other agents by demonstrating how hard you work for each of your clients.  
---
Script 2: Just Sold Equity Script (Great for newer agents!)
We all know the current low inventory market is crazy! But the truth of the matter is… closings still happen every day. You've just got to figure out how to be the agent in the middle of them. For newer agents, this is often easier said than done. So rather than worrying about how to position yourself as an experienced agent, craft your conversations around the homeowner's potential equity. Find a hot neighborhood with lots of recent transactions, then circle prospect the neighborhood working this script into your conversations: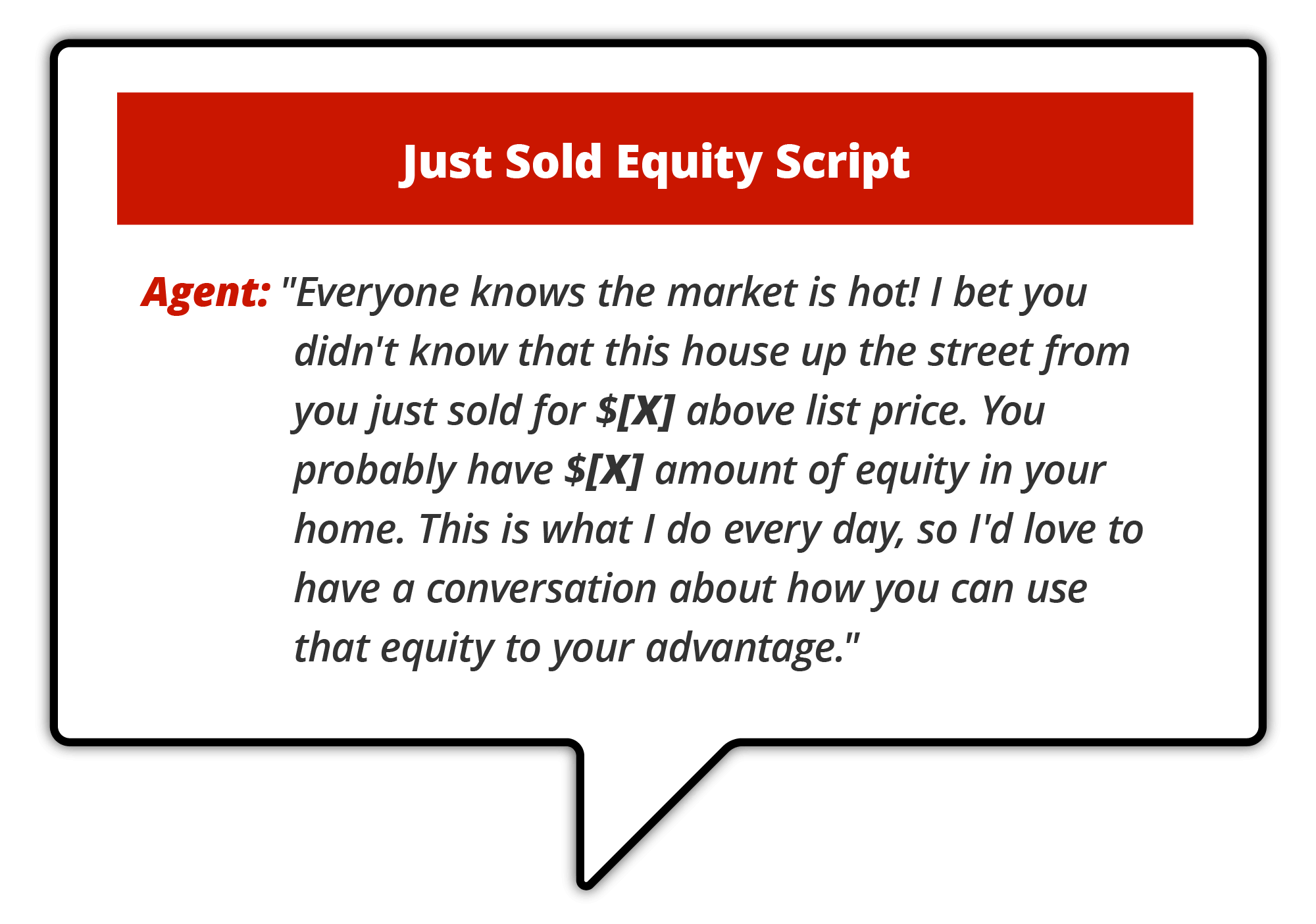 This script demonstrates that you're a proactive agent who has the homeowner's best interests at heart (rather than your own). Be polite, respectful, and establish your legitimacy as a market expert. Most importantly… be consistent! You may not find success on every call (or on every day you prospect), but with the right attitude and enough patience, scripts like this one will pay off big!
*Pro tip: If you're not sure how much equity someone has in their home, use REDX's Financial Insights tool to find figures such as estimated home equity and estimated net worth. 

---
Script 3: Find Five Friends a Day for Future Business
If you're frustrated with the current market (or simply need a break from the same old cold calls), look no further. Here's something every agent should add to their daily routine: make five new friends every day. Why? Because the real estate market may be out of your control, but the future of your business doesn't have to be. 
If you're among the large pool of agents struggling to take listings, it's time to invest in your future. Use REDX GeoLeads™ to call any area with this short, sincere script: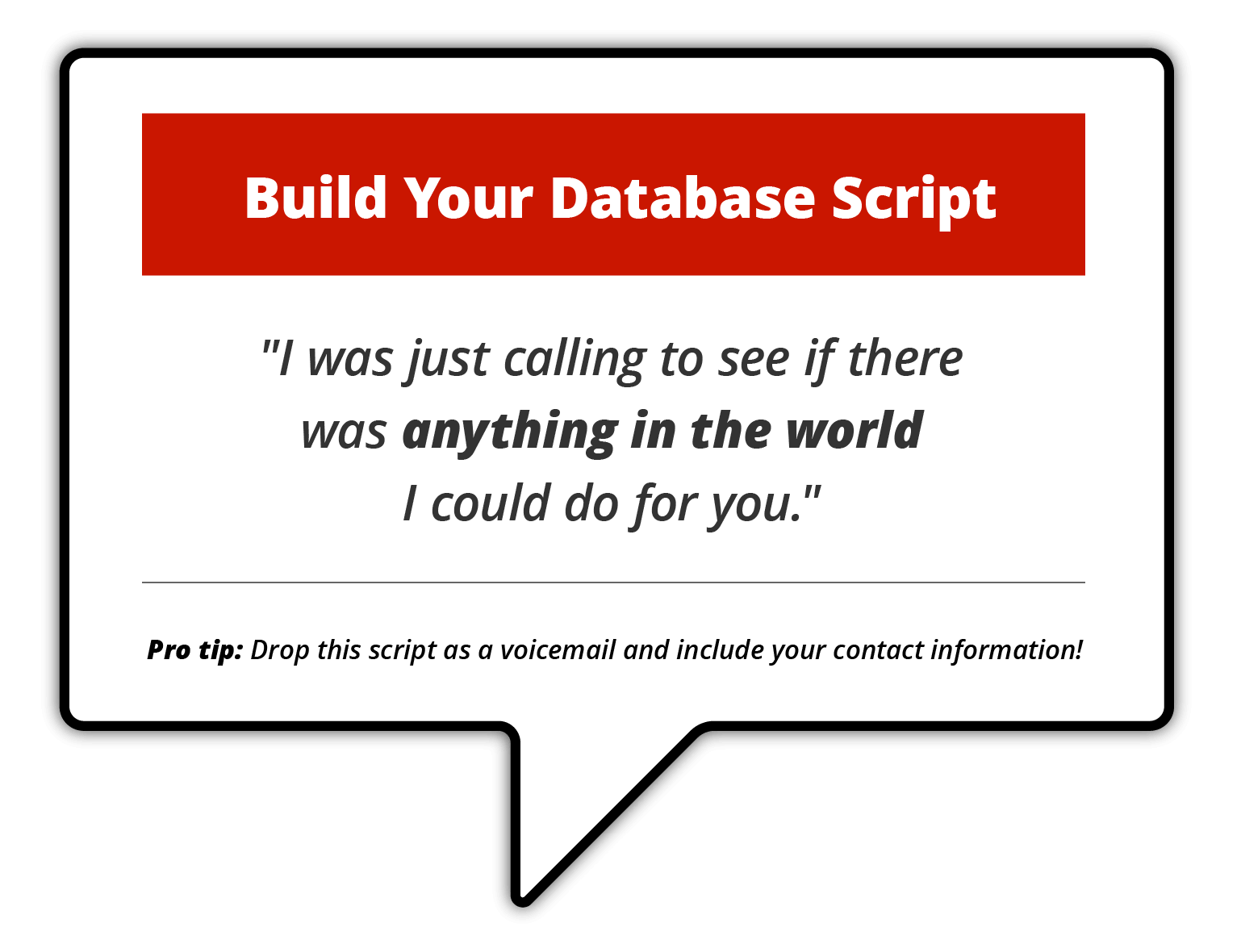 Don't worry about finding buyers or sellers. Just call around, add five new friends to your database every day, and continually offer them genuine help. It's that simple! Follow up with weekly newsletters, quarterly check-in calls (using the same script), and genuine conversations. Eventually, you'll have a robust database of people who know, like, and trust you. In the months and years to come, you'll be flooded with calls and referrals from your ever-expanding sphere of influence.
The best part is, you don't have to worry about calling the wrong people! Befriend anyone and everyone, make sure they always know you're here to help, and the rest will feel like magic. 
---
Script 4: Just Sold and to the Point
Just like this Just Sold script, we'll get right to the point: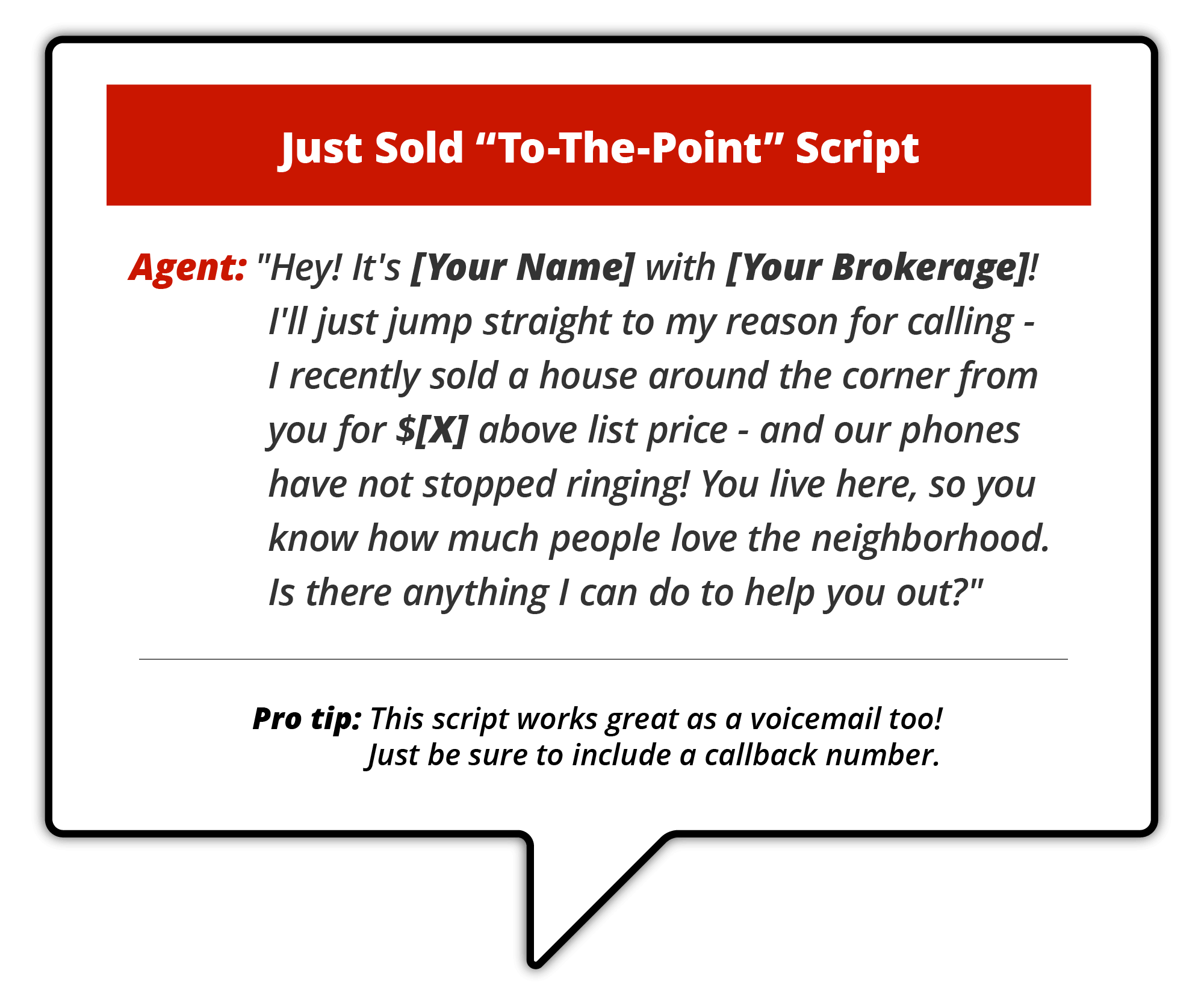 This script immediately legitimizes yourself as a hardworking, active agent in the area. And if they still give you a resounding, "NO!" – don't stress it! You can still offer to provide a free CMA, add them to your database, and go for the listing later. Continue the conversation with this dialogue to position yourself as an agent who's willing to provide value for everyone, no matter what: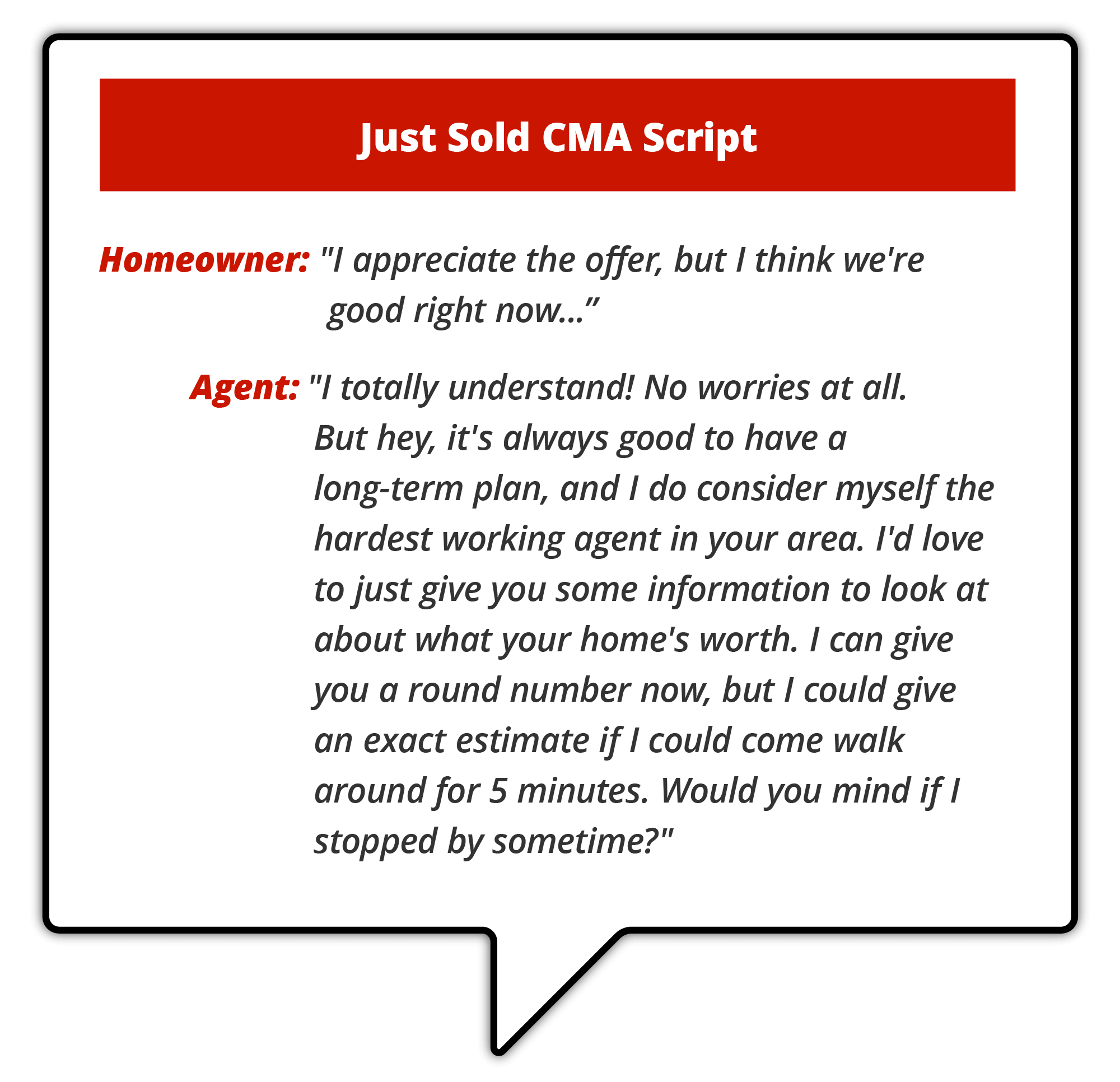 ---

---
Scripts 5: "You can kick me out!" Old Expired Script
One of the best ways to create inventory in today's market is to prospect old expireds. Not only are they more relaxed and less combative than new expireds, but they might not be aware of all the equity they've gained over the last 12-18 months. This means you'll have an easier time starting up a conversation and have more opportunities to help them discover the value in selling. 
Use this script to call old expireds (from 6-24 months ago), and increase your chances of landing the appointment by giving them the power to "kick you out" if they don't like what you have to say: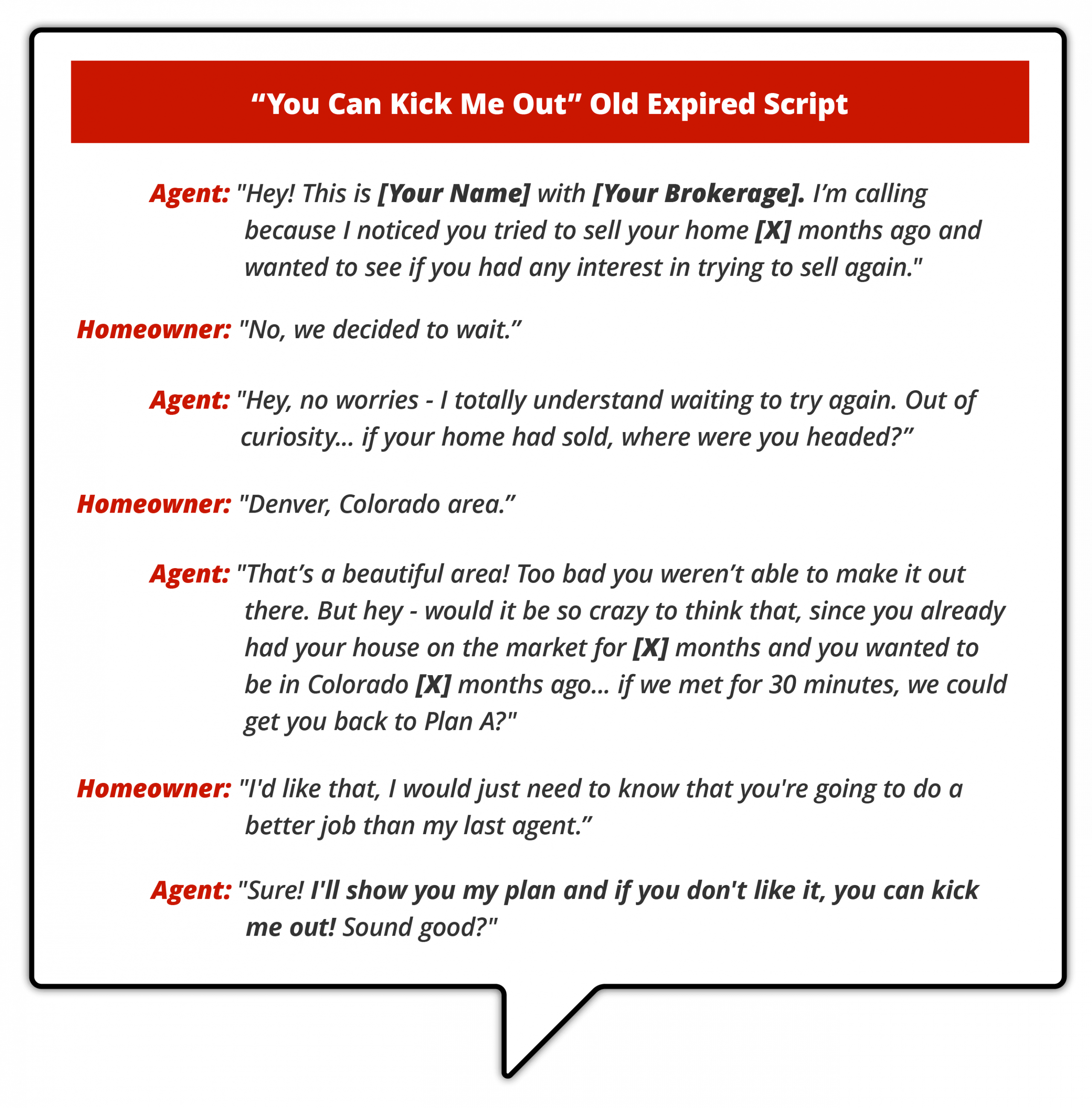 *Pro tip: With REDX Expireds, you can filter expired leads by date to find listings from months and years back (for no additional cost).
---

---
Script 6: Authentic FSBO Voicemail Dialogue (for a 50% Callback Rate!)
Do you leave voicemail messages when you call for-sale-by-owners? A lot of agents don't because they aren't sure what to say or because they worry it will come across as inauthentic and "salesy." Top coach Darryl Davis offers an alternative solution. He uses this powerful FSBO voicemail message to get as many as 50% of prospects to call him back:
Notice how this voicemail dialogue is in line with Daryll's "power-agent philosophy" of serving rather than selling and coaching rather than closing. This approach to real estate positions you as a genuine professional rather than another sales person who's only committed to a commission. Check out this video of Darryl's delivery in action:
---

---
Script 7: Short Sale Script from Nicole Espinosa
The COVID pandemic led us into a market unlike any we've seen before. With so many mortgages on hold and in forbearance, people have been hesitant to let go of their homes until things settle back down. But what's going to happen when protections are lifted and things get back to normal? No one is totally sure, but a lot of people anticipate a potential spike in foreclosures, which in turn will lead to a spike in pre-foreclosure short sales.
If you've ever worked with a client in pre-foreclosure, you've witnessed first-hand the stress and fear they face while the reality of losing their home looms ever nearer. In other words, they're not putting their home on the market because they want to sell – they're doing it because they have to sell. 
So when working with pre-foreclosures, it's important to stay sensitive to their situation while still offering them the help they need. That's why Nicole Espinosa (aka The Short Sale Queen) uses a dialogue that's straightforward, informative, and reassuring: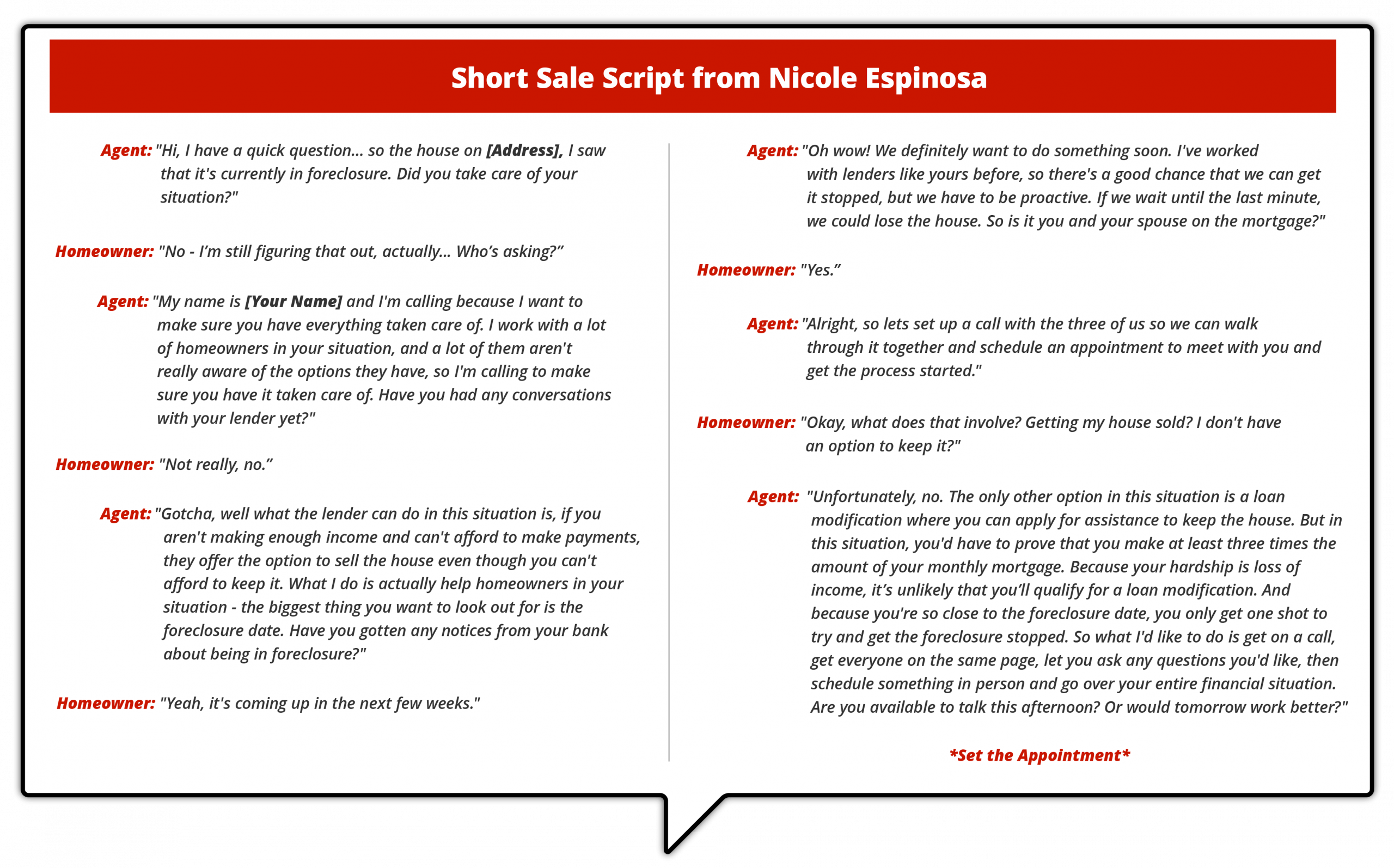 *Click here for full resolution script image*
---
What You Say is Up to You
It's important to study, practice, and internalize these scripts so you can utilize them when you need to. That being said, the key to successful script delivery is sounding natural, authentic, and going with the flow of the conversation. If you need to break from the script to engage with your prospects and discover their needs, go for it! And as you do, approach your calls with the goal to listen and learn first and ask for business second. This way, you'll be able to genuinely engage with your prospects and better understand their needs. 
---
About REDX
REDX is an all-in-one lead data and prospecting platform that helps agents connect with qualified buyers and sellers. The platform includes seller leads, a dialer with up to three lines, social media tools, and a lead management system that simplifies first contact and follow up.
Click here to watch a demo, or call (800) 731-7339 ext. 1 to learn more about Expireds, FSBOs, GeoLeads, FRBOs, Pre Foreclosures, our Power Dialer and Social Media Tools for paid ads and content creation.
REDX maintains the position that all agents should be compliant with state and federal telecom laws – learn more here.