Supercharge your Prospecting Calls with a Power Dialer
In the fast-paced world of real estate, agents need prospecting tools that will help them be more productive and efficient. One tool every agent should have is a Power Dialer. Dialers enable agents to have more conversations in less time so they can focus on what really matters – building relationships and closing deals. 
In this blog, we'll review what Power Dialers are, why you should use one, how to increase contact rates, and how to stay compliant with local calling laws.
1. What is a Power Dialer?
2. Why use a Power Dialer?
3. Which Power Dialer should I choose?
4. How much do Power Dialers cost?
5. How can I maximize my contact rate?
6. How can I ensure safe, ethical prospecting calls?
---
What's a Power Dialer? 
Power Dialers help agents avoid the hassle of tediously dialing numbers by hand. They also manage busy, unanswered, and disconnected calls so you can stay focused and ready to have your next conversation. They include features such as call recording, voicemail drop, call analytics, and CRM integrations to improve an agent's overall productivity.
---
Why use a Power Dialer?
Real estate is a numbers game – the amount of money you make is directly correlated with how many conversations you have. A Power Dialer streamlines your calls by increasing your conversations per hour, eliminating tedious distractions, and helping you make more calls in less time. In fact, a Power Dialer can help double your conversations and contacts. Agents who use a dialer are considered twice as likely to earn $80,000/yr (or more) compared to agents who don't.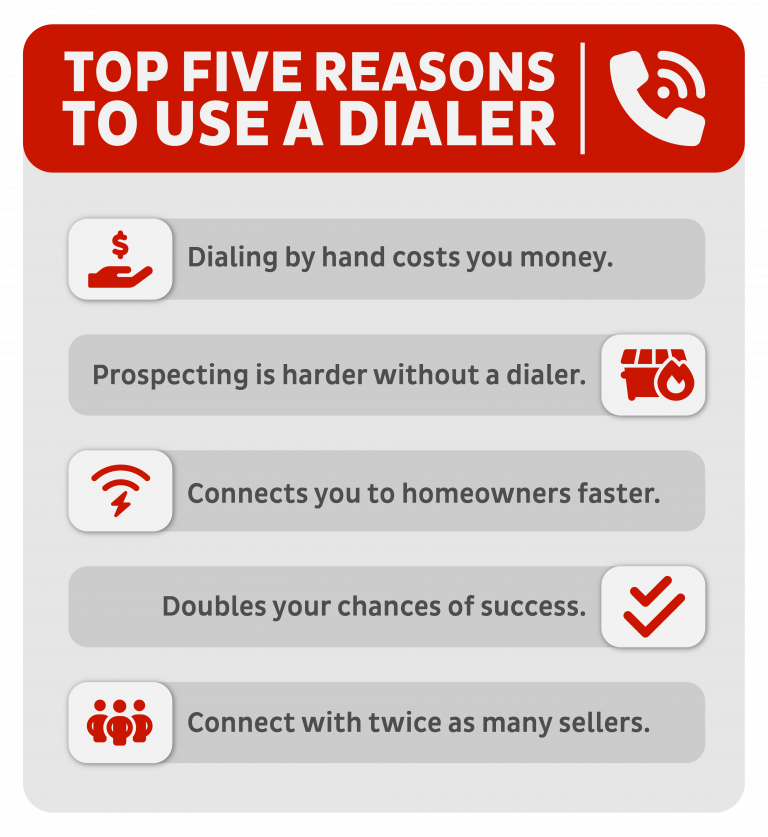 ---
Which Power Dialer should I choose?
There are a lot of different Power Dialers out there, so which one should you choose? We recommend using a dialer that integrates with your lead service provider and matches your prospecting skill level. For example, REDX's Power Dialer is seamlessly integrated with the lead prospecting platform Vortex® so all you have to do is choose your leads and click "Dial" to start calling. And depending on your comfort and experience level, you can dial between 1-3 lines at a time to increase your contact rate.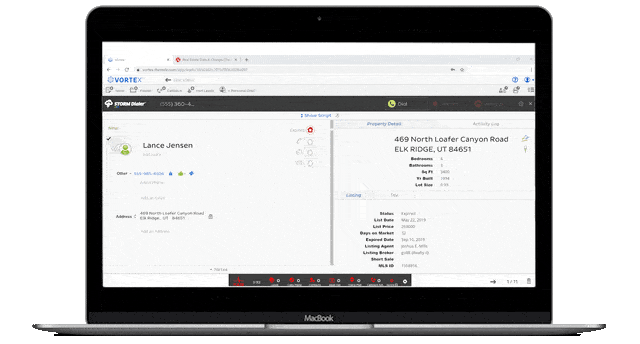 ---
How much do Power Dialers cost?
Power dialers typically cost between $100-200/month. The REDX Power Dialer, for example, is $99.99/month for their standard dialer, or $149.99/month for their PLUS dialer. Both dialers offer unlimited talk time, the ability to call through your phone or computer, free support, and call recording features. You can learn more about REDX Power Dialer pricing, features, and options here.
---
How can I maximize my contact rate? 
No matter which dialer you prospect with, major phone carriers are flagging more and more phone numbers as "Spam callers." You can avoid this problem by calling with a verified business phone number, or with a SMART Number from REDX. 
SMART Number stands for "Spam Monitoring and Remediation Technology" and it can help you increase dialer connection rates by keeping your number off the spam list.
This new feature equips you with a verified business number that provides:
• Registration and monitoring with all major phone carriers
• Continuous tracking for spam alerts
• Automatic remediation of any spam-related issues
You can get a SMART Number for FREE with Power Dialer PLUS – or for $10/month with any other REDX Power Dialer.
---
How can I ensure safe, ethical prospecting calls?
There are risks associated with prospecting over the phone. But if you educate yourself, you can drastically reduce risk for yourself. As a salesperson, you are required to follow all rules associated with the DNC Registry. 
Reputable lead services like REDX will help you avoid calling DNC numbers by providing you with warnings before you start a prospecting session. Ultimately, compliance with the DNC rules and regulations is up to you – so before using a dialer, educate yourself, make informed decisions, and call wisely.
---
The best time to call is NOW.
When it comes to using a Power Dialer, the main problem agents run into is call avoidance. Because prospecting can be intimidating… but it doesn't have to be difficult. With quality leads, a solid mindset, and the right tools – prospecting is only as scary and difficult as you let it be. So what are you waiting for? Stop avoiding your calls and invest in a more efficient way to prospect. 
---
About REDX
REDX is an all-in-one lead data and prospecting platform that helps agents connect with qualified buyers and sellers. The platform includes a skiptrace service for seller leads, a dialer with up to three lines, social media tools, and a lead management system that simplifies first contact and follow up.
Click here to watch a demo, or call (800) 731-7339 ext. 1 to learn more about skiptrace products for Expireds, FSBOs, GeoLeads, FRBOs, Pre Foreclosures, our Power Dialer and Social Media Tools for paid ads and content creation.
REDX maintains the position that all agents should be compliant with state and federal telecom laws – learn more here.