Facebook Custom Audiences is a content targeting feature that lets you put your posts in front of a custom list of people. If you want to build a reputation with your REDX leads, this article shows you how to export your leads from Vortex into a Custom Audience on Facebook. This way, your leads will see you on their social media before you even pick up the phone and call them.
---
How to Create a Facebook Custom Audience from Your REDX Leads
---
To start marketing to all of your leads in Vortex, you first need to export them into a CSV file.
Step 1.
Select the leads you want to export. You can select each lead individually, or you can click the check mark in the top left corner to select all the leads in the filter/folder you are in. 

Step 2.
Click "Other" on your toolbar at the top of Vortex and select "Export" on the drop down menu to download the CSV file of your leads to your computer.

Step 3.
Next, go to Meta Ads Manager to begin creating your Custom Audience inside of Facebook. Once in your account, go to Audiences, click "Create Audience" and "Custom Audience" and select "Customer List."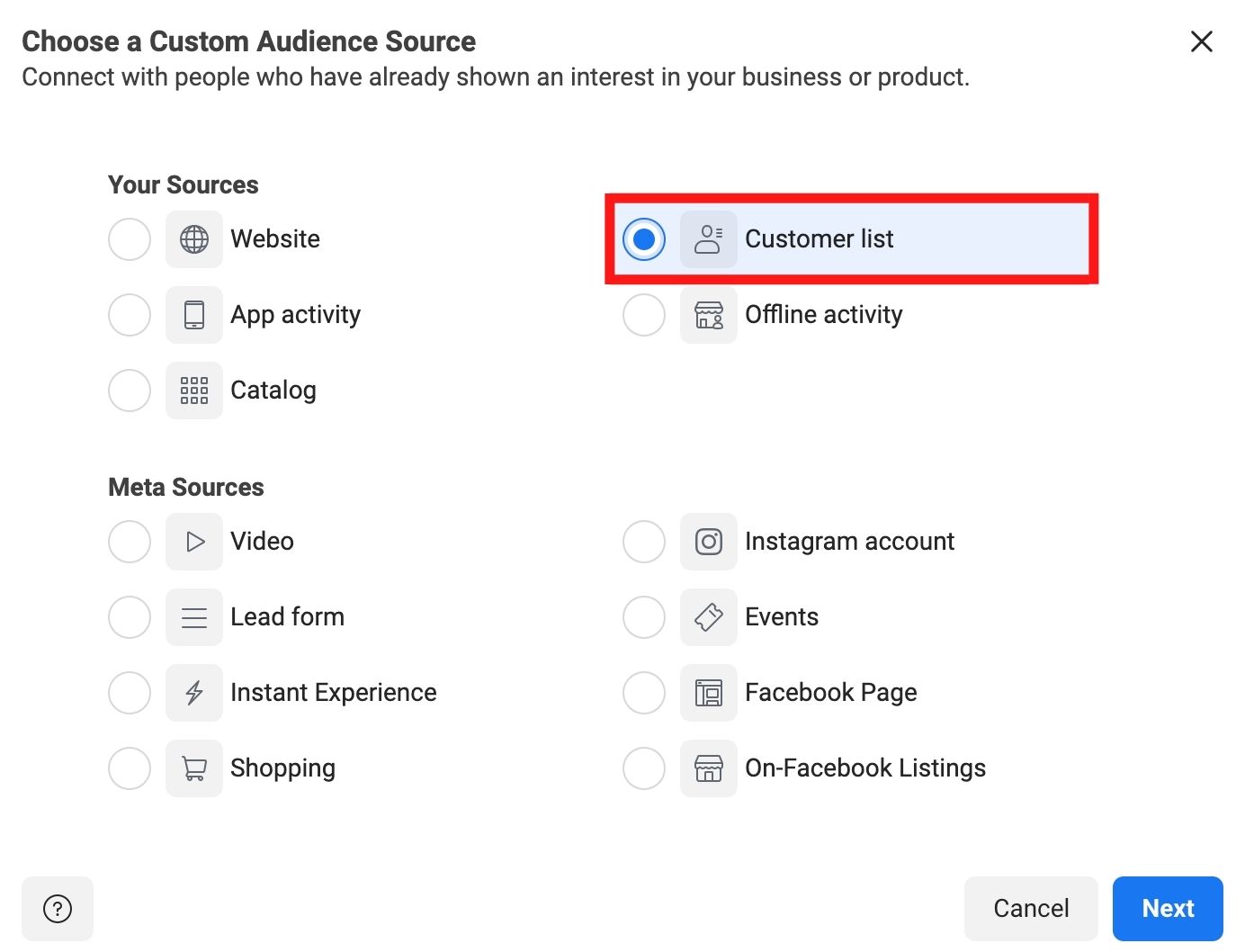 Step 4.
Next, prepare your customer list. Select the identifiers to include, then add the CSV you downloaded from Vortex to use for your new Custom Audience and give it a name.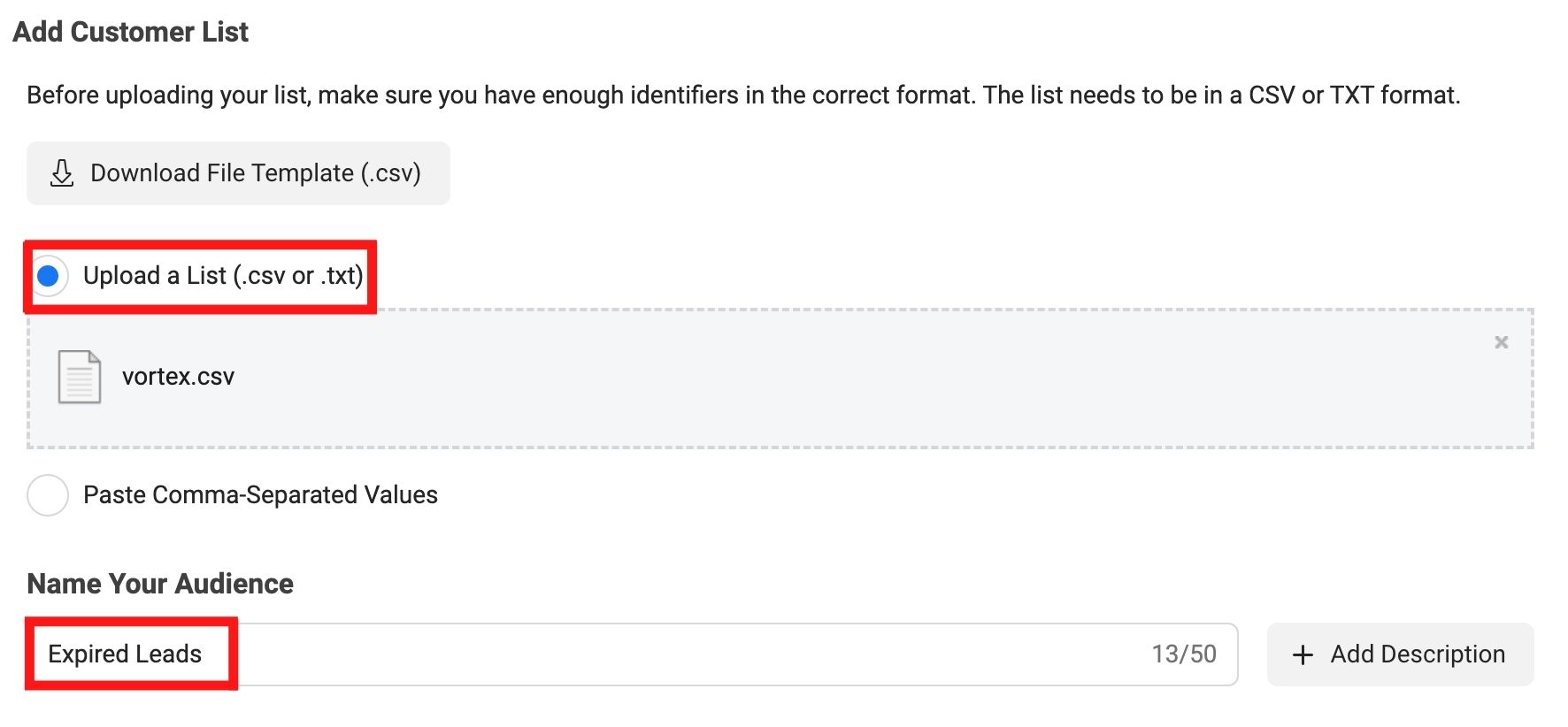 Step 5.
Now review your customer list. Confirm that you mapped your identifiers correctly or check to see that all errors are resolved. You'll get one of the following notifications:
• The green checkmark symbol means your identifiers were mapped correctly and are ready to be hashed, then used for the matching process.
• The yellow exclamation symbol means either that you chose not to include certain identifiers or that some identifiers need to be manually updated.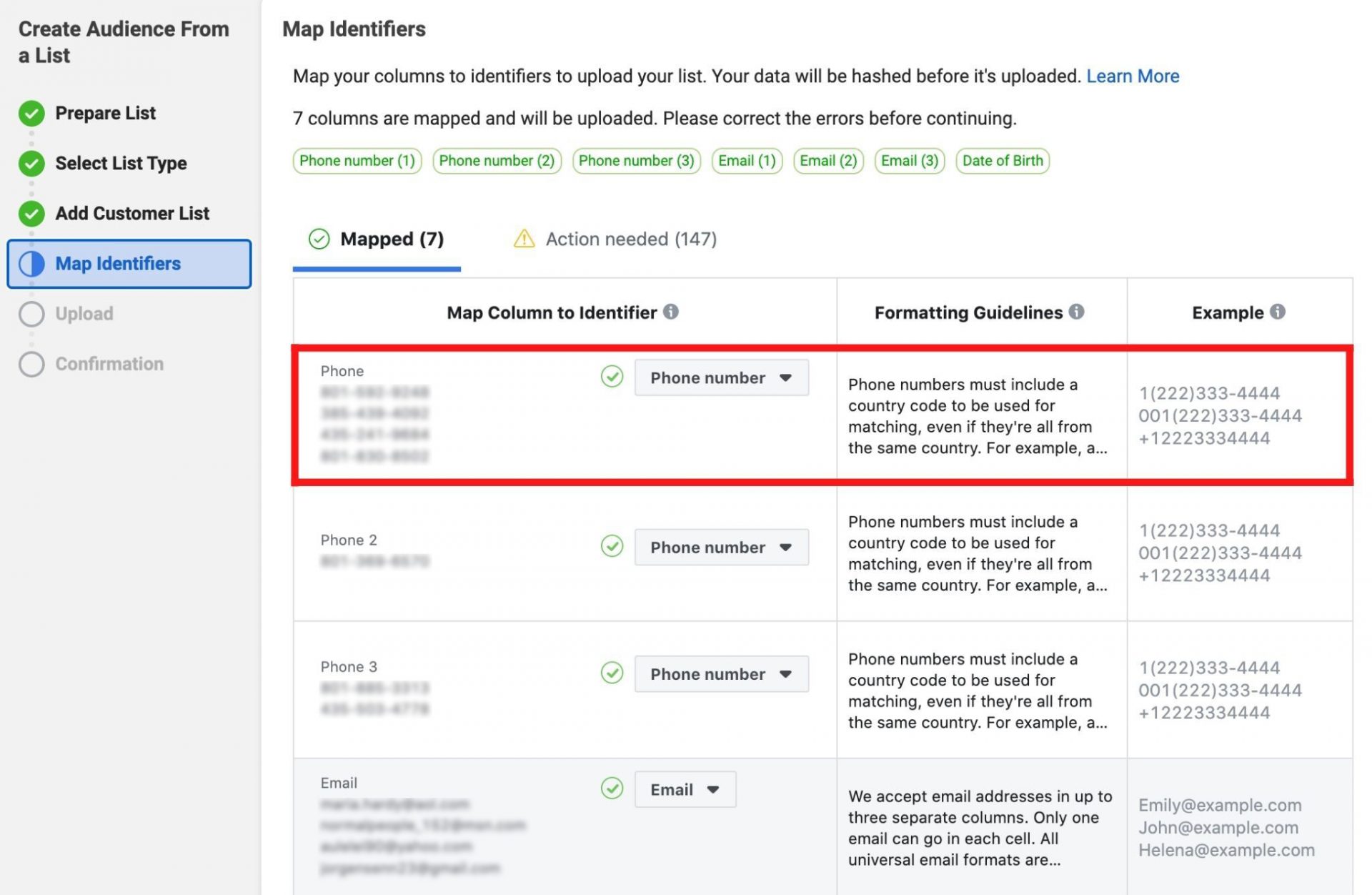 Step 6.
Upload your customer list. Once your list has been added and is ready for use, select Upload and Create.

After you upload your contacts, Facebook then hashes the data- meaning they encrypt the information into a coding only Facebook has and then uses that same encryption code to find your Contact List's Facebook profiles. Once ready, you can immediately create an ad to reach your new Custom Audience.
And voilà! You are now ready to send targeted ads to your REDX leads!

---
Next Up, Targeted Ads!
Targeted Facebook ads to your REDX leads allows you to get in front of homeowners before you call them. So when you do give them a call about selling their home, they've already seen your face and the service you provide as a real estate professional! Use this tool to help build your brand and expedite your business success!
---
About REDX
REDX offers real estate professionals a complete all-in-one prospecting platform for generating listing appointments. The platform includes seller leads, a dialer with up to three lines, and a lead management tool for simple follow-up. REDX maintains the position that all agents should be compliant with state and federal telecom laws – learn more here. Call (800) 731-7339 option 1 to learn more about prospecting FSBOs, Expireds, FRBOs, Pre Foreclosures, GeoLeads™, and our Power Dialer – or visit www.redx.com