Artificial Intelligence (AI) has taken the real estate industry by storm. Advanced writing tools like ChatGPT are quickly becoming an essential part of any successful business—including yours. By leveraging AI, you can streamline your processes, improve marketing efforts, and free up time to focus on closing more deals. Explore this blog to discover 8 ways AI can help your business stay ahead of the curve in this rapidly-changing industry.
---
---
8 Ways AI Can Help Your Real Estate Business in 2023
1. Enhance your listing descriptions
2. Create robust email campaigns
3. Craft effective social ad content
4. Write blog content for your website
5. Use a chatbot for customer service
6. Elevate your listing presentation resources
7. Create engaging social media captions
8. Write concise video scripts
---
1. Enhance your listing descriptions
The first and easiest way to leverage AI for your business is in your listing descriptions. AI can write a captivating description in just a few seconds, saving you from the time-consuming task of tediously writing something unique for every listing.  
Start with a prompt like, "Write a listing description for 123 Main Street. It has 4 bedrooms, 2.5 baths, a swimming pool, an open concept, and modern." Help ChatGPT with the details of the home and AI will take care of the rest!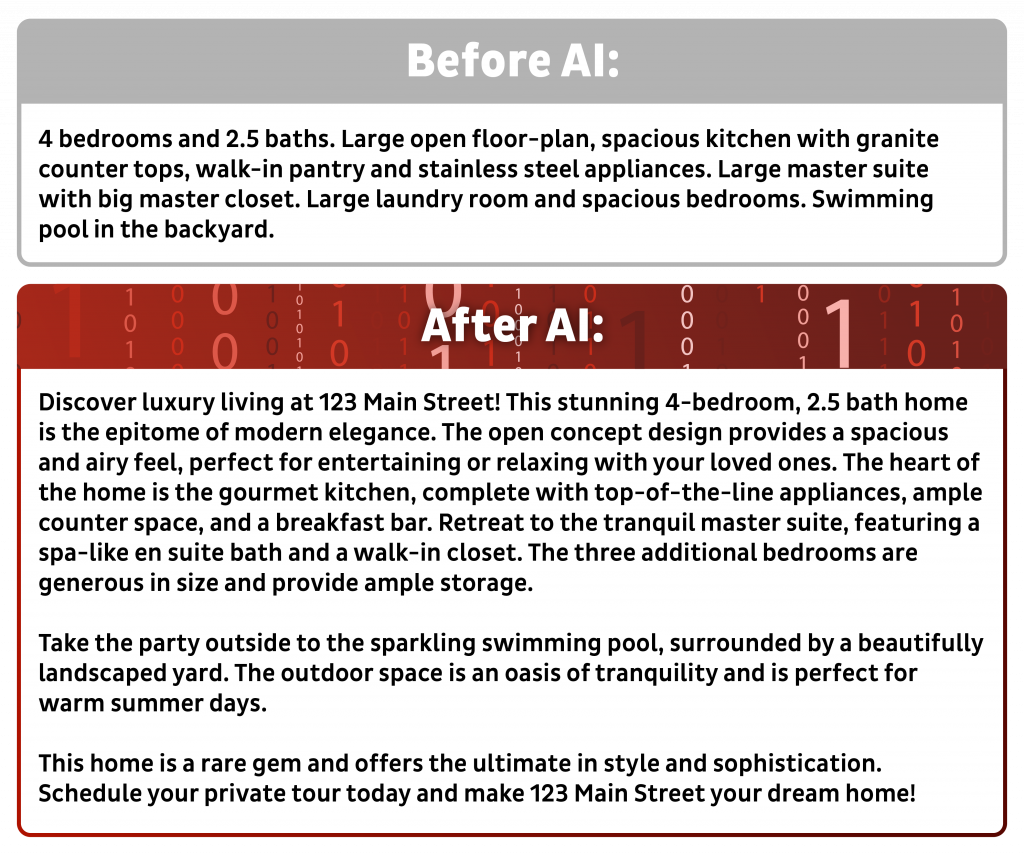 ---
2. Create robust email campaigns
It can take years for agents to master their copywriting skills in order to create effective, high-converting email campaigns. Luckily, you can skip the learning curve by using AI to generate endless emails for your database.
Input a prompt like, "Write an email to an expired listing who is frustrated that their home didn't sell and how I can help them sell it." Try personalizing the tone by telling ChatGPT to write in a persuasive, genuine, or professional tone.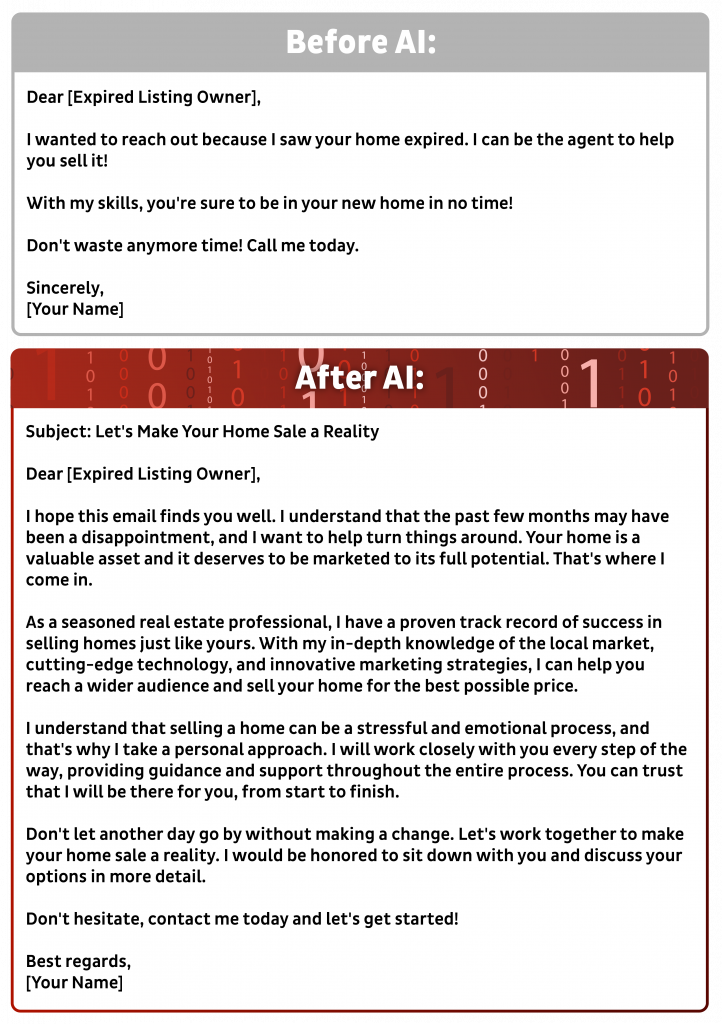 ---
3. Craft effective social ad content
Quality ad copy is crucial for successful online lead generation (especially on social media). Using AI to craft your advertising content ensures that your message is delivered efficiently and effectively.
Use a prompt like, "Write a Facebook ad that convinces a For-Sale-By-Owner to list their home with me as their agent." If the AI gives you content you don't like, try telling ChatGPT to regenerate the response for more variations.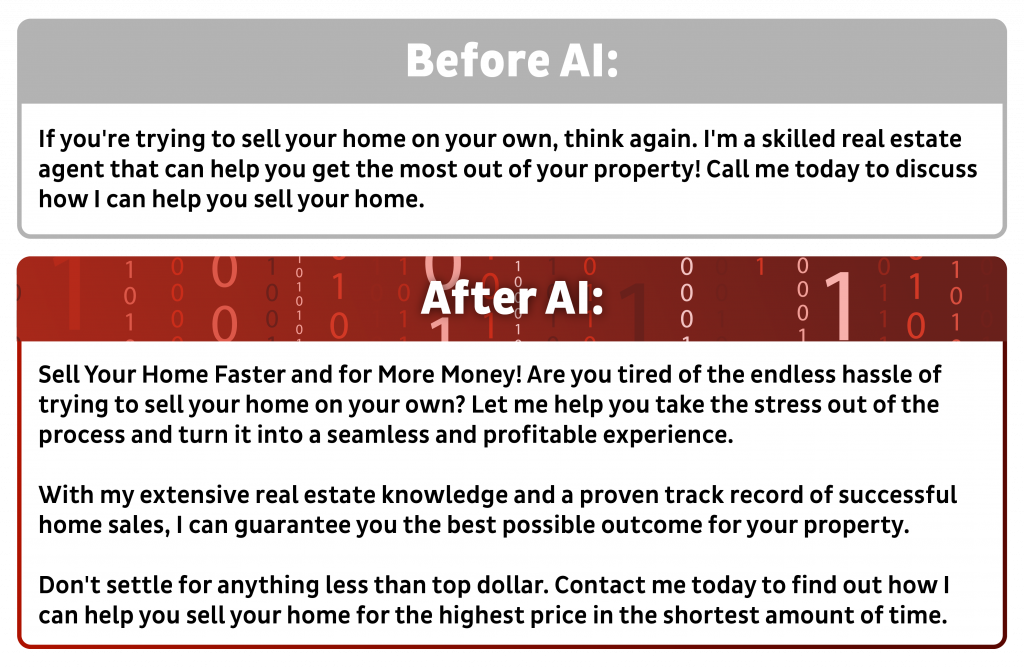 ---
4. Write blog content for your website
Engaging website content is an effective way to appear in organic search results when homeowners look for an agent online. By using AI to write long-form content like blog posts and eGuides, you can save a lot of time and money as you attract potential clients online.
Start with a prompt like, "Write a blog about the top 5 tips to increase the curb appeal of your home." Sometimes AI won't write something exactly how you would say it. Feel free to make some light edits to help it match your voice and brand.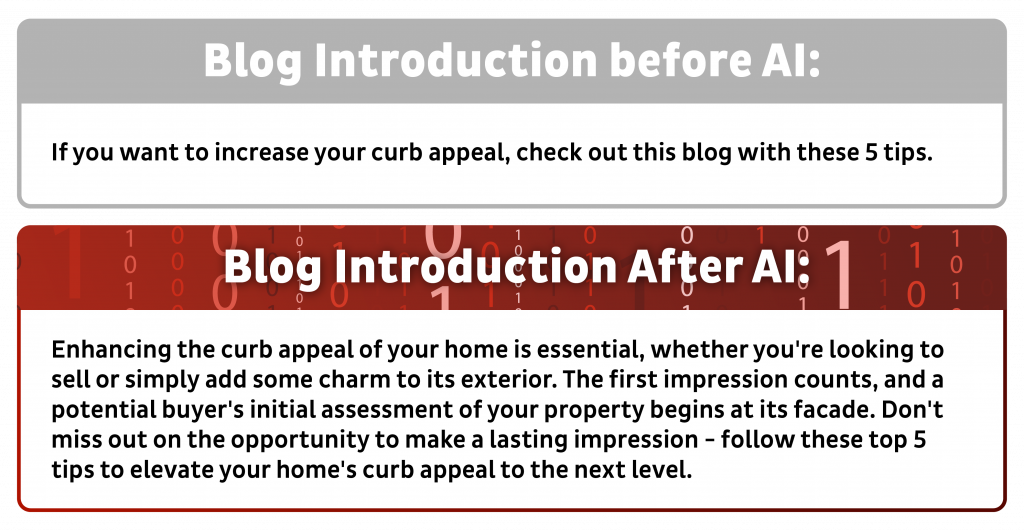 ---
5. Use a chatbot for customer service
If you want to elevate the customer experience on your website, consider implementing a chatbot with pre-programmed responses to frequently asked questions. This will offer immediate assistance to website visitors 24/7, quickly addressing their questions while freeing up your time.
Use this blog to learn how to program and install a chatbot on your website.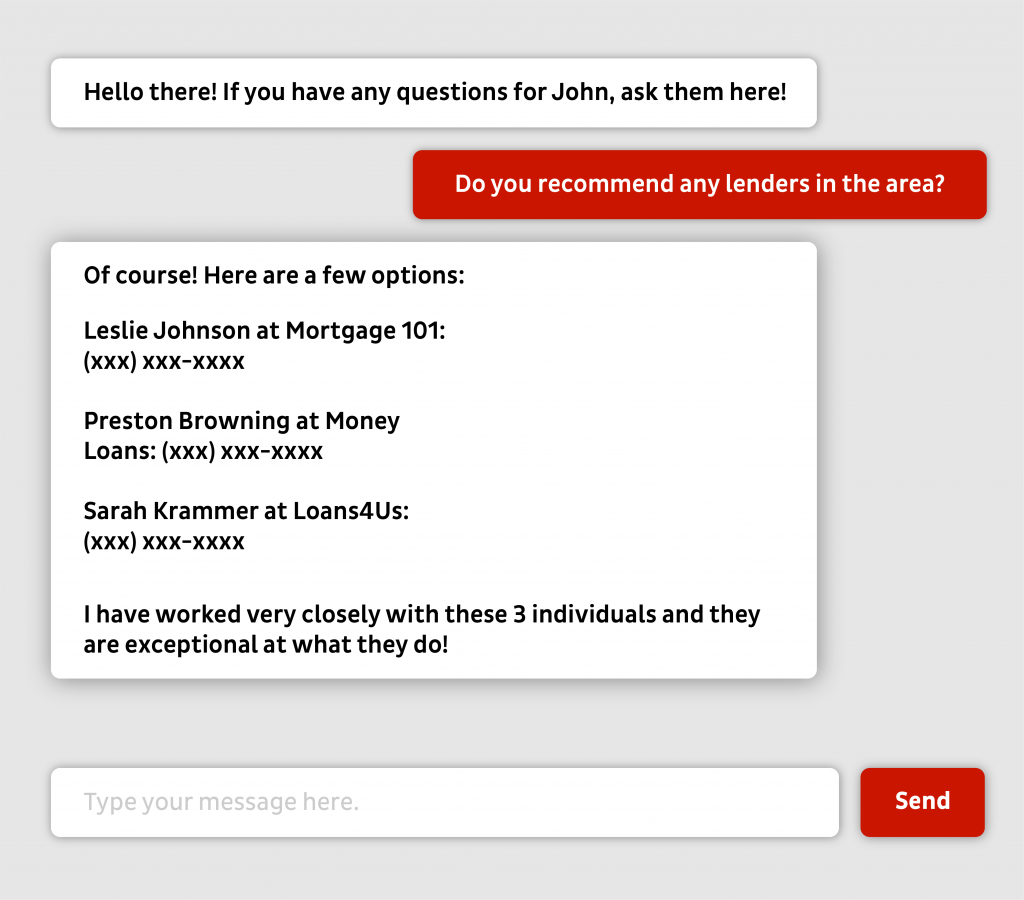 ---
6. Elevate your listing presentation resources
If you feel like your listing presentation could use some polishing, ask AI to help you out. Whether you want to spruce up your presentation script, update your marketing content, or rewrite your market analysis, AI can help elevate all your materials!
Try a prompt like, "Write a 10-point marketing plan for real estate agents on how they will market and sell homes." Or, if you already have a marketing plan, copy and paste it into ChatGPT and tell it to improve the writing.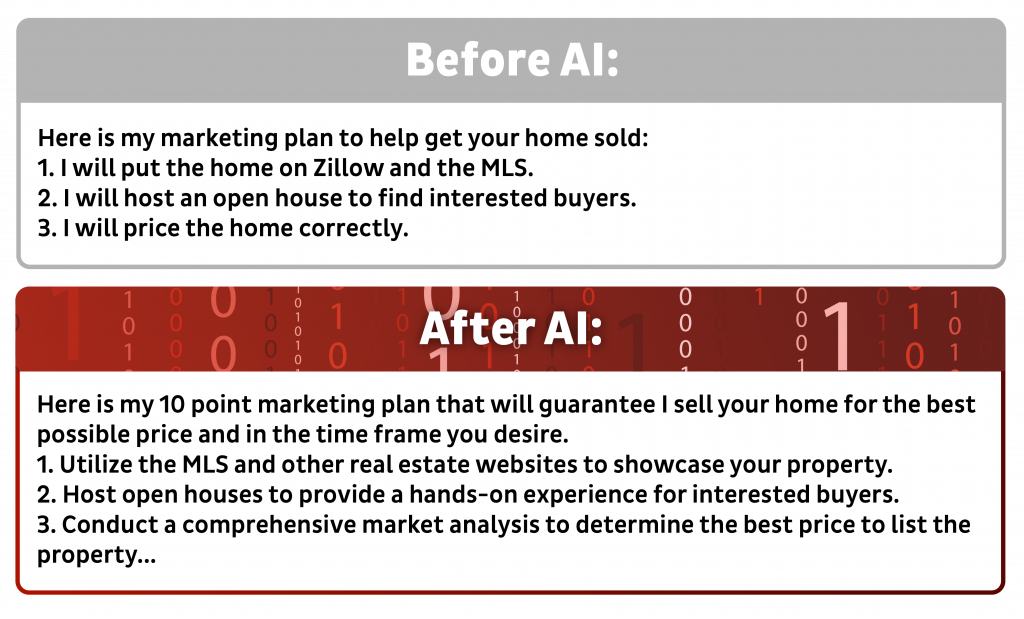 ---
7. Create engaging social media captions
AI can also help you write everyday captions for all of your social media posts! So the next time you're staring at your phone trying to think of a clever caption, leverage ChatGPT to streamline the process.
Just say something like, "Write a social media caption for a post about why homeowners should list with me." It will give you suggested hashtags and emojis too!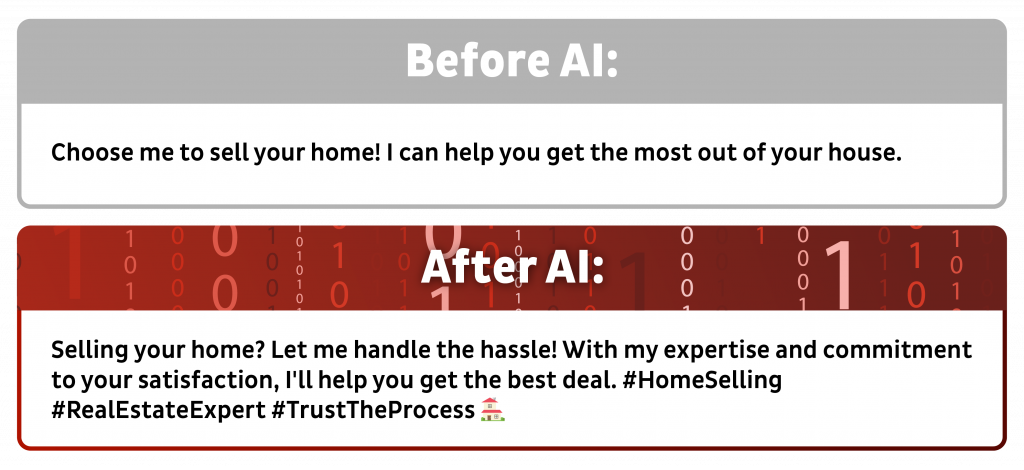 ---
8. Write concise video scripts
Whether you create video content for social media, your website, or for your clients, use AI to write your scripts! It's easy to ramble or even forget your lines when you're on camera, so an AI-powered script ensures effective, concise script content.
Just tell ChatGPT something like, "Write me a short video script about the top 5 reasons to list with an agent." If you don't like any of the points it offers, feel free to tell AI to give you a few more options.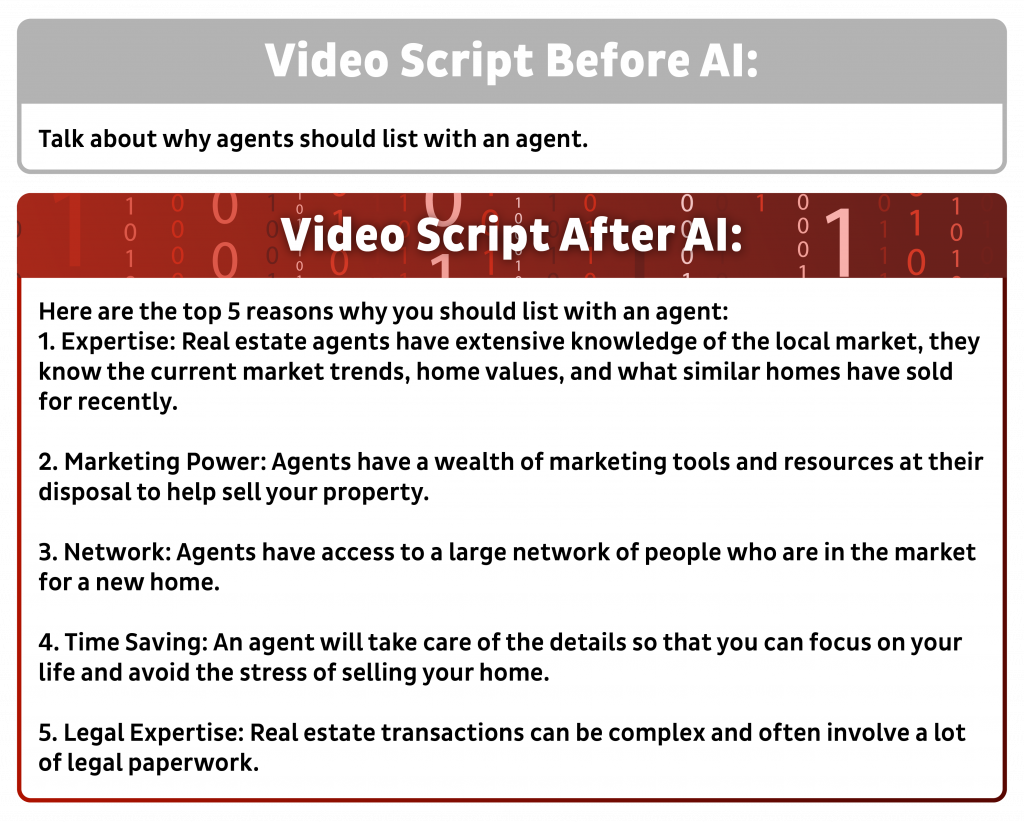 ---
The Future of Real Estate
The time for real estate agents to incorporate AI into their business practices is now. The future of real estate is rapidly changing, and those who are able to adapt and take advantage of new technologies like AI will be the ones who thrive. Start utilizing AI in your business to free up time to focus on what really matters: building relationships and closing deals.

---
About REDX
REDX is an all-in-one lead data and prospecting platform that helps agents connect with qualified buyers and sellers. The platform includes seller leads, a dialer with up to three lines, social media tools, and a lead management system that simplifies first contact and follow up.
Click here to watch a demo, or call (800) 731-7339 ext. 1 to learn more about Expireds, FSBOs, GeoLeads, FRBOs, Pre Foreclosures, our Power Dialer and Social Media Tools for paid ads and content creation.
REDX maintains the position that all agents should be compliant with state and federal telecom laws – learn more here.