If you're a real estate agent who makes phone calls to find clients, it's important to understand the risks that come with it. There are risks associated with prospecting over the phone, but if you educate yourself, you can drastically reduce your risk.
Five Concepts Every Agent Should Know
1. Why Is There A Risk?
2. What Does This Mean For You?
3. Reducing The Risk
4. Compliance Is Up To You
5. The Big Picture
Why Is There A Risk?
In 1991, there was a rise in the number of unsolicited telemarketing calls consumers were receiving, particularly from robo-dialers and pre-recorded calling machines.
In response to the increase of unsolicited calls, US Congress passed the Telephone Consumer Protection Act (TCPA) to restrict sales calls and the use of robo-dialers and recordings. The TCPA also gave rise to the Do-Not-Call (DNC) Registry to limit telemarketing calls they received.
Managed by The Federal Trade Commission, the DNC Registry gives consumers an opportunity to reduce unsolicited sales calls by making infractions of this law by telemarketers punishable by substantial fines.  
What Does This Mean For Real Estate Agents?
As a salesperson, you are required to follow all rules associated with the DNC Registry. Additionally, The National Association of Realtors® (NAR) states, "Realtors® cannot call people who are on the Do-Not-Call Registry to entice them to buy or sell a home or property."
When it comes to past clients, if a number is on the DNC list, the rules offer you an 18-month exclusion period from the time of purchase, rental, or lease. The 18-month period runs from the date of the last payment or transaction between the buyer and seller. Beyond this time frame, written permission is required to make offers for service.
Overall, any time someone calls a number on the DNC Registry to offer services, they are subject to the DNC list rules and guidelines (and the penalties for violating them).
Reducing The Risks
To reduce the risk of lawsuits as a result of complaints by homeowners and renters, you can look up any number on the National DNC List (and your state's list) and simply choose not to call those numbers.
Professional prospectors rely on platforms like Vortex to scrub telephone numbers against the DNC list for them. Platforms like this make it easy to comply with the DNC list and faster to reach homeowners who are willing to have a conversation about buying or selling real estate.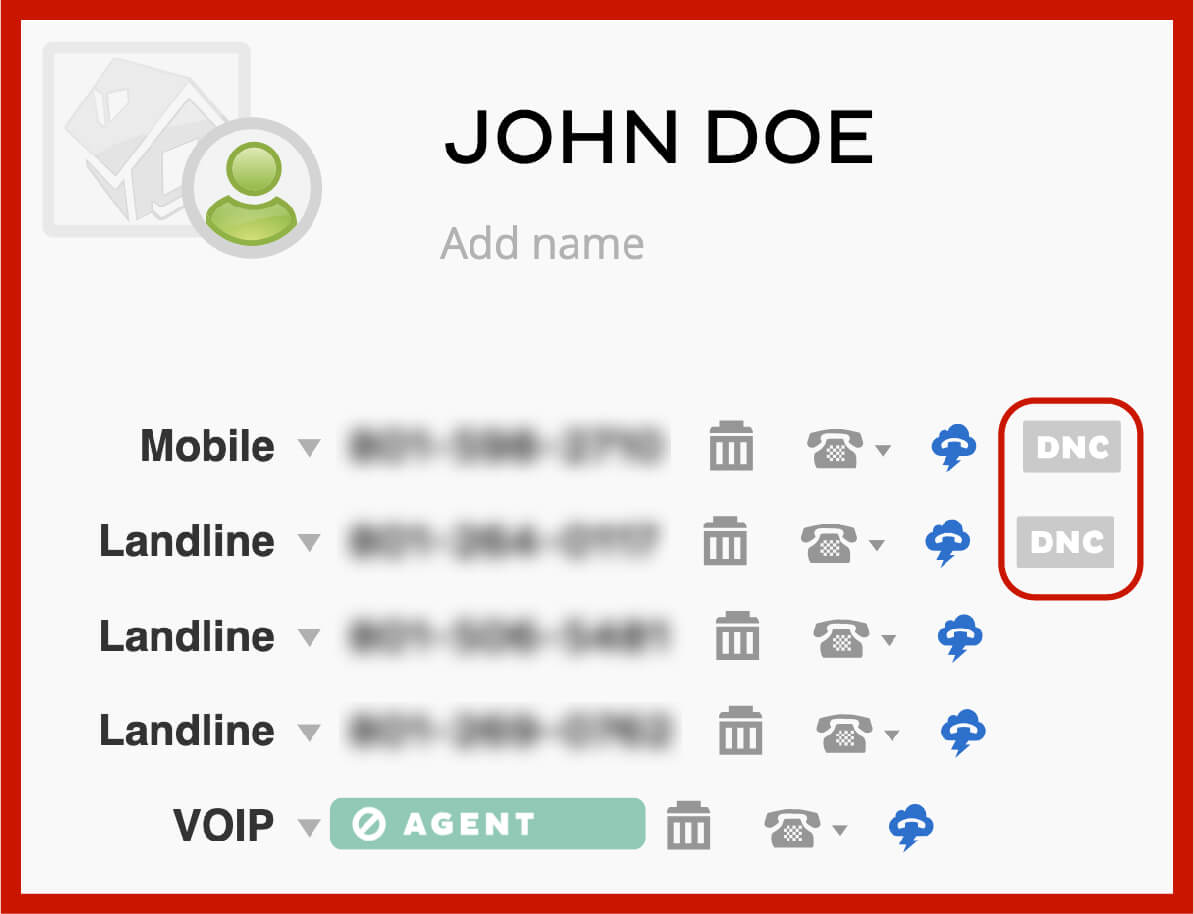 When searching for prospecting platforms, choose one that allows you to upload your list of telephone numbers and contacts so you can rapidly cross-check them again the DNC list. A good platform will clearly mark all numbers listed on the DNC registry. So if you don't have an established business relationship, you can easily exclude them from your call sessions.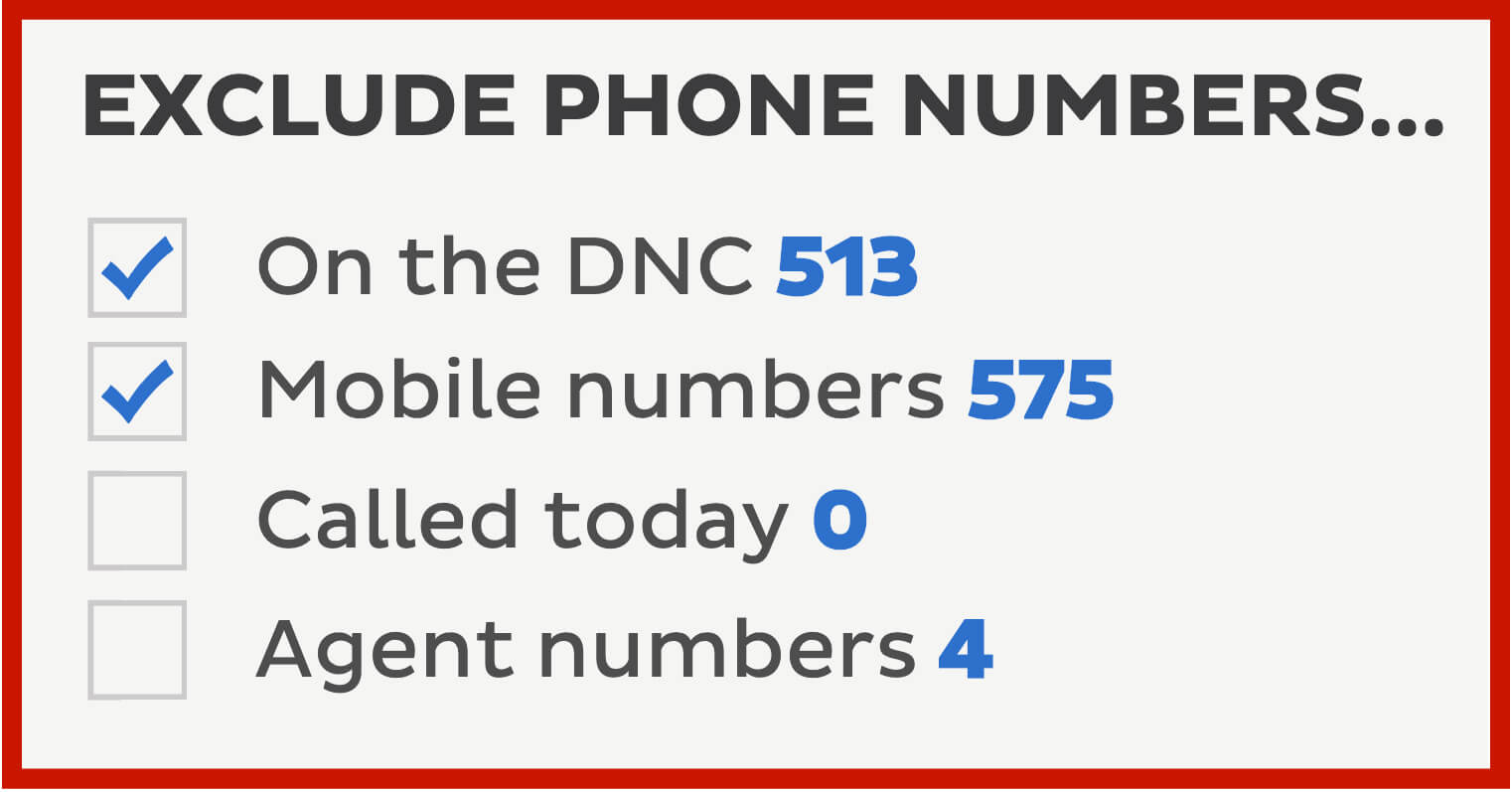 That being said, if you do have a pre-existing relationship or written consent from DNC registrants, you can relax. Calling these numbers does not violate the DNC rules and guidelines. But apart from these two exemptions, calls made to numbers on the DNC list greatly increase your risk.
Compliance Is Up To You
No matter who you get your leads from, if the source of those leads (title companies or lead services) pull data from public records to provide you with telephone numbers, then compliance with the DNC rules and regulations is up to you.
Reputable lead services will provide you with warnings before you start a prospecting session. This warning is for real estate agents who don't understand the risks or who are not willing to assume them. In-app warnings like this remind agents to be compliant:
The Big Picture
Like most business approaches, there are risks and there are rewards. Understanding the balance between the two is your responsibility. For real estate agents compliance is mandatory. Your MLS and broker may also have their own policies about calling. Before calling, educate yourself, make informed decisions, and call wisely.
---
About REDX
REDX offers real estate professionals a complete all-in-one prospecting platform for generating listing appointments. The platform includes seller leads, a dialer with up to three lines, and a lead management tool for simple follow-up. REDX maintains the position that all agents should be compliant with state and federal telecom laws – learn more here. Call (800) 731-7339 option 1 to learn more about prospecting FSBOs, Expireds, FRBOs, Pre Foreclosures, GeoLeads, and our Power Dialer – or visit www.redx.com