At REDX, our goal is to help real estate professionals develop and grow sustainable businesses. When it comes to lead generation, we know that cold calling is one of the most effective ways to connect with qualified homeowners. But the reality is… every agent needs multiple sources of business to be successful. No one should rely on a single lead source to bring them results. So whether you're an avid prospector or an agent looking for prospecting methods that don't involve calling strangers, keep reading to discover 10 ways to get listings without cold calling!
---
---
10 Ways to Get Listings Without Cold Calling
1. Contact Your Sphere
2. Re-Engage & Follow Up with Past Clients
3. Attend Community Events
4. Build Your Social Media Following
5. Digital Prospecting with Facebook
6. Strengthen Lead Referrals through LinkedIn
7. Send Mailers
8. Go Door Knocking
9. Open Houses
10. Enhance Your Email Marketing
---
1. Contact Your Sphere
Let's kick off our real estate cold calling alternatives with one of the best (and most fulfilling) sources of business: your sphere of influence. Whether you've been in the industry for one month or 20 years, you should consistently contact the people who know you best. This will result in easy repeat and referral business for your entire career. If you're not sure who belongs in your sphere, here are some guidelines on who to include, what to say, and how often to contact them:
• Your sphere should consist of people who already know, like, and trust you (family, friends, past clients, business connections, etc.)
• Conversations with your sphere should be casual, natural, and non-invasive or "salesy"
• Talk to everyone in your sphere at least twice a year, and aim for at least once a quarter for your most important relationships 
A good conversation with your sphere can be accomplished in three easy steps: ask, listen, and engage. And the script is simple! Just ask, "How are you doing?" then listen and respond with empathy and plenty of follow-up questions. Eventually they'll ask how you're doing. When they do, you'll have an opportunity to tell them about your family, hobbies, and your real estate ventures. Keep the conversation casual, but always look for organic opportunities to offer up your services and find out if they (or someone they know) might want to buy or sell.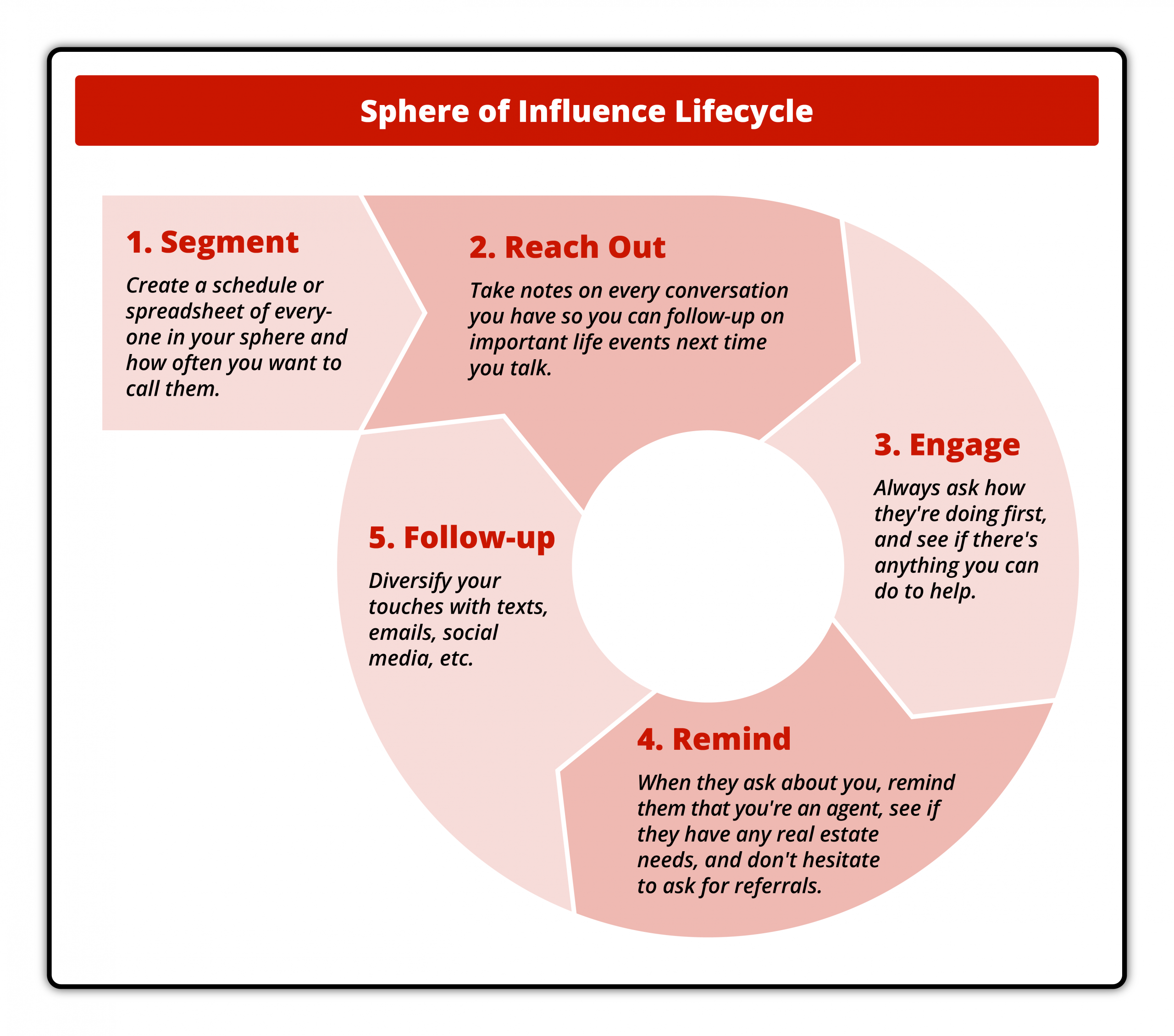 ---
2. Re-Engage & Follow Up with Past Clients
Past clients are one of the most important (and often overlooked) groups of people you can contact without cold calling. Not only are they a great source for repeat business, but the referrals they can send your way will keep your business booming for years to come. 
If it's been a while since you reached out to your past clients, don't worry. It's never too late to re-engage them with a quick call, text, or direct message through social media. You can always get the ball rolling by offering them a home value update via text, email, or social media with this simple script: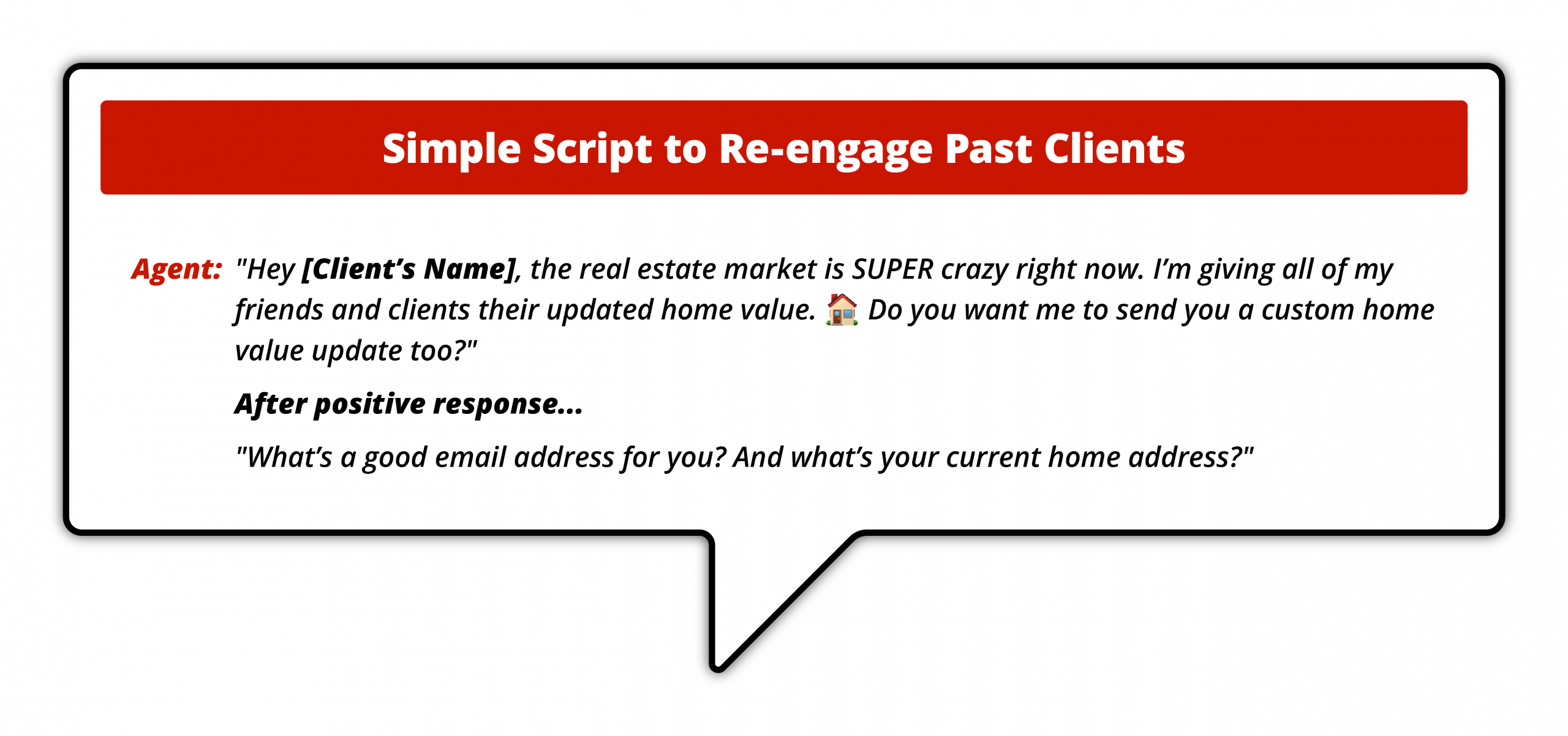 With more recent clients, call or text them every three months or so and ask how they like their new house. Here are some great follow-up text scripts you can use to touch base with recent clients: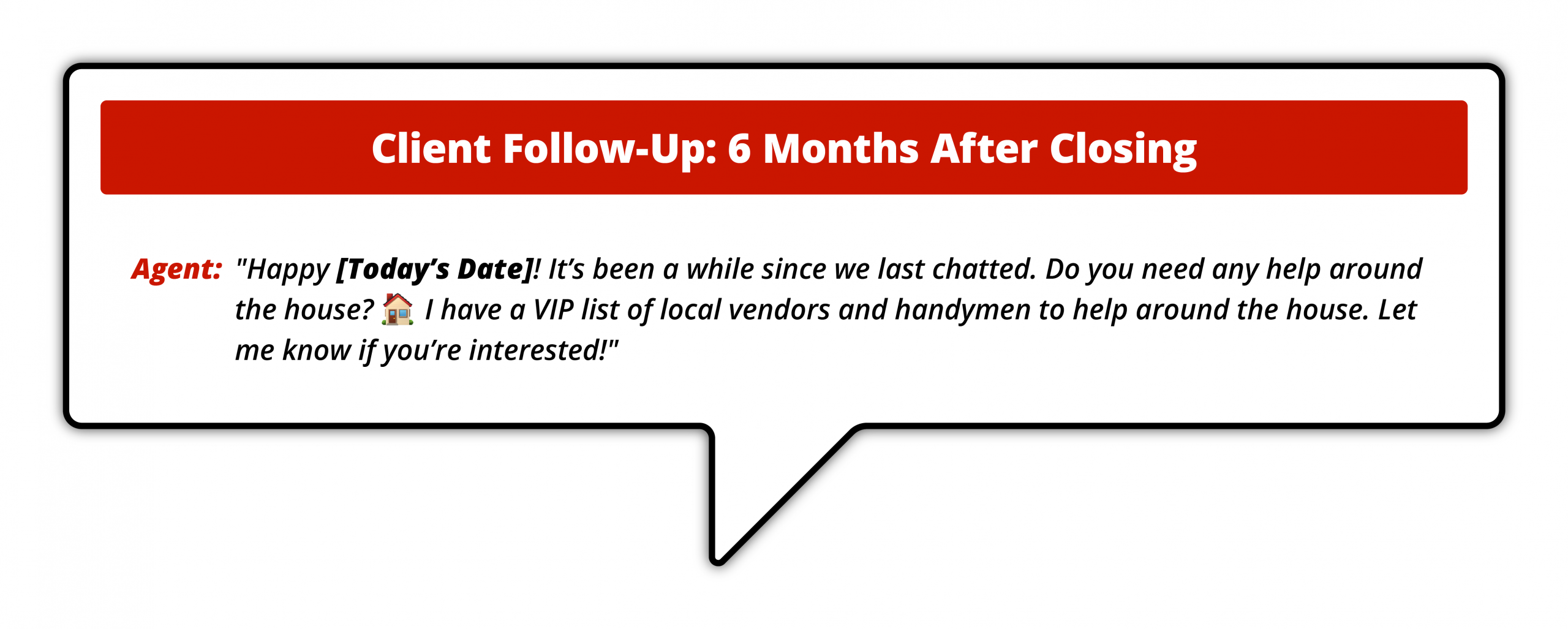 After you reconnect, add them to your regular sphere follow-up system. Before you know it, they'll be sending you oodles of repeat and referral business.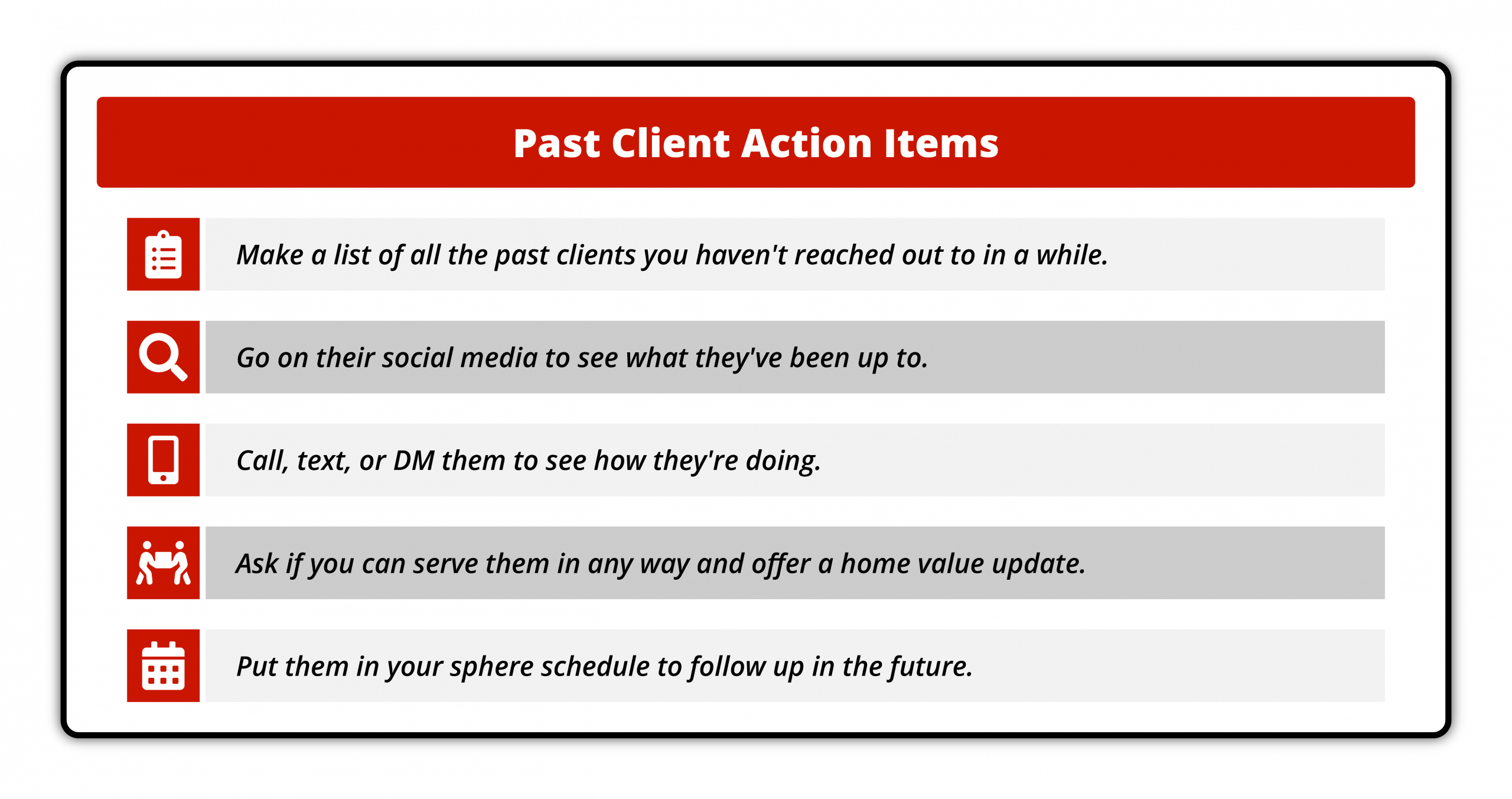 ---
3. Attend Community Events
If you want to fill your pipeline, go where the people are! Hosting and attending community events is a great way to meet new people and tell them about your real estate business. Networking events, church meetings, farmers markets, and volunteer events all offer endless opportunities to find and meet new people to add to your pipeline.
Attend these events with one goal in mind: meet new people and have amazing conversations. Some agents worry about coming across as inauthentic or "salesy" when they bring up real estate at an event. You can easily avoid this by asking each person you meet about themselves. Ask about their career, where they live, what they do for fun, and let the conversation lead itself. 
As long as you're polite and engaged, there will be plenty of opportunities to exchange contact information, add them on Facebook or Linkedin, and discuss real estate when the time is right.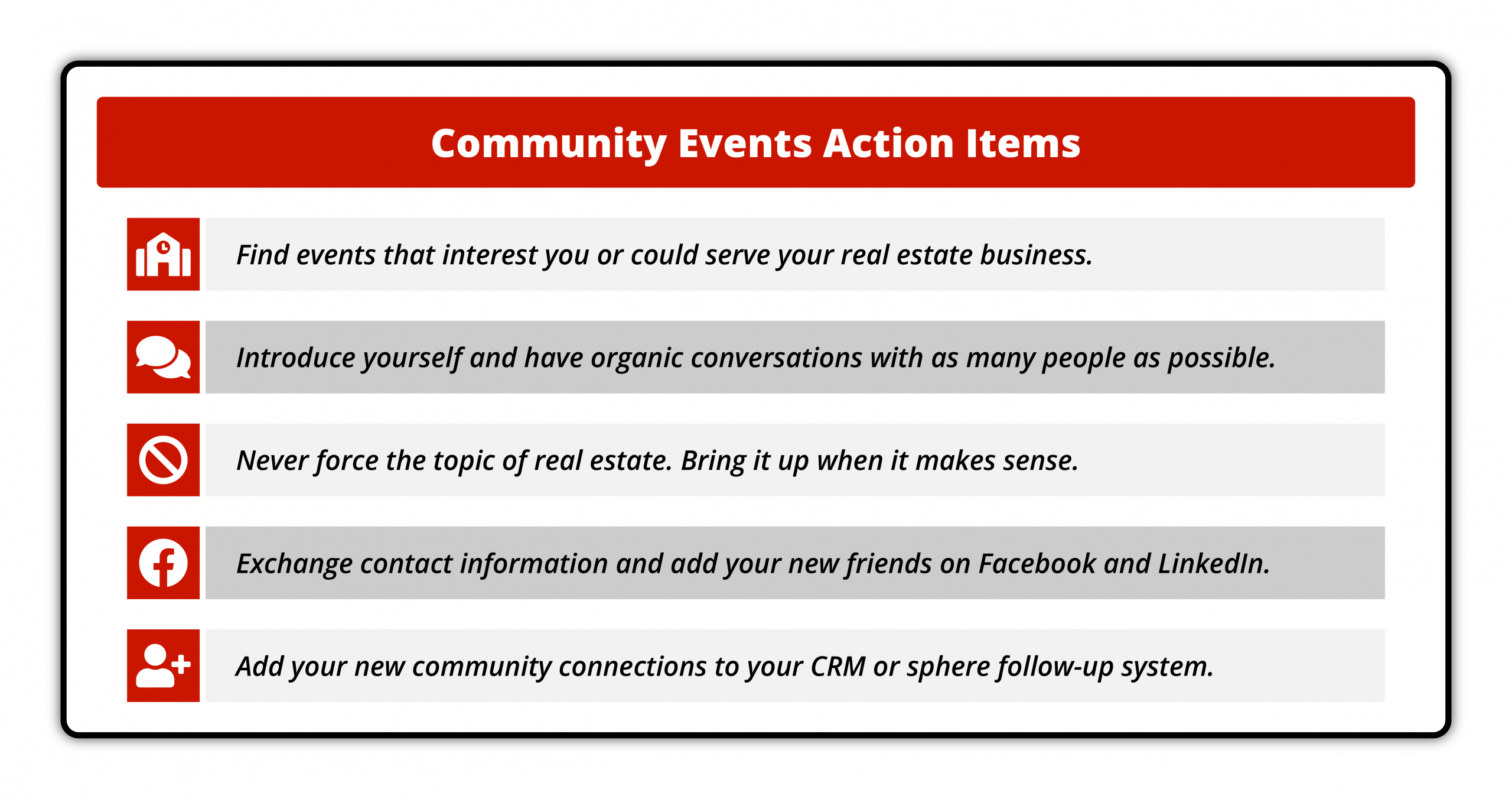 ---
4. Build Your Social Media Following
More than 90% of home buyers begin their search online, and 47% of Realtors cite social media as the best tool for generating high quality leads. So if you aren't popping up on their social media feed, you could be missing out on thousands of leads and connections. And don't worry if you don't have a huge following! Social media is all about playing the long game to consistently generate leads and listings over time. 
Real estate podcaster Greg McDaniel recommends starting off on two social platforms that you enjoy using, then expanding to others as your following grows. Greg's favorites are Facebook and Instagram. He recommends posting twice a day – one personal post and one professional post. Here are a few ideas if you're not sure what to post: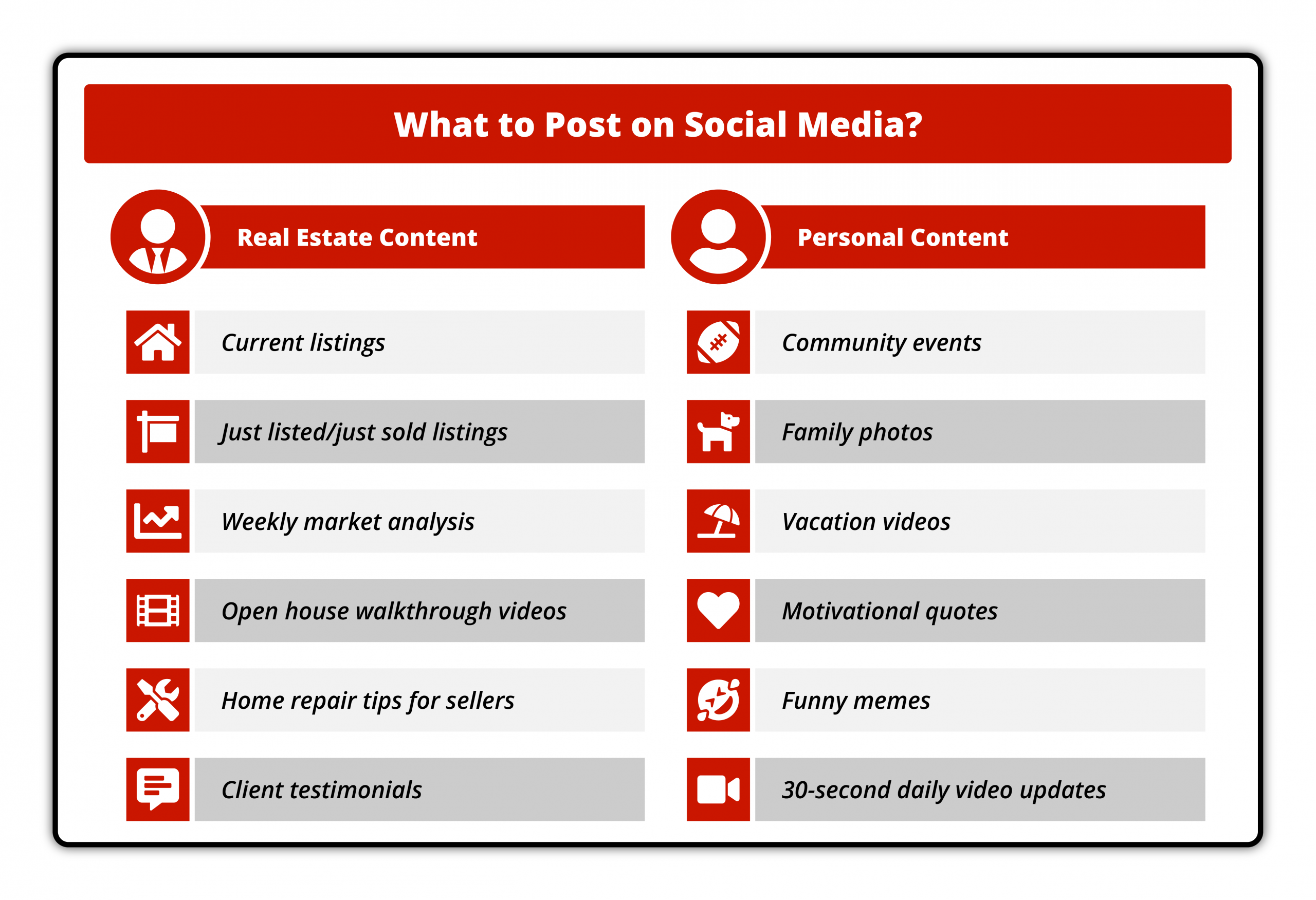 The idea is to let your audience see who you are through a healthy balance between personal and real estate related content. As long as you post consistently, you'll stay top of mind while providing value and building your audience. As Greg says, "If you vanish from social media, your business will vanish too." 
*PRO TIP: As your social media following grows, consider running paid ad campaigns to market your services to more people and further expand your audience. Watch this podcast with Travis Thom to learn more.

---
5. Digital Prospecting with Facebook (from Dan Elzer) 
Even if you don't have a huge online following, there are other ways to actively engage your social media connections to get more listings. Real estate coach and trainer Dan Elzer calls it Digital Prospecting, and there are a couple ways to do it. 
Dan's first digital prospecting method uses your Facebook friends list to seek out and meet up with potential clients. Most people have hundreds (if not thousands) of friendly Facebook connections who post life updates several times a week. A lot of those posts indicate a need to move, which is where you come in: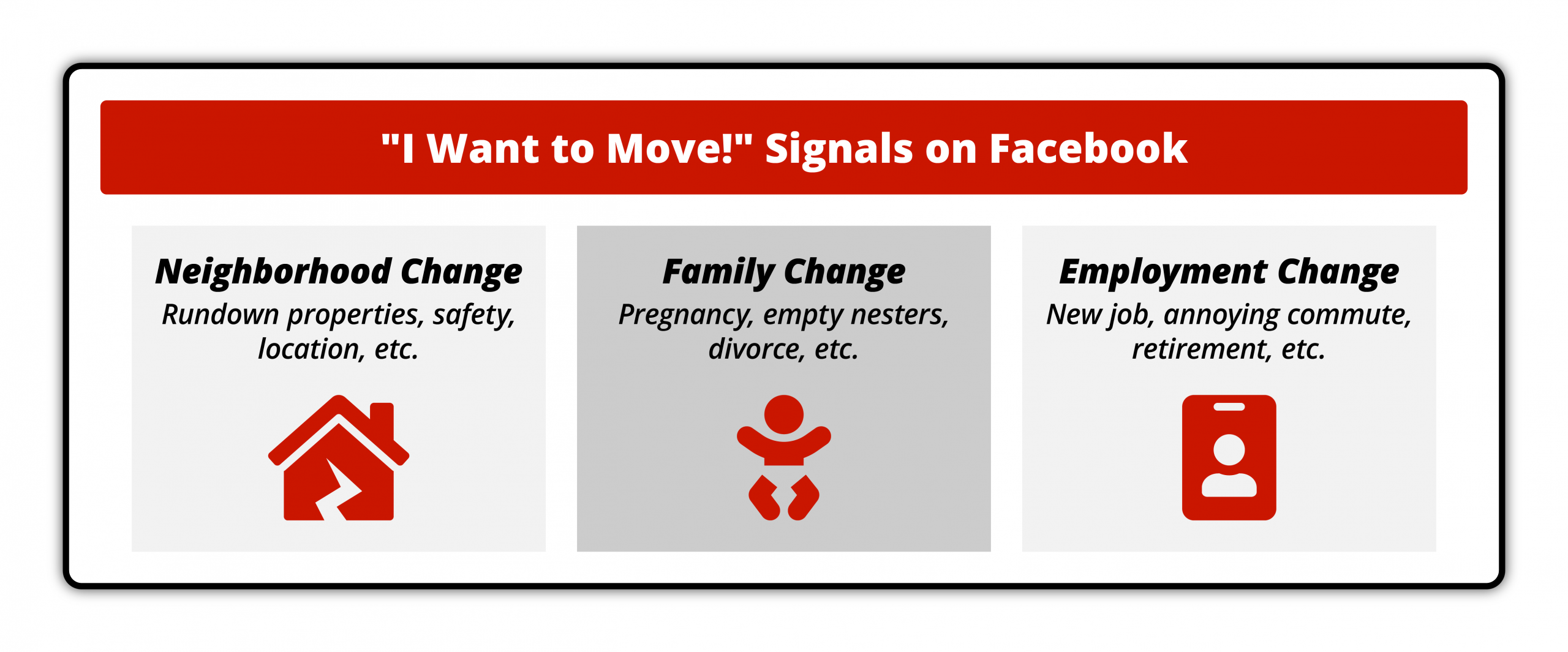 The problem is, Facebook algorithms don't show every post on your main feed, which means missing out on plenty of potential movers. Luckily, there's a simple workaround: scroll through everyone's Facebook profile one-by-one. Sound like a lot of work? It doesn't have to be. 
Start at the top of your friends list and scroll through 10 Facebook profiles every morning. It should only take about an hour, and can easily be worked into your morning routine. Look for posts that indicate a need to buy or sell a home, and drop a comment with the intent to meet up in person.  
Avoid passive, generic comments like, "Hey! Looking to sell? I'd love to help…"
Instead, leave comments that will open the door for a face-to-face interaction and show them that you're genuinely interested in reconnecting. Offer to buy them lunch, meet up for coffee, or go out for drinks. 
This approach opens the door for an intimate conversation and shows other people on their page that you're willing to go the extra mile. When you do meet up, listen to their life updates, ask about their needs, and wait for an opportunity to find out if they're ready to move.
At 10 profiles a day, five days a week – you're looking at 2,500+ potential interactions every year! Imagine how many opportunities for listings and referrals are waiting for you on Facebook – all without a single cold call. 
---
6. Strengthen Lead Referrals through LinkedIn (also from Dan!)
Dan Elzer's second digital prospecting method utilizes LinkedIn business connections to strengthen lead referrals. According to Dan, "LinkedIn is a business network – not a social network." And he's right! 
A lot of agents hesitate to bring up business on Facebook or Instagram because it makes people uncomfortable. On LinkedIn, however, people expect you to ask for referrals and business connections. Here's how it's done:
Step 1: Build your LinkedIn database.
Every time you make a new business connection in your market, add them on LinkedIn. Seek out small business owners, home service providers, local politicians, and other notable community members. Add them to your sphere follow-up system to maintain trust and build rapport. *Tip: The more connections you have, the better this will work!
Step 2: Find qualified real estate leads.
Use REDX to find names for qualified real estate leads. Expireds or FSBOs are great since they've already raised their hand as a potential seller. Vacant rental owners are another great option if you like to work with investors and landlords. 
Step 3: Find mutual connections.
Take your REDX leads and use a computer to search for them on LinkedIn. From your lead's profile page, click on "mutual connections" to see people in your LinkedIn sphere who are connected with your lead.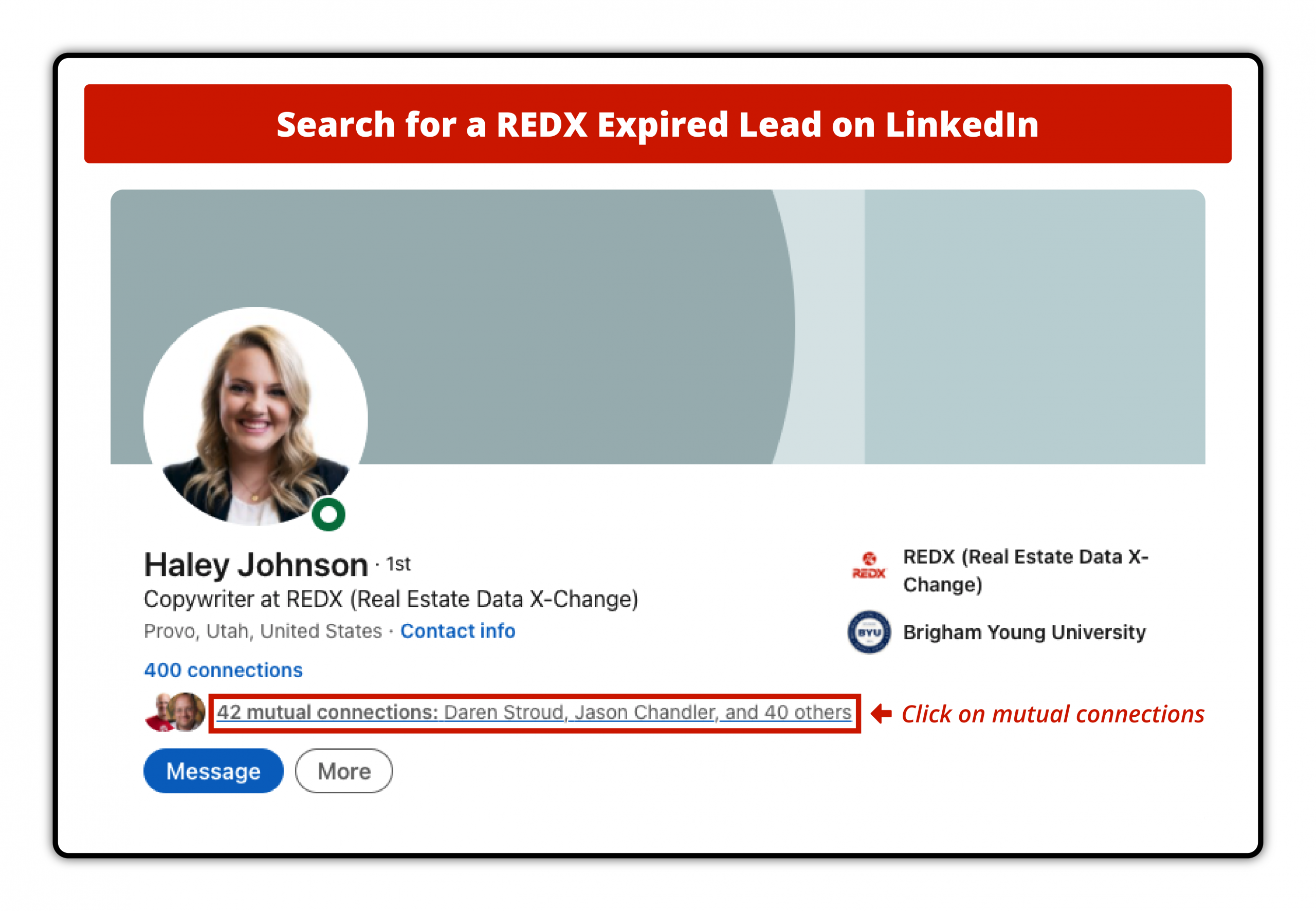 Step 4: Ask for an introduction and referral.
Choose a strong mutual connection and reach out to see if they know your lead. Ask if they'd be willing to introduce and recommend you.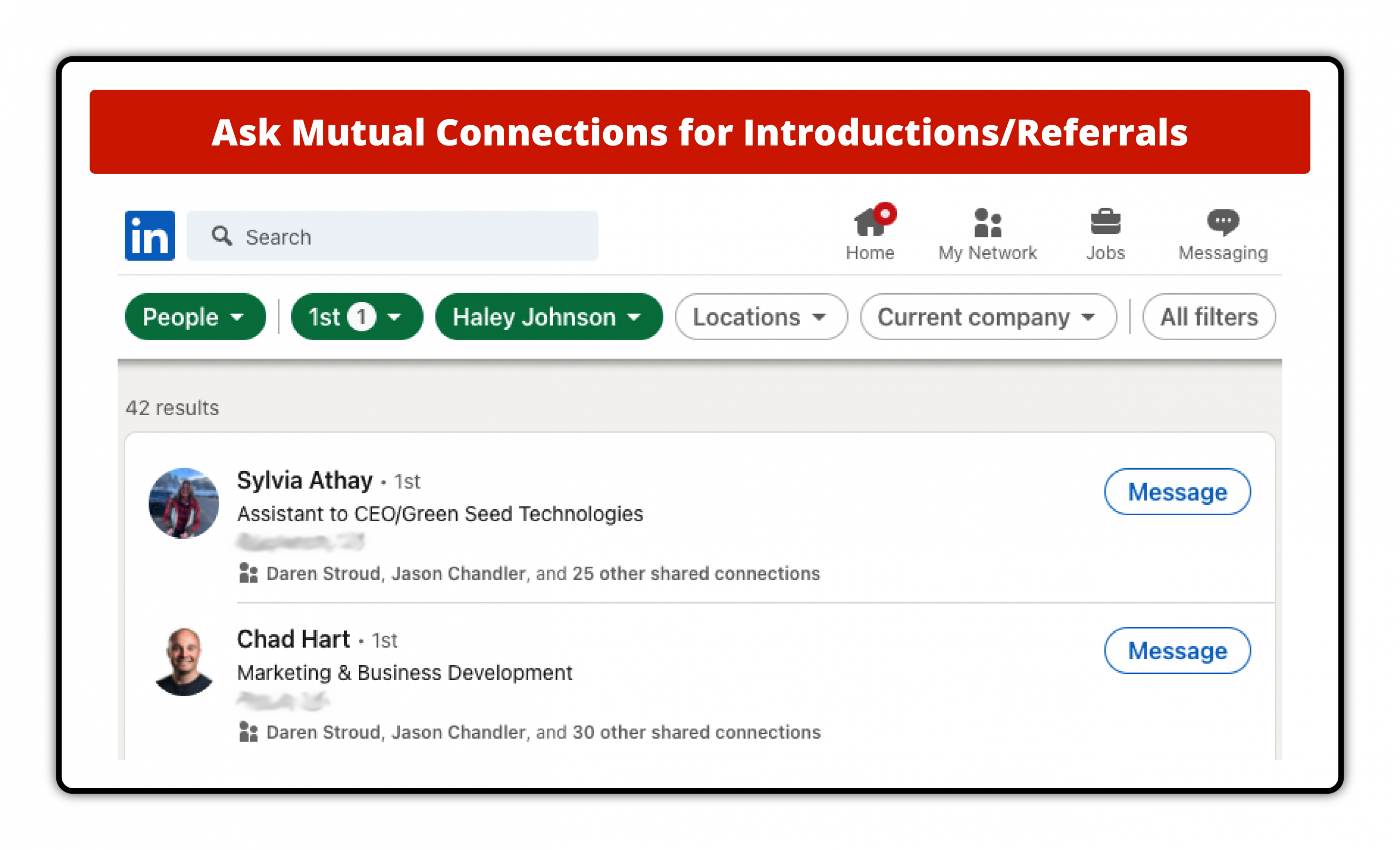 These steps will set you up as a hard working agent cold leads can trust. You'll also bypass potential rejection, objections, and awkward introductions that often come with cold calling. 
*PRO TIP: If your mutual LinkedIn connection is hesitant to introduce you, offer to pay them a referral bonus if (or when) you close the deal. 
---
7. Send Mailers
One of the best ways to stay top of mind with potential clients is through a direct mail campaign. It's a relatively inexpensive process that puts your face in front of more homeowners (without spending hours on the phone). 
Identify who you want to mail and what content you're going to send. Here are a few ideas:
• Mail GeoLeads™ to notify the neighborhood about a property you just listed or just sold.
• Educate FSBO leads about the benefits and net proceeds of selling with an agent.
• Show Expireds that you're able to do what their last agent couldn't.
• Rake in referrals by sending congratulatory gift cards to past clients on their home-buying anniversary.
• Stay top of mind with your sphere of influence by mailing out monthly newsletters with market updates and community events. 
No matter who you mail, be sure to deliver an effective message with interesting visual elements that will peak a homeowner's interest. Magnify your mailers with photos, well designed graphics, testimonials, or something of value that people will want to keep. And for an added online touch, generate a QR code that links to your website or social media account and include it on your mailers.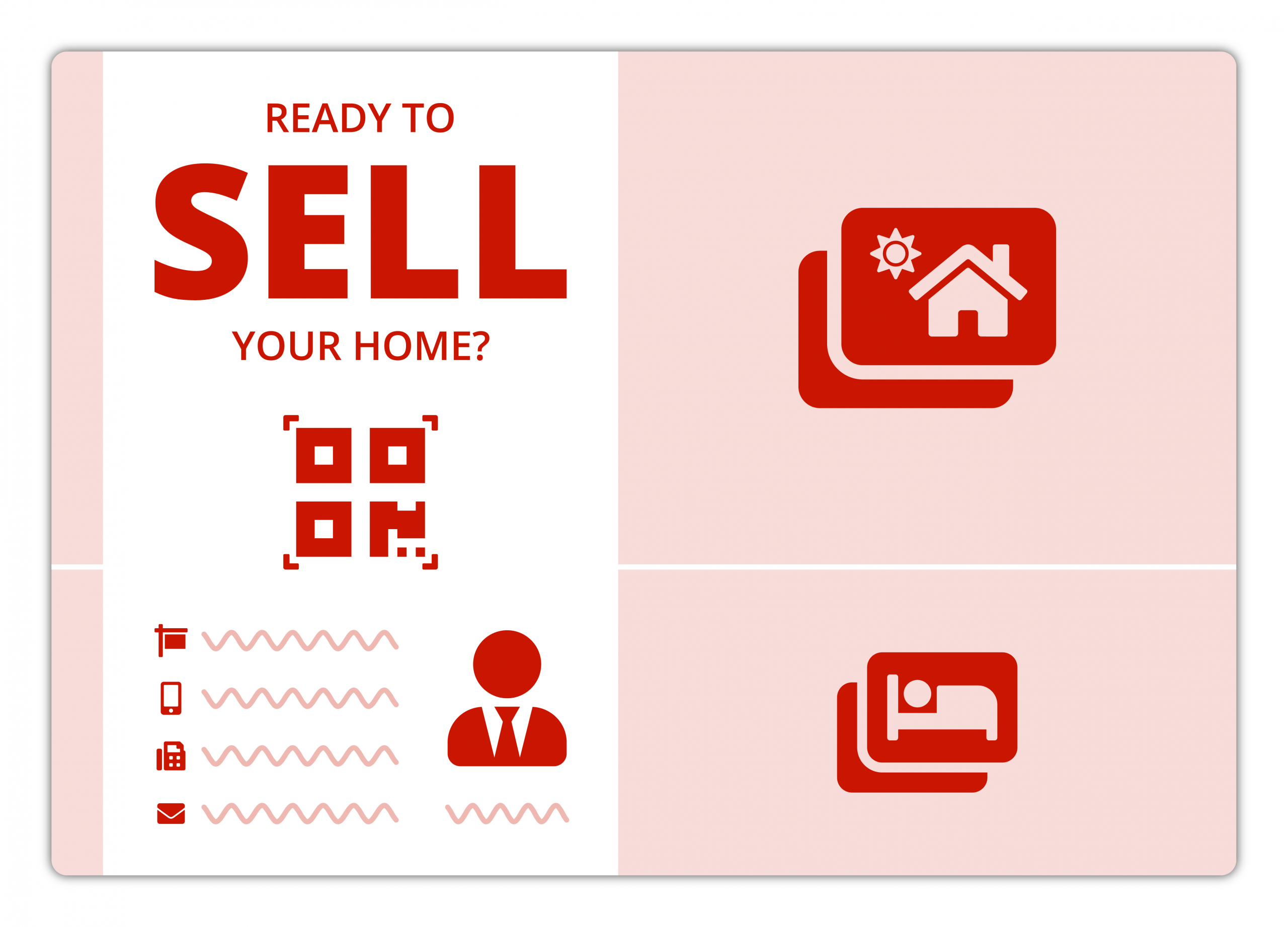 Make sure your name, phone number, email address, and social media handles are clearly visible in case someone wants to reach out. 
*PRO TIP: Discover new ways to mail Old Expireds (6-24 months old) from mail master, Jim McCord.
---
8. Go Door Knocking
If the last couple of years have taught us anything, it's that nothing beats face-to-face interaction. Getting outside and knocking on doors not only gets you in front of more homeowners, but it shows how hard you're willing to work for your clients. 
Showing up on someone's doorstep can be intimidating, so make sure you're prepared with relevant information and a solid script to boost their confidence and build trust. Almost every homeowner is interested in how much their home is worth, so discuss potential equity, what other homes in the area have sold for, and other relevant market information. The goal is to highlight advantages of selling and position yourself as the neighborhood expert.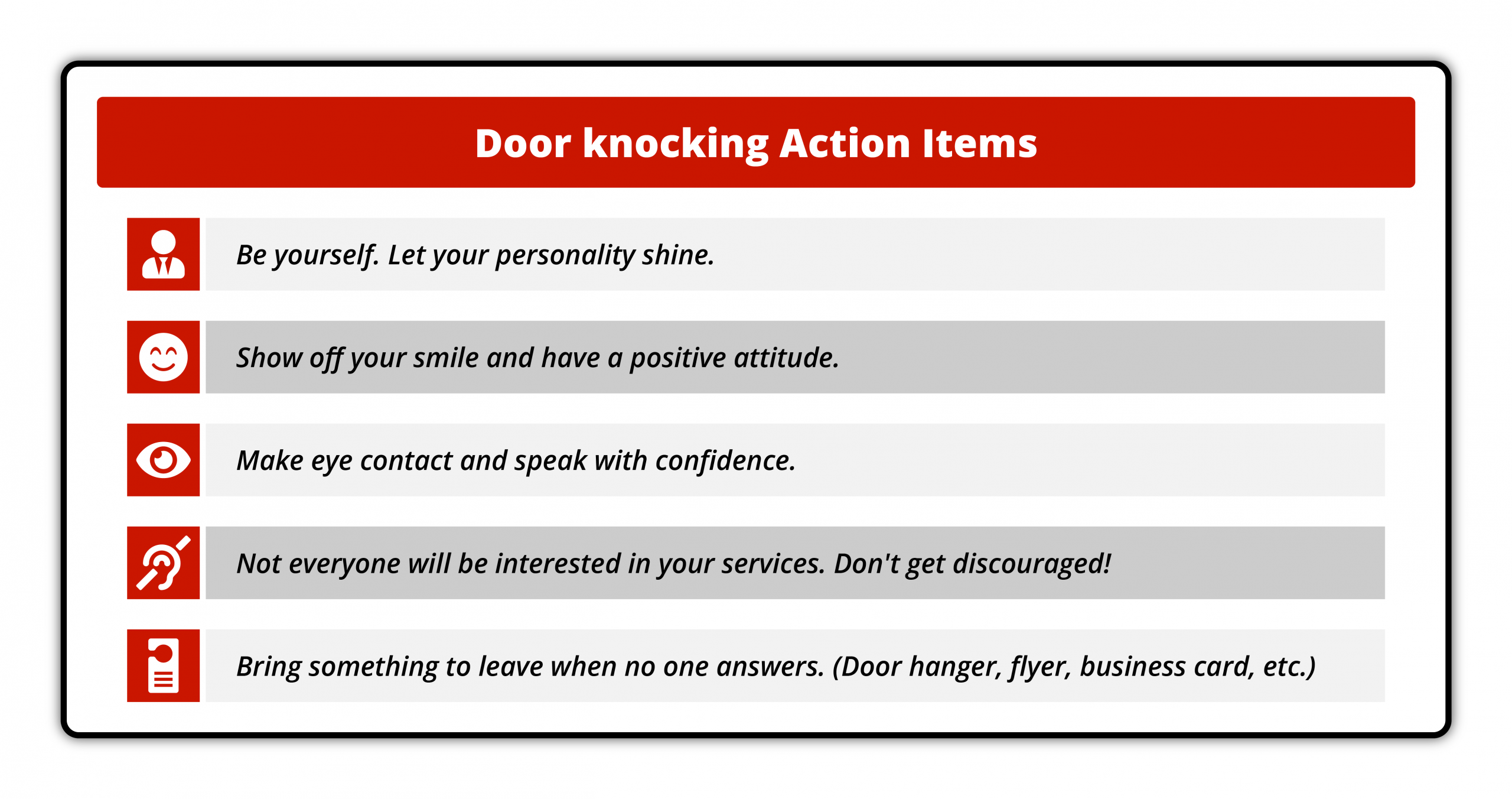 ---
9. Hold Open Houses
Open Houses are a tried-and-true method for prospecting without cold calling. It's the perfect opportunity to showcase your listings while getting face-to-face exposure with potential buyers. 
While popular, not every agent holds open houses as effectively as they could. Remember to market your open house through all available platforms and mediums – email marketing, mailers, door knocking, social media, and other neighborhood farming campaigns. The more exposure you have, the more people will come, and the more networking opportunities you'll have. 
Make sure to follow up with your attendees regularly and add them to your long-term nurture campaigns. Neglecting these homeowners could let otherwise easy listings fall through the cracks.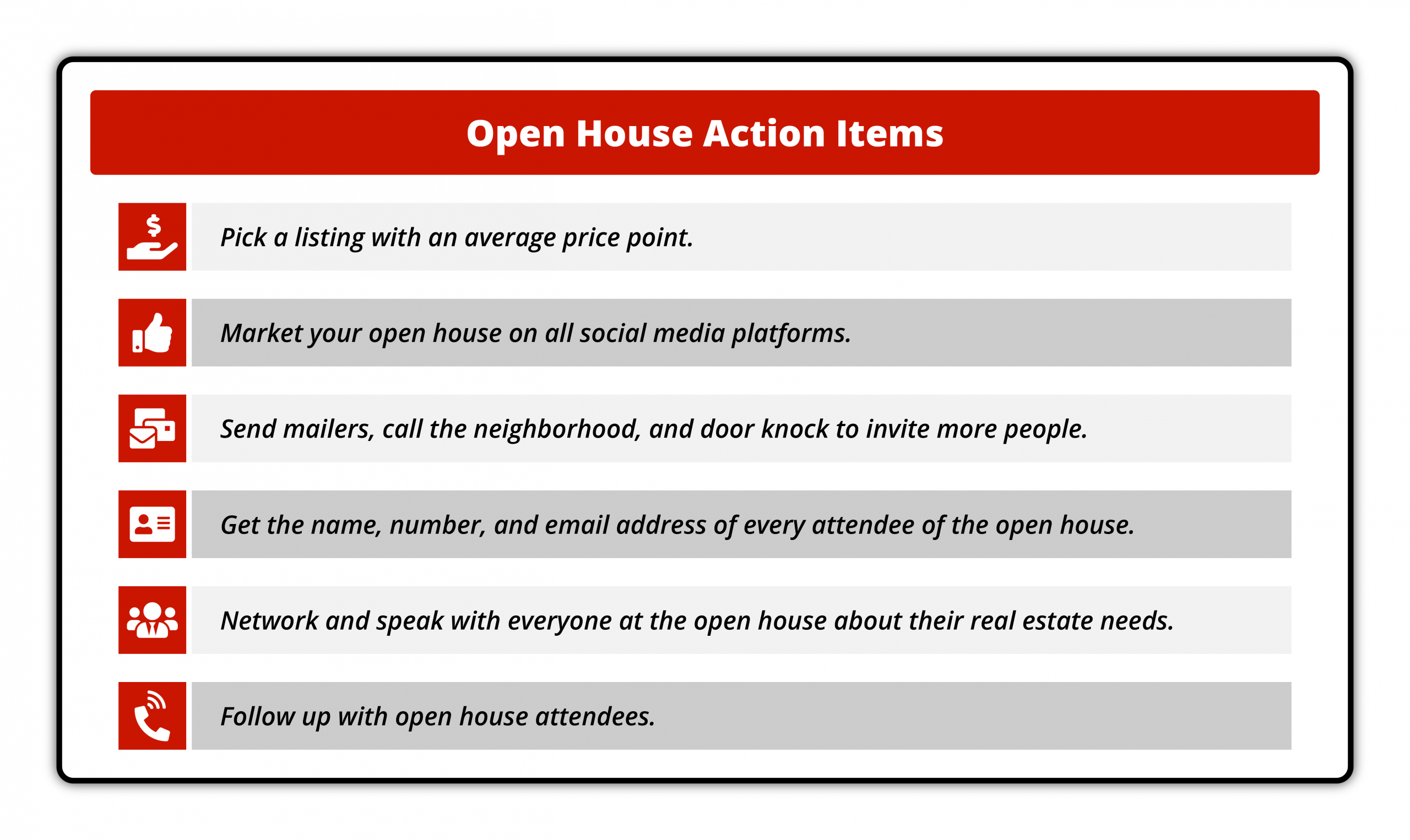 ---
10. Enhance Your Email Marketing
Much like a direct mail campaign, an effective email marketing campaign is a simple way to stay top of mind among your database without picking up the phone. It's important to write emails that people will see, open, read, and actually take action on when they're ready to buy or sell. Here are a few technical tactics and writing strategies to help your emails get past spam filters and into inboxes:
• Start with your value
Whenever you write an email, ask yourself, "What value am I providing to homeowners?" Free CMA offers, local market analyses, discounts at local retailers, and community event announcements are all great ways to entice and engage your email audiences.

• Write engaging subject lines
Which subject line are you more likely to open? "John Smith Realty" or "Interest rates are lower than ever!" A good subject line should catch your reader's attention right away so they're more likely to read the rest of your email. Just remember to keep them nice and short since most inboxes only show the first 30-60 characters of your subject line. Check out these examples of solid subject lines: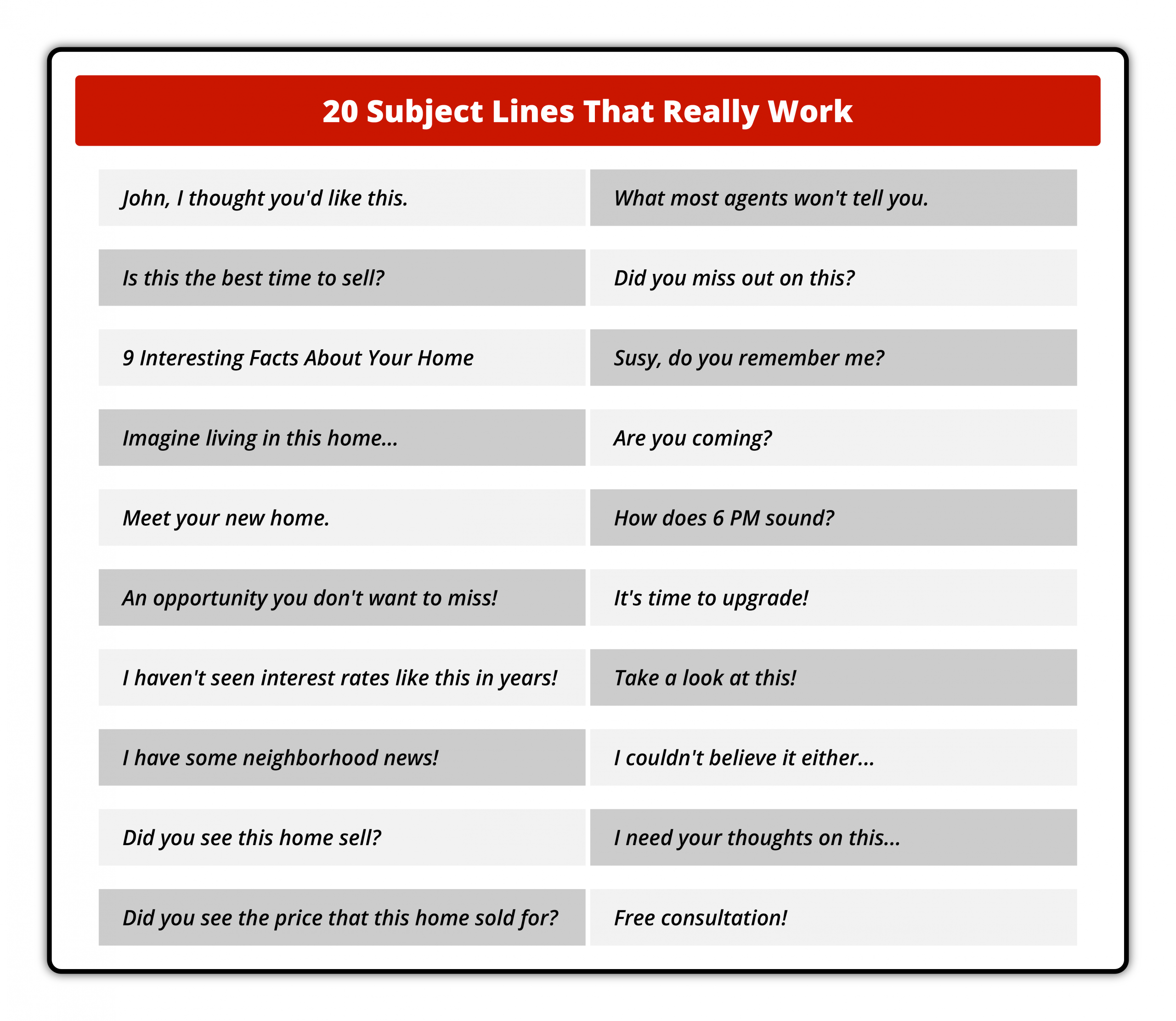 • Maintain your email lists
It's important to know the difference between your "warm" and "cold" email lists. A warm list is made up of people in your database who will recognize your name and likely open your emails. A cold list contains anyone that you haven't emailed for at least four months. Your primary goal should be building and maintaining your warm list and warming up your cold list.

Build your warm list by collecting email addresses from everyone in your database. When you call your sphere, double check to make sure you have their current email address. And to warm up a cold list, send an email re-introducing yourself with a subject line like, "Susy, do you remember me?" and an email that looks like this:
---
What's next?…
All the methods and strategies we've covered in this blog are designed to help you get business without cold calling. They're also designed to help you save time and expand your reach as a real estate professional. So whether you're an avid prospector or an agent looking for methods that don't involve calling strangers, diversify your daily to-dos by choosing a few of these strategies to implement into your business today. 
---
About REDX
REDX is an all-in-one lead data and prospecting platform that helps agents connect with qualified buyers and sellers. The platform includes seller leads, a dialer with up to three lines, social media tools, and a lead management system that simplifies first contact and follow up.
Click here to watch a demo, or call (800) 731-7339 ext. 1 to learn more about Expireds, FSBOs, GeoLeads, FRBOs, Pre Foreclosures, our Power Dialer and Social Media Tools for paid ads and content creation.
REDX maintains the position that all agents should be compliant with state and federal telecom laws – learn more here.