FSBO Leads
(For Sale By Owner)
These homeowners need an agent, that agent could be you. FSBO Leads
(For Sale By Owner)
These homeowners need an agent, that agent could be you.
Daily Delivery of FSBO Leads

Numbers Cross Checked Against DNC
Landline & Mobile Numbers

FSBO Filters (location, pricing, listing date)

NEW! Homeowner Financial Insights

NEW! Home & Building Specifications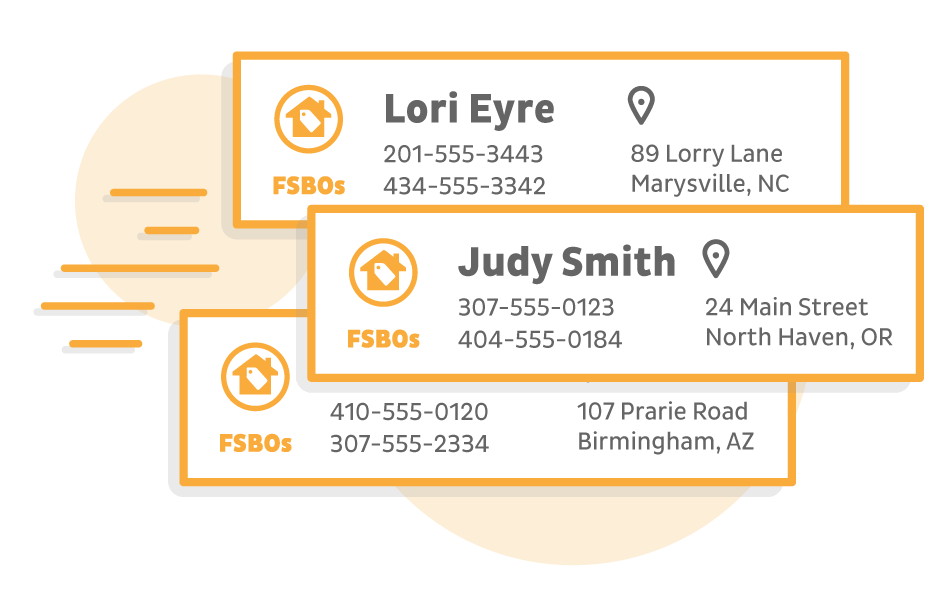 Be the Agent Who Makes a Difference
Many FSBO homeowners will fail to sell a home by themselves. With your help, they can net more money and get the most out of their listing. Be the first to reach out and provide the value they couldn't get on their own.
How Prospecting FSBOs Works
First, Vortex Finds Phone Numbers For All FSBO Listings In Your Area
Vortex does the dirty work by searching hundreds of classifieds, websites, newspapers, and magazines for homes listed as for-sale-by-owner. Then it uses the owner-provided phone numbers for those listings to give you the most accurate contact info available.


Then, You Call The Leads
80% of prospecting success is just showing up and making the calls. As long as you have good data, setting listing appointments is a function of time – consistently invest time prospecting and you will set listing appointments.


Practice Makes Perfect
The other 20% is knowing what to say to set the listing appointment. There are proven ways to transform FSBO listings into your listings. However, memorizing and internalizing them will take time and practice. That's why we offer free roleplaying and script practice for all of our customers and consistently host live prospecting so you can see other prospectors in action.
Struggling Agent Generates $300,000 In Commissions Prospecting FSBOs
How Steve Matthews became a confident six-figure FSBO prospector after early struggles in his career. Read what it takes to go from "terrified to terrific" without wasting tons of money.
Read More