As a new real estate agent, identifying and marketing to the right audience is critical to your success. Without a clear understanding of who your potential clients are and how to interact with them, you risk wasting valuable resources targeting people who are unlikely to transact with you. 
This guide explores how to identify your optimal audience, along with tools and tactics that will help strengthen your listing strategy through social media and prospecting calls. 
---
New Agent's Guide to Lead Generation
Finding your ideal audience
Prioritizing "transaction-ready" homeowners
Getting your audience's attention
Organic Social
Paid Advertising
Prospecting
Sphere of Influence
Closing the Deal
FREE Listing Strategy eBook
---
Finding your ideal audience 
As a new agent, it may be tempting to market your services to anyone and everyone in your community. You need deals NOW, right? So why not let everyone know who you are and what you do! But in reality, targeting "everyone" can waste time, money, and other important resources. 
So unless you have unlimited funds to post your face on every billboard, bench, and television in your market – you need to narrow your audience to the people who are most likely to transact with you in the next 12 months. Luckily, REDX has been helping agents find this ideal audience for over 20 years, with simple tools to help you connect with and nurture these "transaction-ready" homeowners. 
---
Prioritizing "transaction-ready" homeowners
While there are over 140 million households in the United States, we know that roughly 4% sell each year. So if you want to spend less time and money finding listings, you should focus your efforts on the bottom 4% of the funnel known as "transaction-ready" homeowners.
Transaction-ready homeowners are people who are actively looking to buy or sell their homes. These are people in your market who are raising their hand screaming, "I want to sell my home right now!"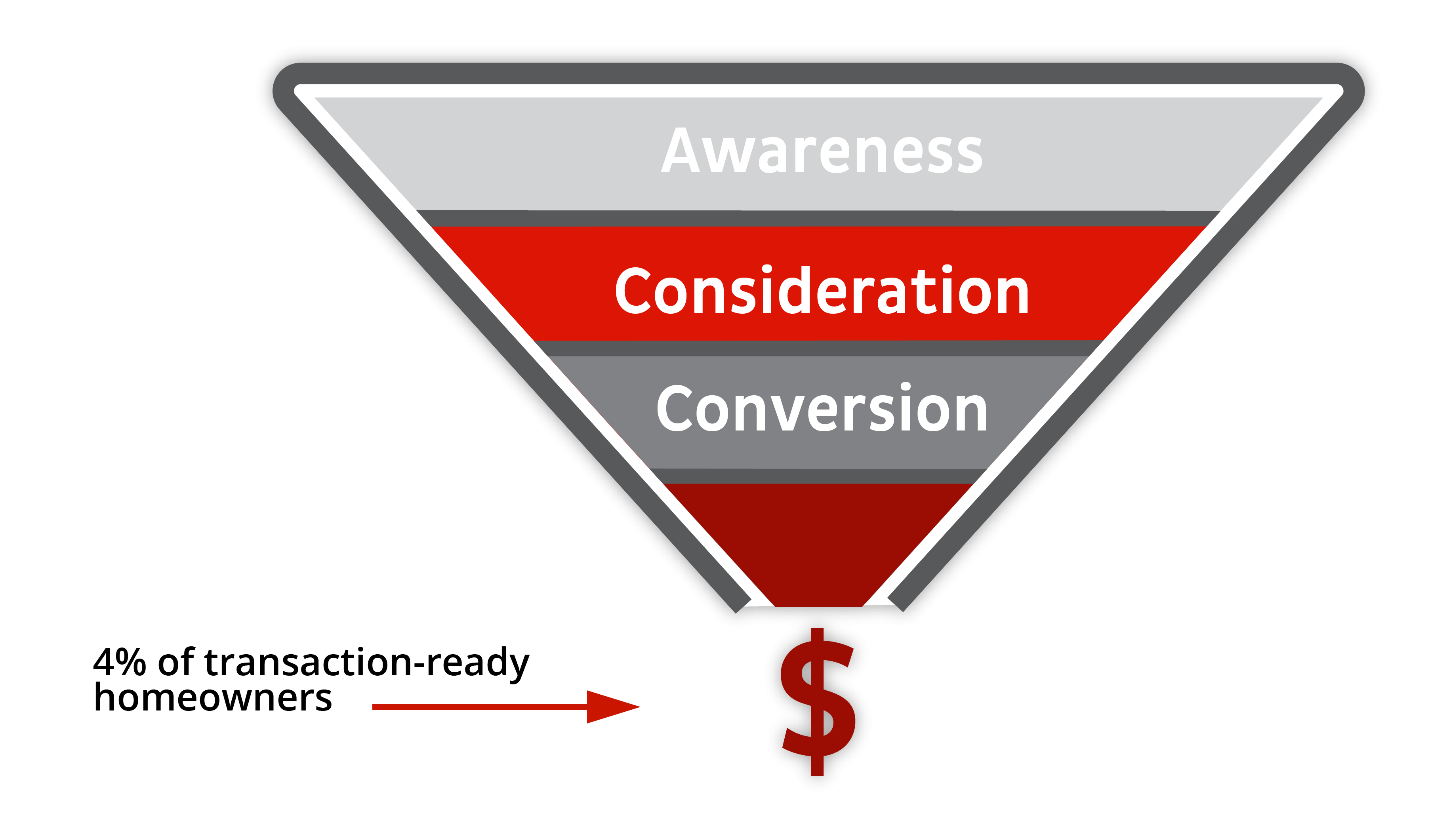 The most common transaction-ready homeowners are expired and for-sale-by-owner listings. Since expireds have already tried (and failed) to sell their home, and FSBOs think they can manage the process on their own, both of these types of homeowners are primed and ready to do business with a qualified agent.  
While not every Expired or FSBO will choose you as their agent, prioritizing them as part of your audience will ensure you're engaging with people who want to transact immediately.

---
Getting your audience's attention
Now that you've identified your foundational audience, it's time to get their attention. You can accomplish this by tailoring your marketing efforts (or "pillars") to the specific needs and preferences of those most likely to sell in the next 12 months. 
Your marketing pillars should include paid advertising, organic social media, cold calling, and working your sphere of influence.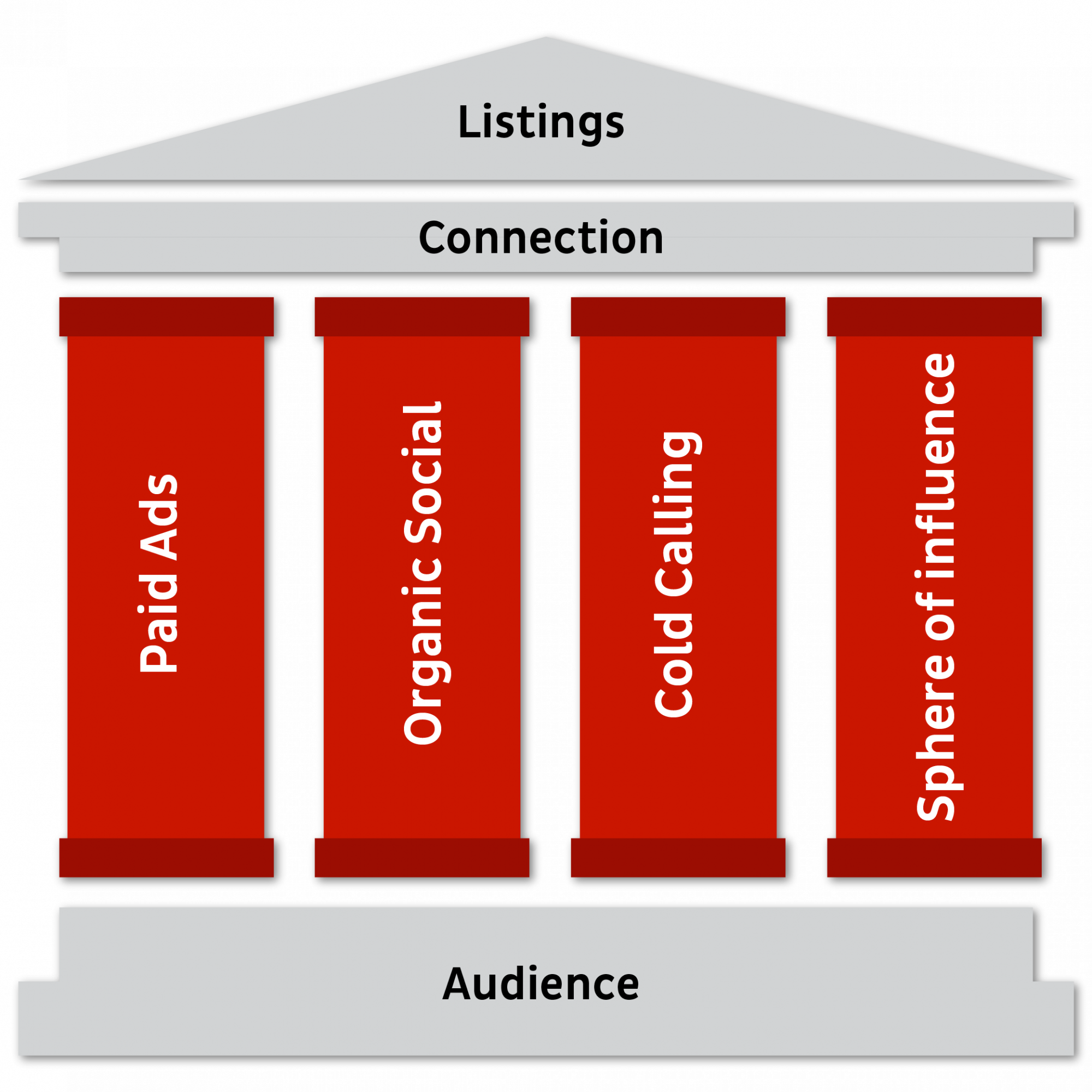 Tending to each of these marketing pillars will help solidify your listing strategy and lead to more connections, listings, and commissions. If done effectively, each pillar will strengthen the others, creating a positive feedback loop of lasting success. 
Let's dive into each pillar to see how it's done…
Organic Social
There are billions of people on social media… including your future listings. So the more you post on platforms like Facebook, Instagram, and TikTok, the more people will recognize you when you interact with them in person.
Keep in mind that social platforms prioritize content creators who share authentic, engaging content. If you only post about real estate, you'll lose followers and get buried by platform algorithms. So make sure you find a good balance between personal and real estate content – about 80% fun/personal content and 20% real estate content.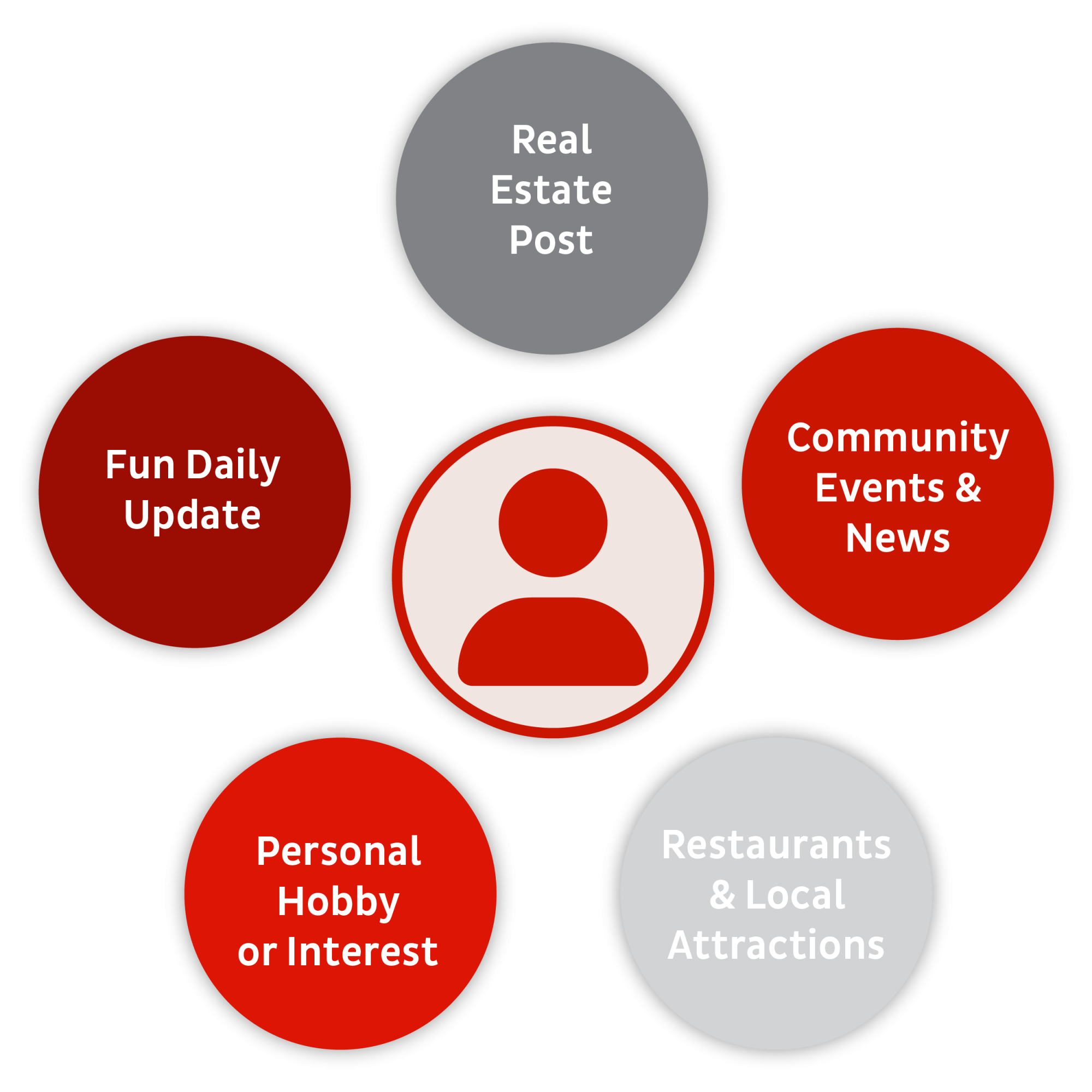 Paid Advertising
Social platforms like Facebook and Instagram allow you to target your exact audience by running unique ads to specific people in your database. This means you can put relevant messages right in front of homeowners who are most likely to sell in the next 12 months.
Tools like REDX's Ad Builder let you advertise to your leads and contacts by directly targeting your Expired Leads, FSBO Leads, GeoLeads™, SOI and more!  And Ad Builder does all the hard work by automatically updating your lists with the newest leads every day – which means you only advertise to the exact people you want.

Prospecting
When it comes to lead generation, prospecting over the phone is one of the most effective ways to connect with qualified homeowners. The only problem is, prospecting can be tedious and discouraging, especially for newer agents.
So try this instead:
Pair your cold calling strategy with organic social content and paid advertising to warm up your prospects before you call. This way, when you do call, homeowners will know your name, face, and what you do from social media. It's a great way to break the ice before you jump on the phones. And once you are ready to call, make the time you spend on the phones really count. Use a Power Dialer to connect with more homeowners in less time.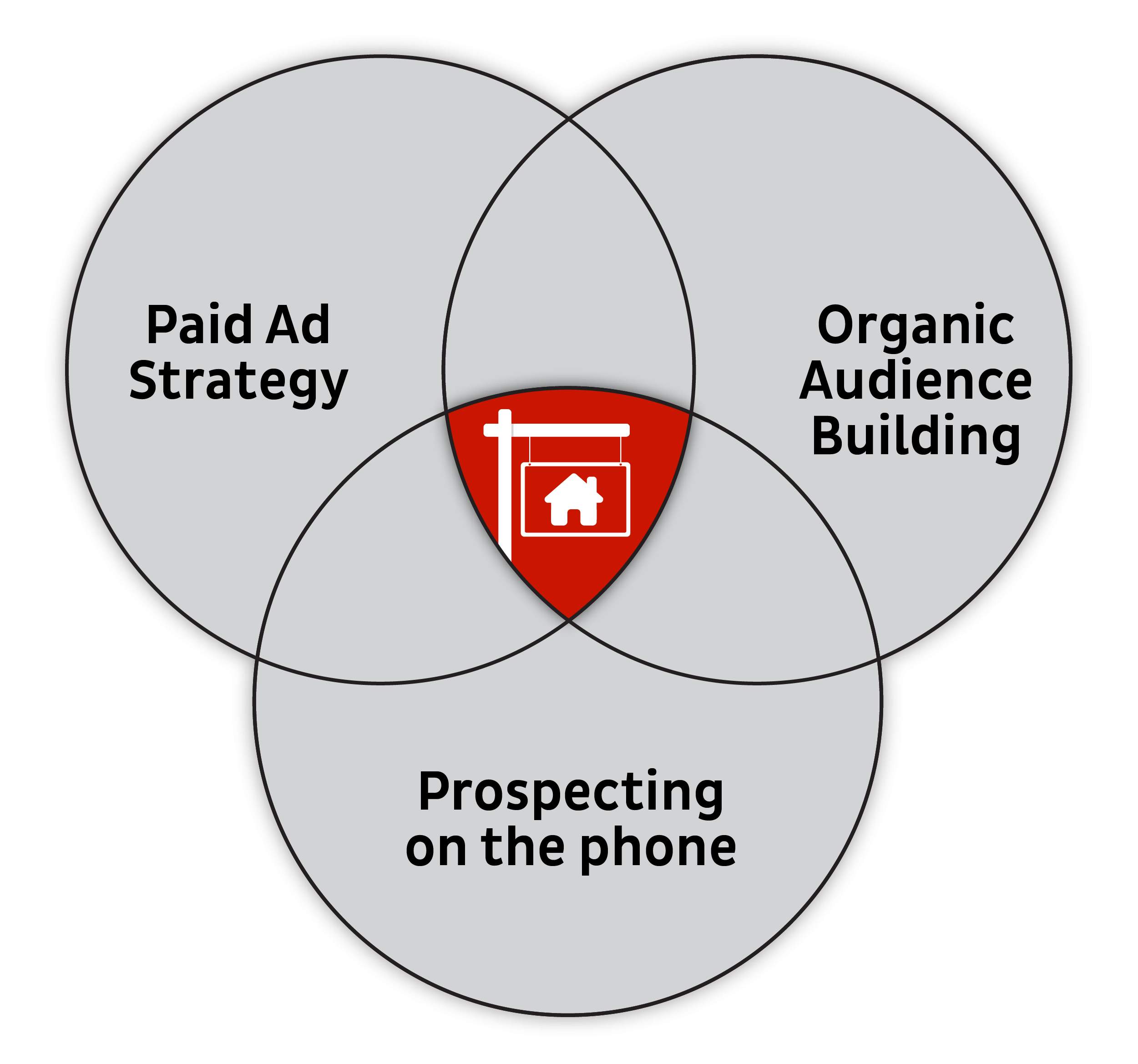 Sphere of Influence
Don't forget to include your own sphere of influence. Too many agents work hard for a single transaction, but forget about people who already know, like, and trust them as they look for their next deal. Staying top-of-mind with your personal sphere of influence will yield the highest results over time through repeat and referral business.
---
Closing the deal
Are you ready to elevate your listing strategy and talk to more transaction-ready homeowners? Implementing the tools and tactics in this blog will help strengthen your foundation as a new agent and allow you to effectively market to your ideal audience.
With REDX's suite of powerful tools and lead products, you can easily find and target your ideal audience on social media, have more meaningful conversations, and ultimately close more deals. 
See the difference REDX can make for your business.
Click below to watch a demo.
---
FREE eBook
Looking for more ways to build and engage your audience over social media? Click here to download the full REDX ebook, Listing Strategies for 2023: Prospecting with Social Media.

---
About REDX
REDX is an all-in-one lead data and prospecting platform that helps agents connect with qualified buyers and sellers. The platform includes seller leads, a dialer with up to three lines, social media tools, and a lead management system that simplifies first contact and follow up.
Click here to watch a demo, or call (800) 731-7339 ext. 1 to learn more about Expireds, FSBOs, GeoLeads, FRBOs, Pre Foreclosures, our Power Dialer and Social Media Tools for paid ads and content creation.
REDX maintains the position that all agents should be compliant with state and federal telecom laws – learn more here.