Social media advertising has become a must-have marketing tool for every modern business. As a real estate agent, highly-targeted social ad content can help you inform, engage, and impress your leads before you even meet them. But creating quality content can feel complicated and overwhelming, especially if you're already busy balancing a hectic real estate schedule. Not to worry—REDX has your back. Keep reading to discover 5 tips on how to create (and share) relevant, valuable social ad content for your real estate business. 
---
5 Tips to Create Effective Social Media Ads
Tip #1: Video Rules
Tip #2: Picture Perfect
Tip #3: Catchy Headlines
Tip #4: Concise Copy
Tip #5: Strong CTAs
---
Tip #1: Video Rules
When it comes to social media ads, businesses around the world are all coming to the same conclusion: people prefer video!
In a recent experiment that compared video ads to image ads on Facebook, a simple six-second video outperformed a static image in every metric. The video generated 3x as many leads, was seen by 25% more people, had 480% more clicks, and had a better ROI for conversion compared to the image counterpart. Keep in mind, these numbers will vary depending on the target audience, ad budget, industry, and quality of content. But the bottom line is this: video is the best medium for paid social media advertising.
Here are a few rules to follow when creating social ad video content:
Keep it clear and clean
It may seem obvious, but make sure your audience can see, hear, and understand your video ads. Every video ad should have crisp audio, captions, and good lighting.
Shorter is better
Digital attention spans are dwindling! Depending on the platform, try to keep your video ads between 10-45 seconds long and keep your message simple.
Hook them early
Peak their interest in the first few seconds so you can keep them intrigued until the end. Watch this video to see some great examples:
Help your audience (not yourself)
No one wants to hear another agent ramble about how great they are at selling homes. Focus content around your audience's needs in interesting, informative, and empathetic ways.
Click here to see more social media tips and examples.

---
Tip #2: Picture Perfect
Even though video dominates the social media ad space, sometimes it might make more sense for your ad campaign to use an image. Standalone images or carousel ads that rotate between up to 10 photos are great ways to share the latest market trends, new listings, or home tips.
Here are a few social ad best practices for image-based content:
Quality matters
High-quality photos and graphics will help the ad look professional and catch the viewer's attention. Consider lighting, angles, and framing for effective image ads.
Show your face
Value-driven ads won't do you any good if your audience doesn't know who to connect it to. Make sure your ads feature YOU.
Use simple, bold text
It can be difficult to tell a story through a standalone image, so drive your point home with simple, bold text. Just remember to be intentional—don't overwhelm the image with too much text!
Which social media image ad do you like better?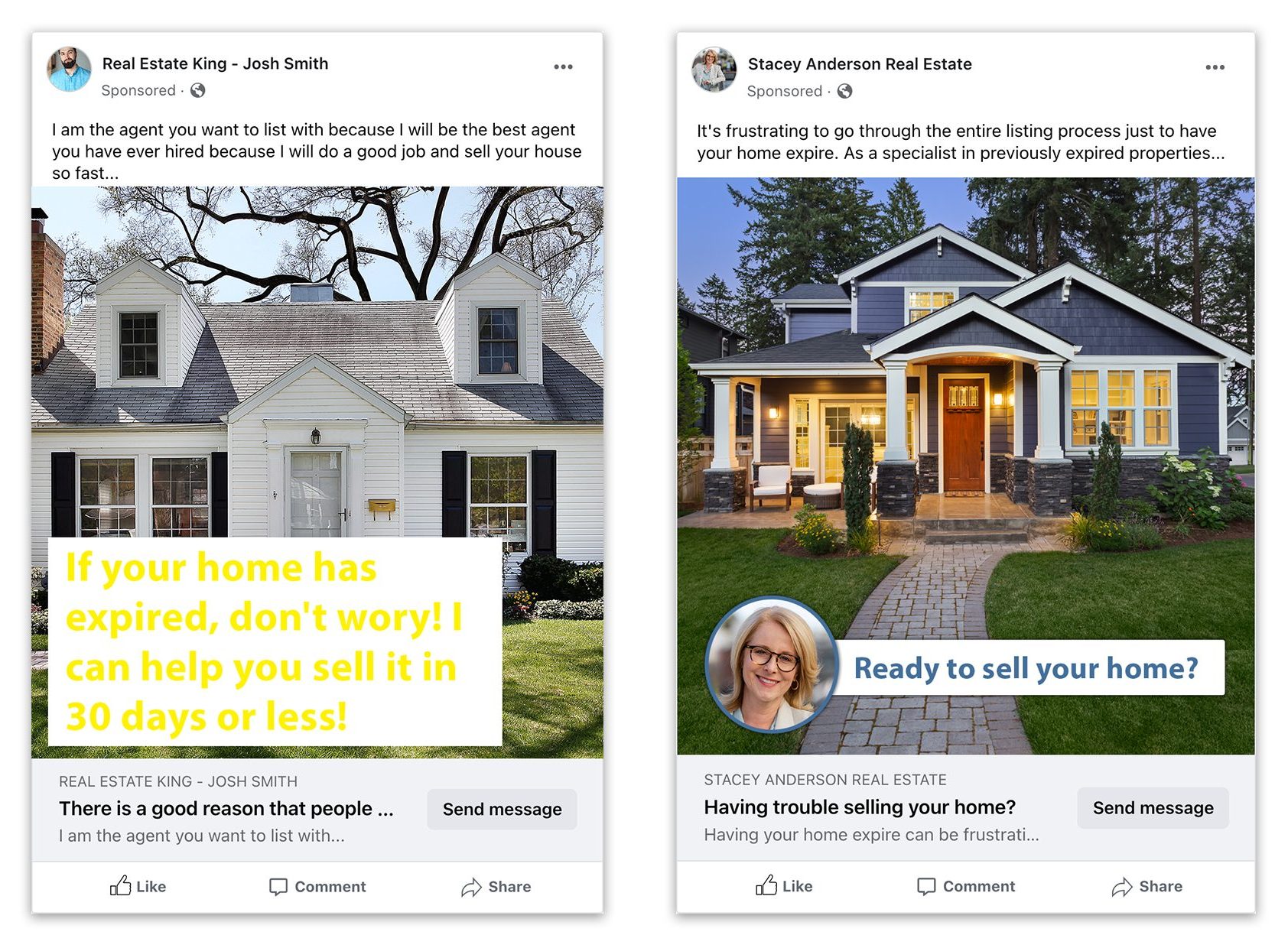 ---
Tip #3: Helpful Headlines
Social media feeds are a constant battle for user attention. You only have a few seconds to capture the viewer's interest before they move on to the next thing, so in addition to an eye catching image or video, make sure you include an intriguing, catchy headline.
Here's some help for writing engaging social ad headlines:
Solve a problem
Speak to a distinct problem or answer to a specific question. "Why blank happens" or "How to blank" are great formulas for valuable, informative headlines.
Be specific
Focus headlines toward your target audience. If your ads are targeting a specific lead type, call it out in your headline.
Keep it short
Highlight the main topic of your ad in just 3-5 words. Make sure your audience knows exactly what the ad is about.
Check out these sample headlines for agent ads:
Expireds

For-Sale-By-Owner

Home Tips

CMA/Home Value Estimate

Unmotivated Sellers

---
Tip #4: Concise Copy
The body text of your ads should be as short and punchy as possible. This will help you grab people's attention and get them to engage more with your content. Avoid mentioning irrelevant topics or using keywords that relate only to a specific niche. By staying focused and concise, you'll be able to better engage potential customers and get them to click through to your website.
Incorporate some of these copy principles into your social media ads:
Again – shorter is better
Social media users have short attention spans, so it's important to keep your body copy concise.
Use strong verbs
Choosing verbs that pack a punch will make your copy more persuasive.
Create a sense of urgency
Using language that creates a sense of urgency will encourage people to take action.
Test, test, test
As with all marketing initiatives, it's important to test different versions of your social media ads to see what works best with your audience.
Check out the ad copy examples below. Which do you like better?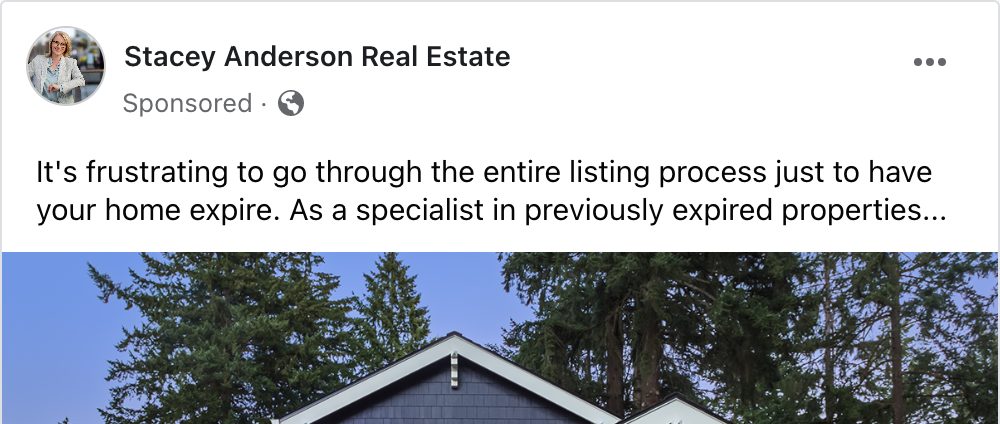 ---
Tip #5: Strong CTAs
A strong CTA (call to action) is an essential part of any social media advertisement. They clearly inform the viewer which action they should take after viewing the ad. The most effective CTAs are short, simple, and direct. Ideally, your CTA should be one or two words that succinctly communicates what the viewer should do next.
Here are some strong CTA principles to use in your social ads:
Use actionable language
Your CTA should use language that inspires the reader to take action, such as "click here," "learn more," or "sign up now."
Stand-out buttons
Your CTA button should be eye-catching and prominently displayed, so that the reader cannot miss it.
Use relevant keywords
When possible, your CTA should use relevant keywords that will help to drive traffic to your website or social media page.
---
You're Ready to Create Effective Ads!
By following these tips, you can create quality social ads that will help you reach your marketing goals. With the right tools, you can produce quality ads that will convert more leads in no time.

---
About REDX
REDX is an all-in-one lead data and prospecting platform that helps agents connect with qualified buyers and sellers. The platform includes seller leads, a dialer with up to three lines, social media tools, and a lead management system that simplifies first contact and follow up.
Click here to watch a demo, or call (800) 731-7339 ext. 1 to learn more about Expireds, FSBOs, GeoLeads, FRBOs, Pre Foreclosures, our Power Dialer and Social Media Tools for paid ads and content creation.
REDX maintains the position that all agents should be compliant with state and federal telecom laws – learn more here.