With more Expired Listings coming on the market every day, now is the time to call them if you want to close more listings in less time. Expireds are the hottest lead type you can call because they need a skilled agent like you to help them sell their home. Use the tips in this article to know where to find these leads and how to prospect to them effectively for endless expired opportunities.
---
8 Ways to List More Expired Leads in 2023
1. Get in the Shoes of an Expired Listing
2. Find the Best Expired Leads
3. Have the Right Script
4. Know Your Objection Handlers
5. Use the Right Tools
6. Run a Social Ad Campaign
7. Send a Direct Mail Campaign
8. Don't Forget to Follow Up
---
1. Get in the Shoes of an Expired Listing
First things first, you need to get in the shoes of an Expired Listing and understand where they are coming from if you're going to re-list their house. These leads are angry and they have a right to be. They wanted to sell their home, but their agent couldn't get the job done. So odds are their plans have been halted and now they need to find a different solution.
That's where you come in.
A lot of agents fear calling Expired Leads because they're frustrated and hard to talk to. However, if you come from a place of empathy and understanding, you can break down the walls they've put up towards agents. Saying things like, "I'm sorry. This whole process must have been so frustrating" allows you to connect with the homeowner and allows them to trust you.
---
2. Find the Best Expired Leads
The competition for Expired Leads is tough. Many agents know that the best and quickest way to get listings is to call these leads. Which is why having the best data and most accurate contact information is crucial in beating out your competitors. With the best data and the right tools, you'll get to the lead before other agents and have an opportunity to sell yourself as the trusted agent first.
While there are many providers that offer Expired Leads, they don't all have the best data. For example, REDX has a researched-backed, proprietary algorithm that checks the data before it gets to you. Which is a fancy way of saying… ALL your leads and data are the best possible match for the homeowner's information.
This means you're more likely to get a hold of someone with the first number you dial, so you spend significantly more time talking to your future clients. By choosing a lead company that prioritizes the right leads, your prospecting session will reap significantly more results.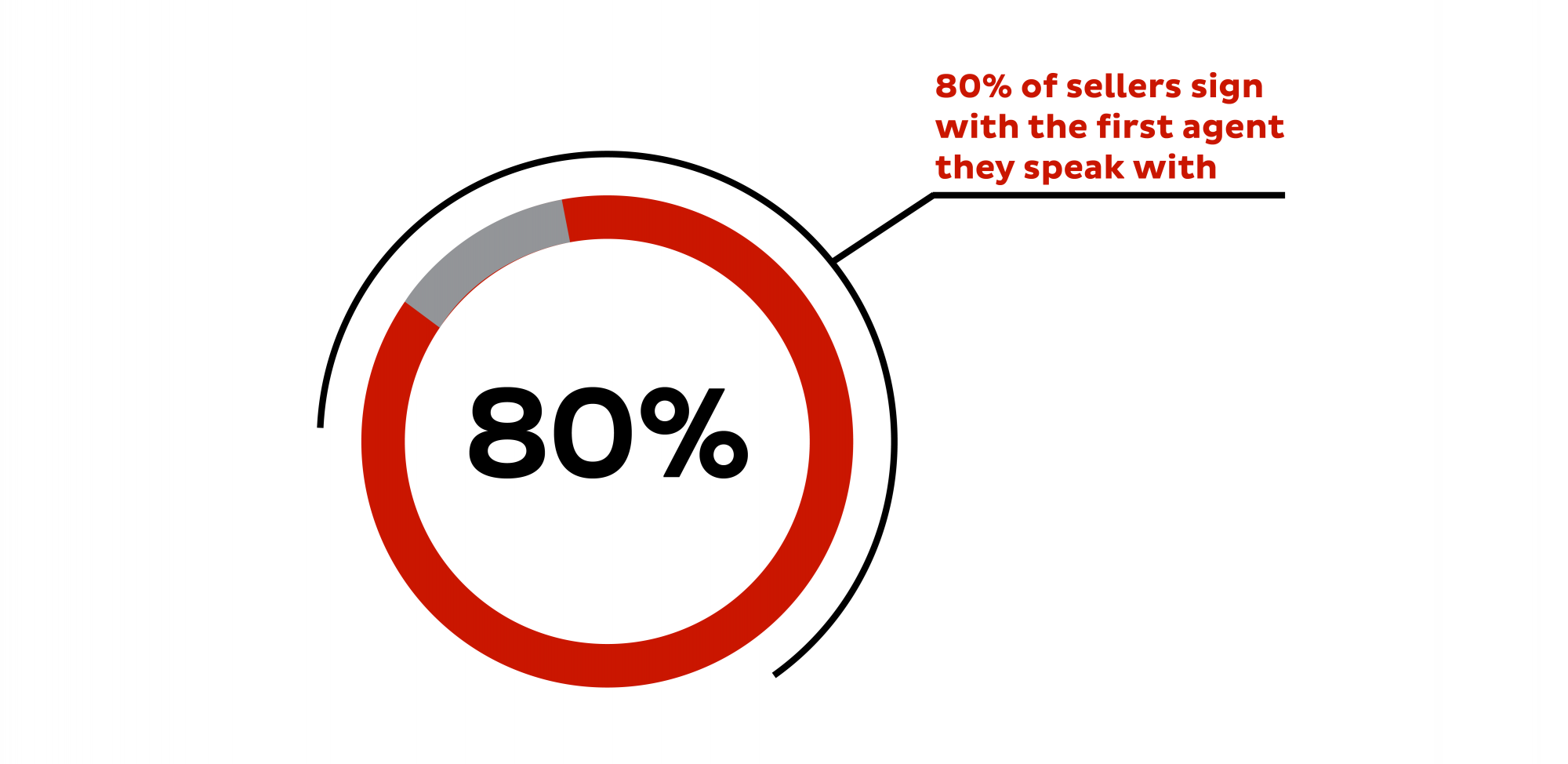 ---

---
3. Have the Right Script
What you say on the phone to an Expired Lead could mean the difference between getting the appointment and getting hung up on. The script you use matters. And while there are a lot of different scripts from a variety of different coaches, trainers, and brokers, you need to find one that works best for you.
If you think using a script feels forced or makes you sound unnatural, don't worry. With enough practice, you can make any script your own, while positioning yourself as the homeowner's hero. Don't forget to be empathetic to the homeowner's situation. They are frustrated because another agent couldn't get the job done. Be the agent who will.
For a more classic approach, use this Expired script from REDX: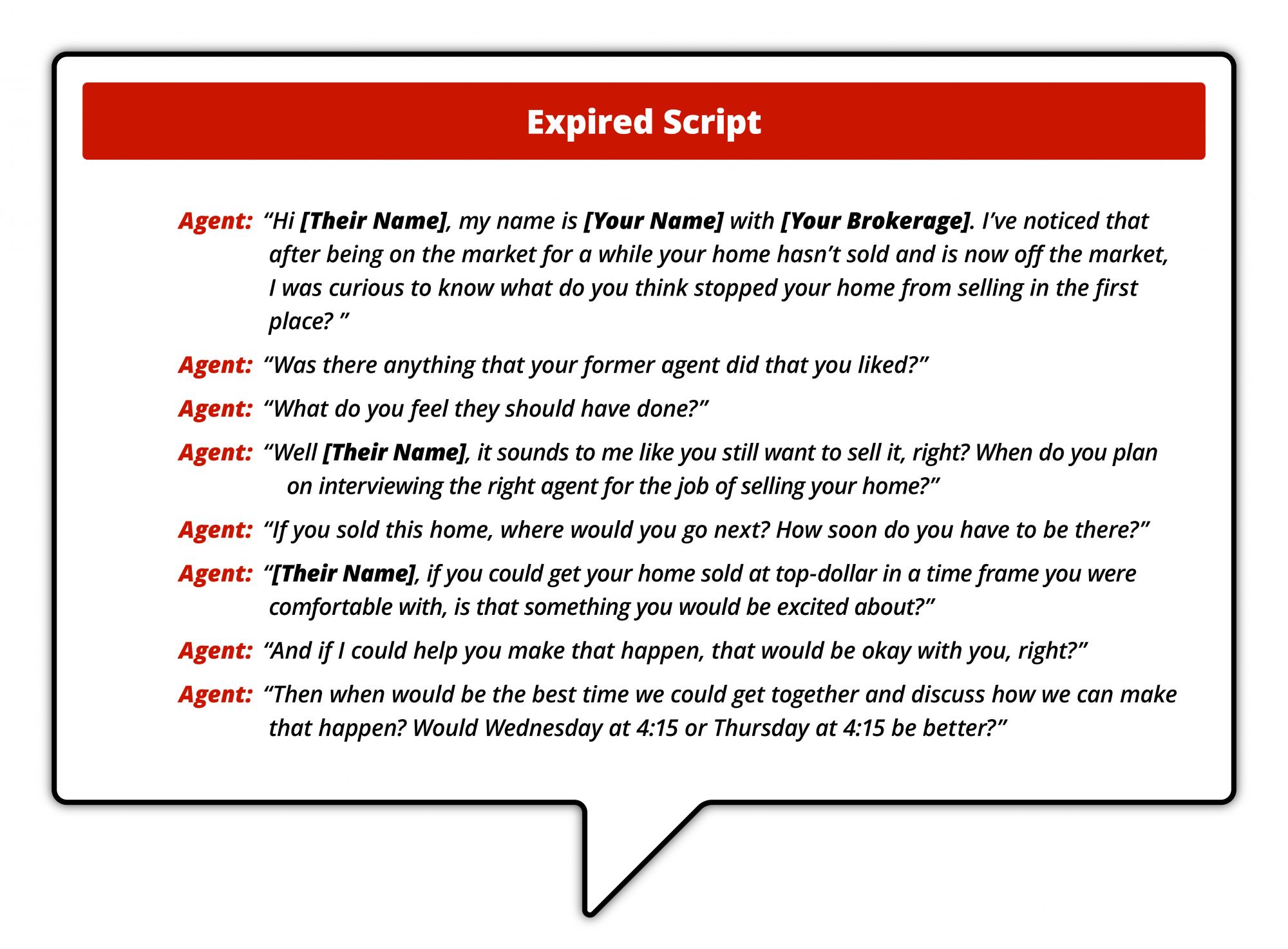 Be sure to check out this blog with 10 more Expired scripts to choose from.
---
4. Know Your Objection Handlers
While a script helps you ask the right questions, you will still get objections along the way. Not to worry! With the right objection handler, you'll be able to speak to their concerns, position yourself as the expert, and land the listing appointment.
Here are the 3 most common Expired objections and how to overcome them: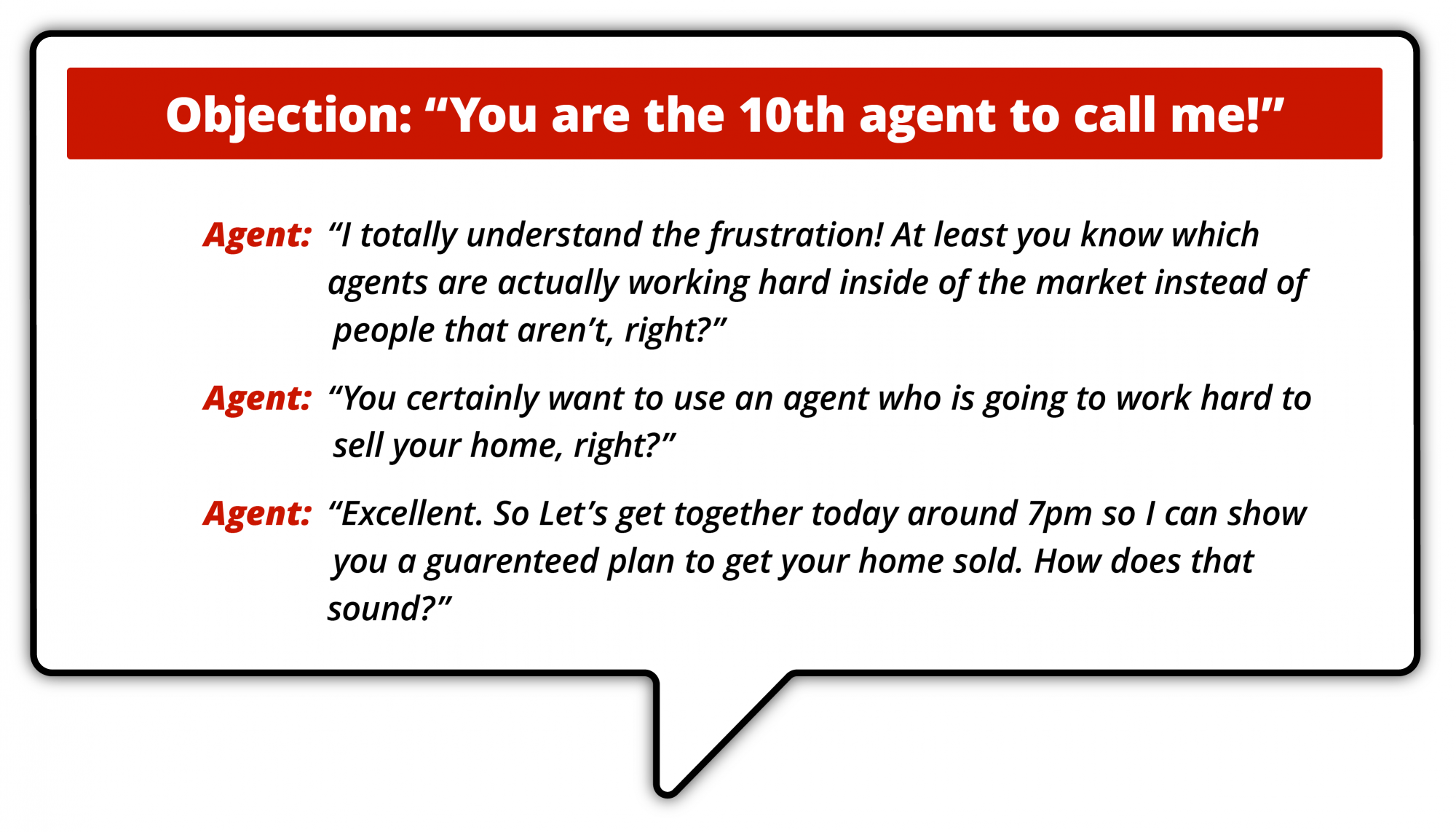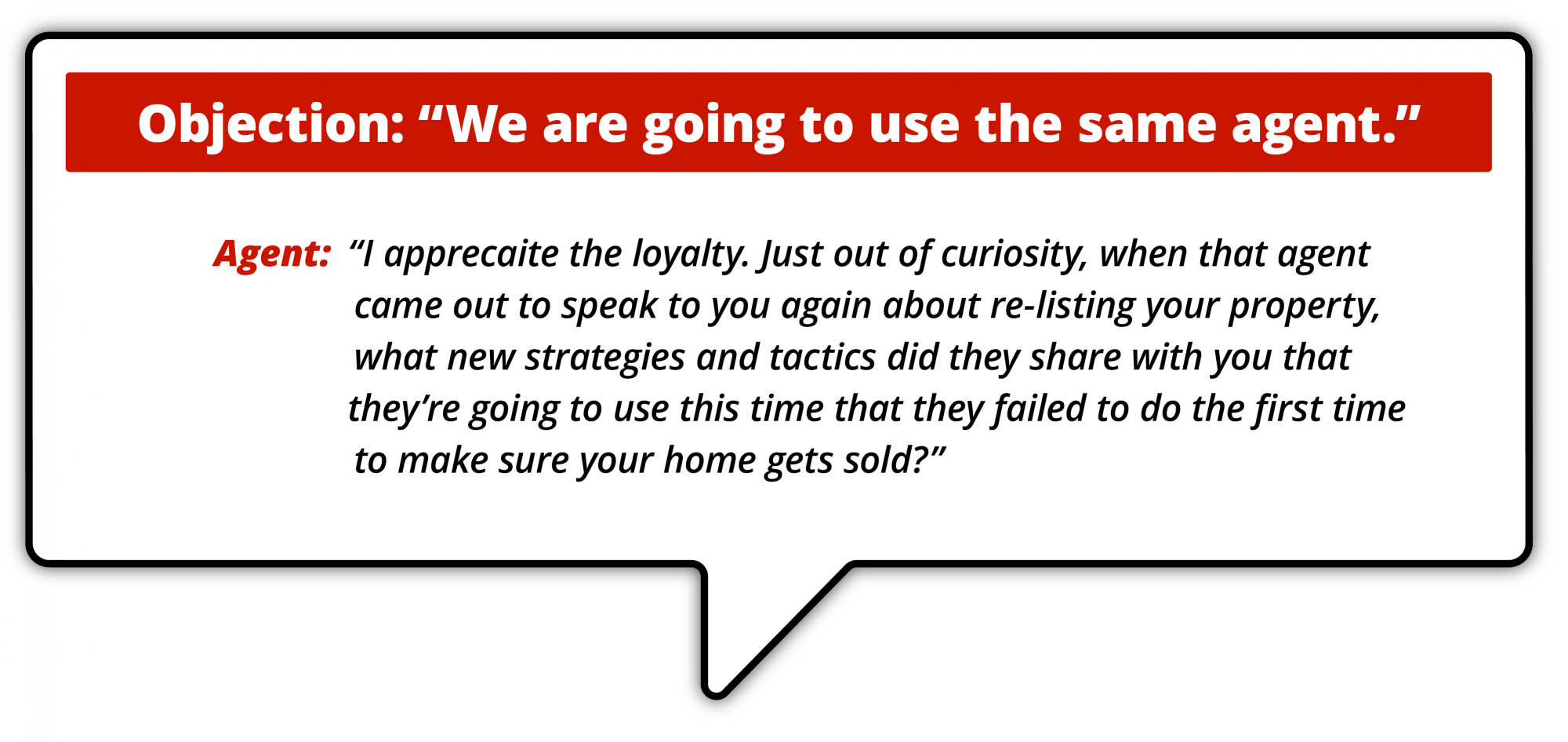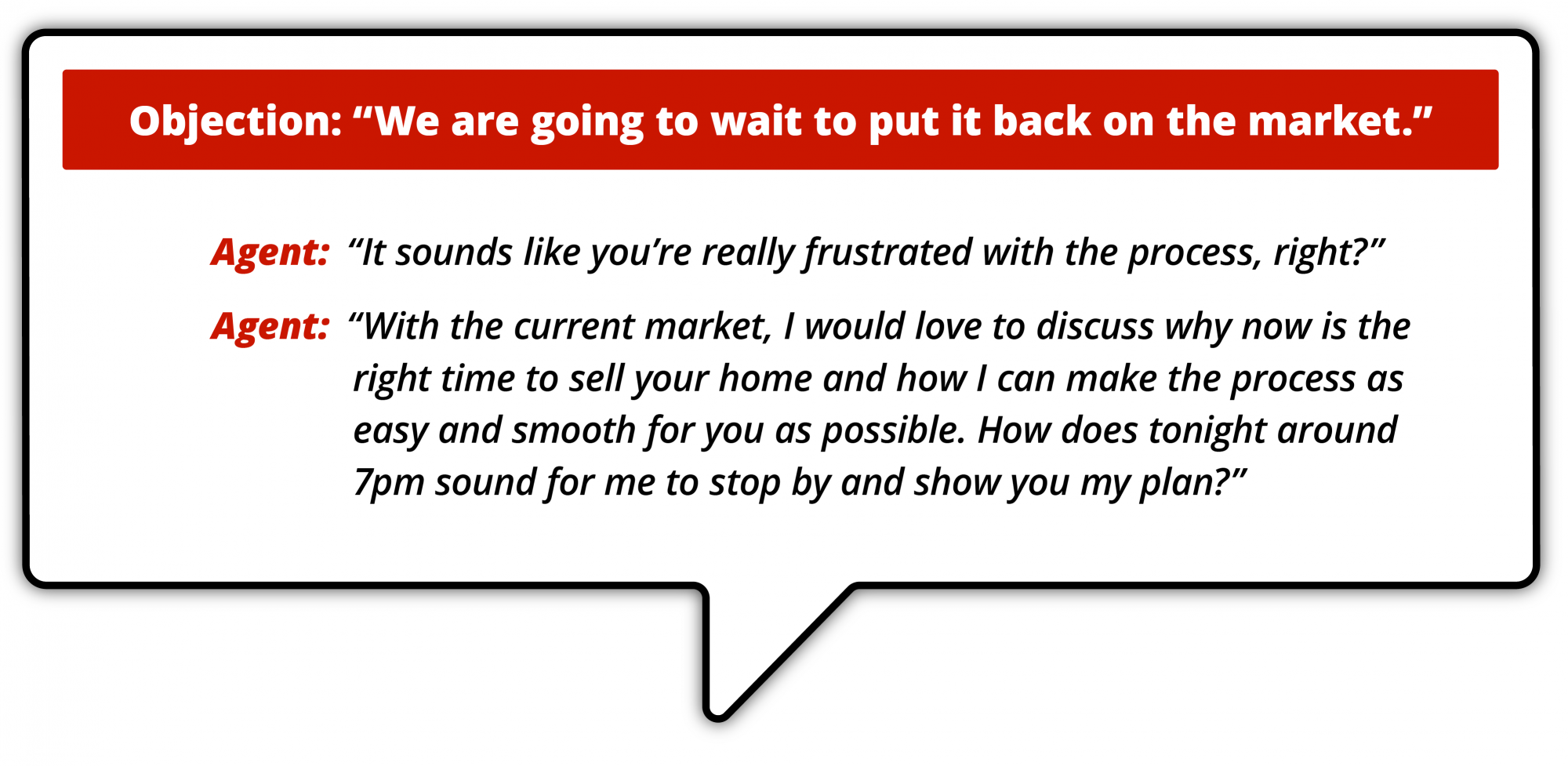 Don't let the worry of objections get in the way of calling these hot leads! Practice your objections handlers with another agent to gain confidence in your ability to get the appointment. You'll get the hang of it in no time.
---
5. Use the Right Tools
You have the best leads and scripts so now it's time to get equipped with the right tools. If you want to make your prospecting more efficient, top-producers recommend using a dialer. Having a dialer such as the Power Dialer from REDX cuts your prospecting time in half and allows you to reach more homeowners in less time. 
Another useful tool is a lead management system like Vortex®. This allows you to keep all of your leads, notes, dispositions, and details in one place. It's easy to let your leads fall through the cracks if you don't have somewhere to manage it all.
The right prospecting tools help you be more efficient in your prospecting so you can spend more time talking to potential clients!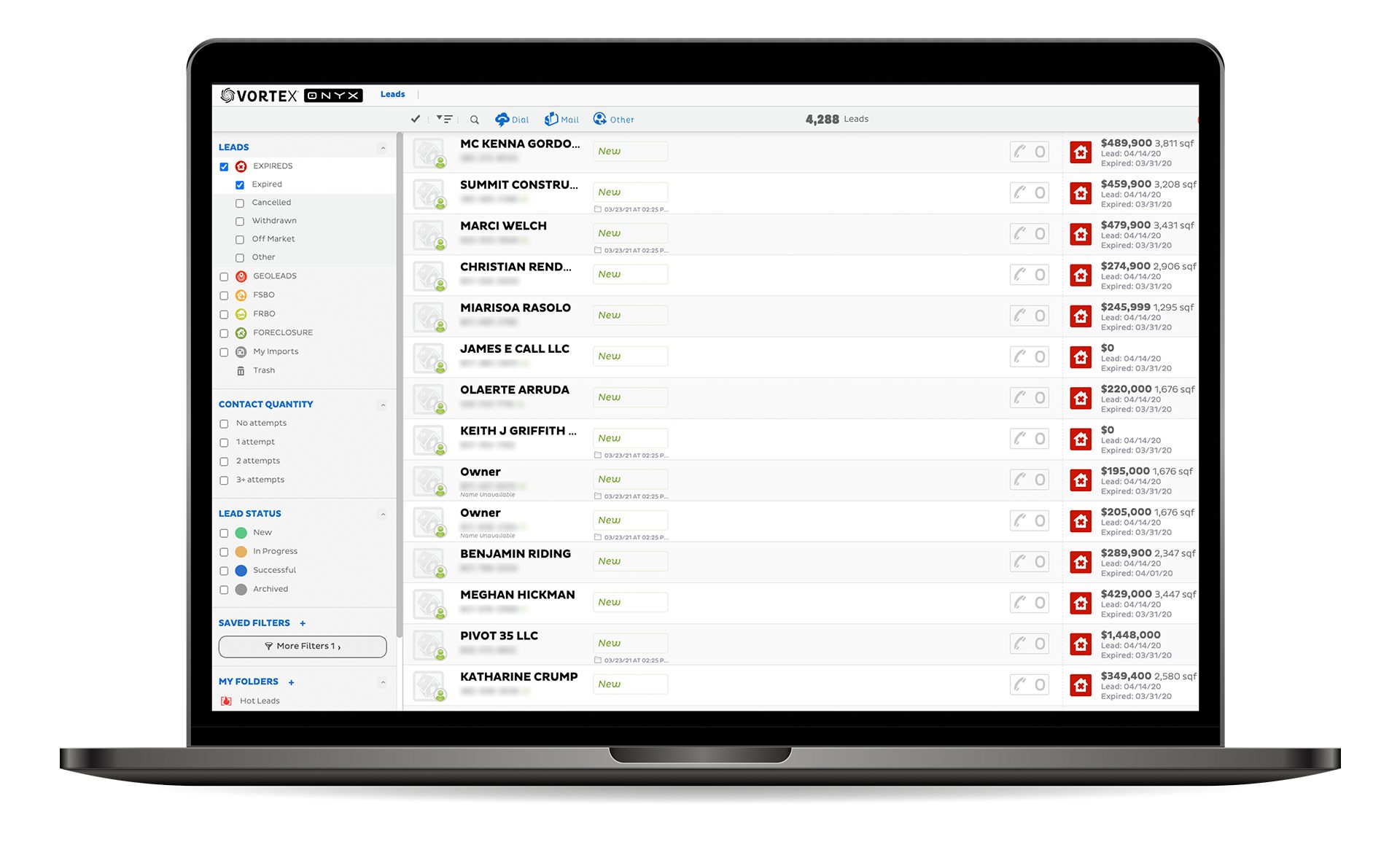 ---
6. Run a Social Ad Campaign
While calling Expired Leads is the fastest way to get a hold of these homeowners, reaching out through different avenues could help you land the listing. 
A popular method to get in front of these leads is launching a social ad campaign on Facebook and Instagram. This method can be an incredibly effective way to get your name in front of expired listings. Make sure your ads speak to the specific frustrations and pain points of an Expired and make it visually appealing so when someone scrolls through their feed, they stop to look at your ad.
Use this article to discover how you can export your REDX Expired Leads and put them into Facebook to target them. This way when you give them a call, they'll already know who you are!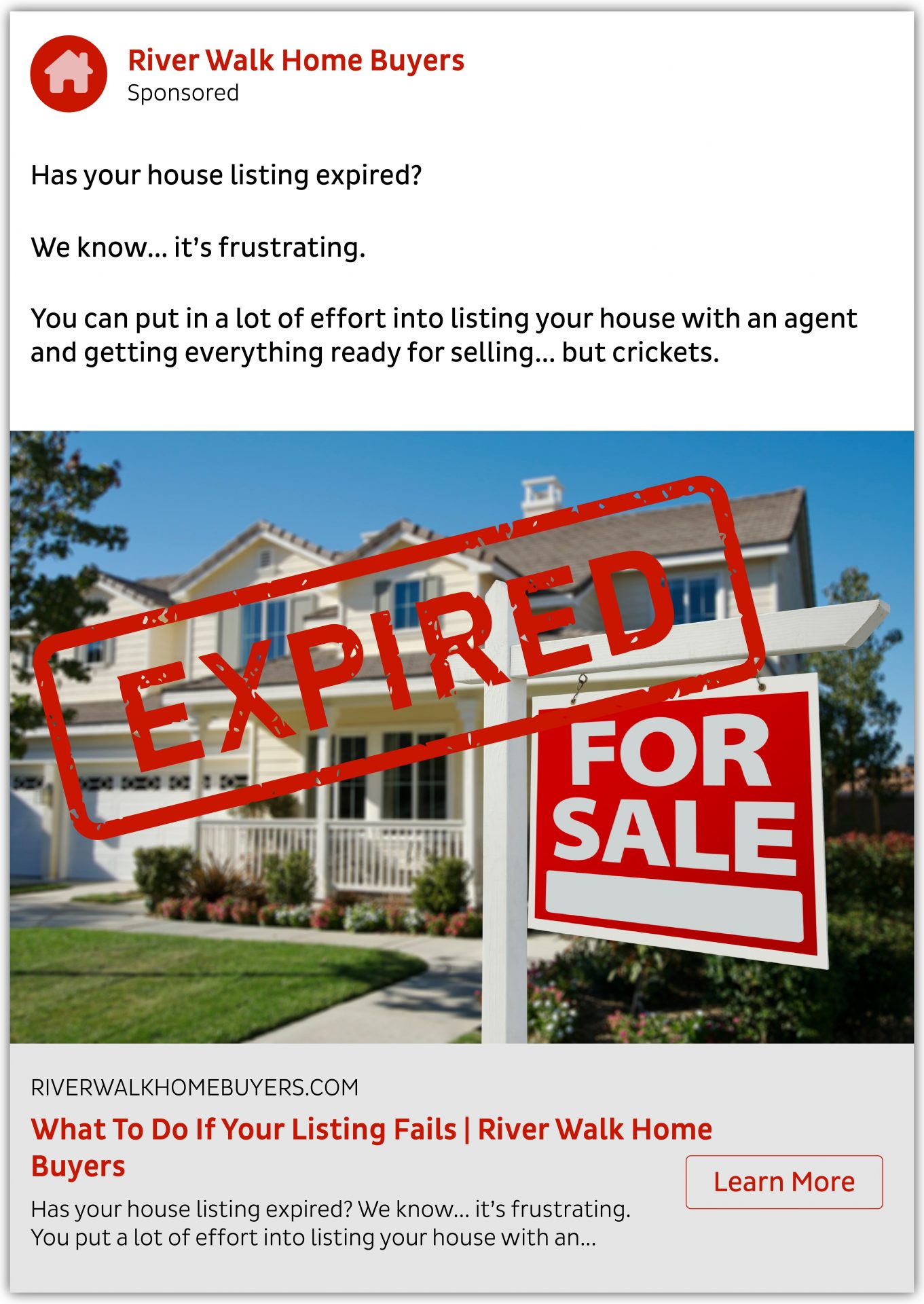 ---
7. Send a Direct Mail Campaign
Another great way to get your name in front of these leads is to send a direct mail campaign. Top agents have identified mailers as one of the top ways to maintain constant contact with your target market. Mailers allow you to build credibility without even being in front of the homeowner. 
If you're a REDX user, you can use the mail merge tool within Vortex to create custom mailer templates to send directly to your leads. You can also use companies like ProspectsPLUS! or Postcard Mania to create and manually send mailers to your leads.
Check out this article for more mailer strategies to spread recognition for your business and land more listings.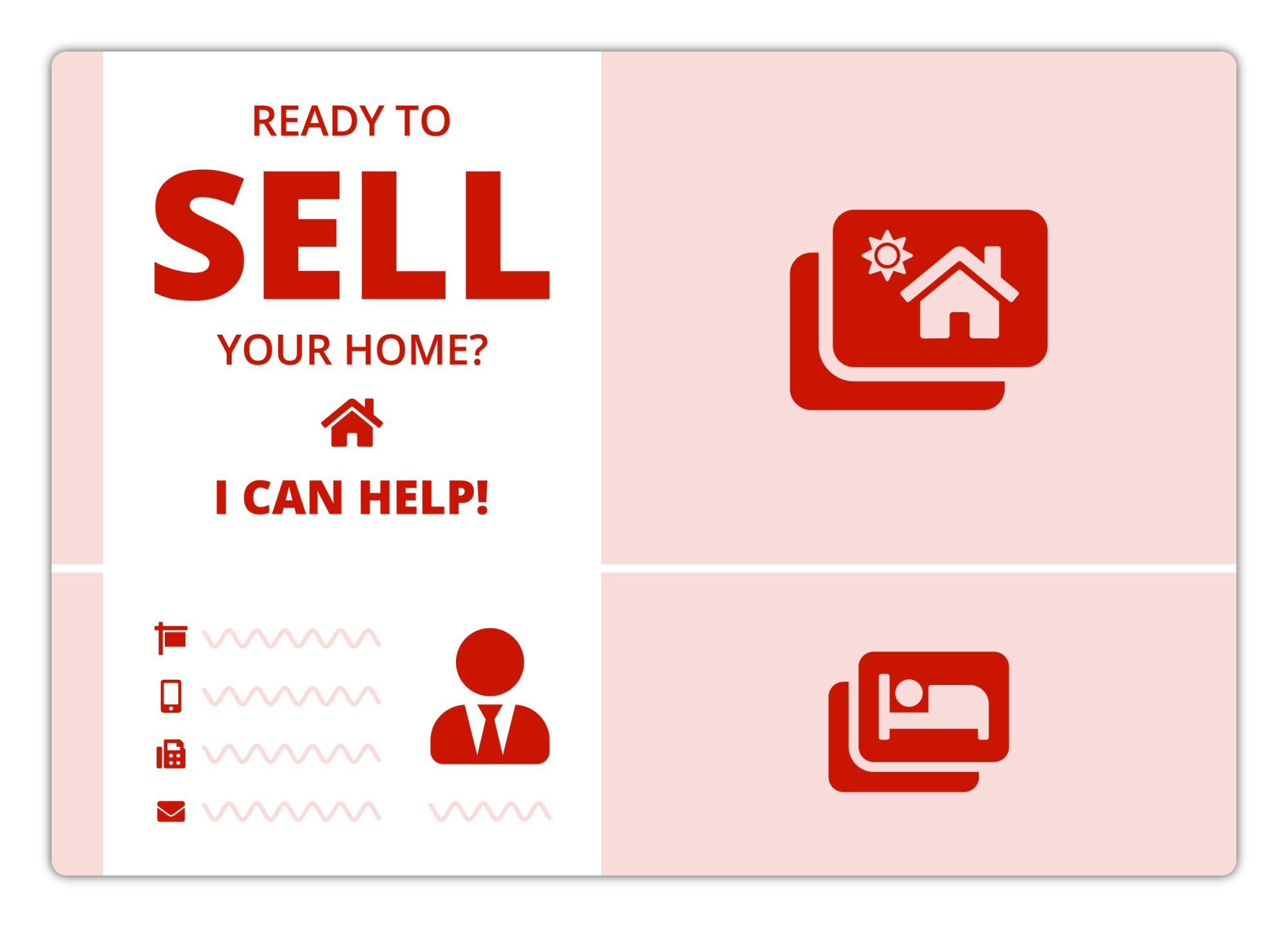 ---
8. Don't Forget to Follow Up
All of these tips won't help you if you forget to follow up with your leads! Most listings don't come from the first call, but rather the 4th, 5th, or even the 9th call from a trusted agent. Plus, most agents won't follow up more than twice, which means you can outlast the rest and convert more leads if you stick with it.
Be sure to ask leads for their preferred method of communication whether it's over the phone, texting, or email. This way you know exactly how they want to be contacted. 
Then all you need to do is determine your follow-up regimen. You can use helpful tools like crmgrow to help you systemize your follow-up and make it easier to keep track of all your contacts and leads.
---
Now It's Up to You!
Top-performing real estate agents who use REDX agree: calling Expired Leads is one of the most effective ways to find, list, and sell properties. Now it's up to you to determine whether or not you implement the tips in this article!
---
About REDX
REDX is an all-in-one lead data and prospecting platform that helps agents connect with qualified buyers and sellers. The platform includes seller leads, a dialer with up to three lines, social media tools, and a lead management system that simplifies first contact and follow up.
Click here to watch a demo, or call (800) 731-7339 ext. 1 to learn more about Expireds, FSBOs, GeoLeads, FRBOs, Pre Foreclosures, our Power Dialer and Social Media Tools for paid ads and content creation.
REDX maintains the position that all agents should be compliant with state and federal telecom laws – learn more here.