Getting consistent listings in your area starts with becoming the neighborhood expert. As you circle prospects and bring value to homeowners, your reputation in the area will build and you'll have people coming to you to list their home. Use these 5 strategies to effectively stand out and become the go-to local agent in your area.
Circle Prospect with GeoLeads™
Generate Interest for Your Buyers
Make More Connections for Future Business
Generate Leads by Door Knocking
Use Market Insights to Stand Out
More about GeoLeads
---
1. Circle Prospect with GeoLeads™
Circle prospecting is one of the best ways to pack your pipeline no matter the market conditions. Homeowners always want to know the value of their home and what's happening in the neighborhood.
Use GeoLeads™ to inform homeowners about market trends in their neighborhood and offer to do a CMA so they know how much equity they have. This allows you to become the known real estate expert in the area while packing your pipeline for future listings. You can also inform them of open houses, just listed/just solds, neighborhood resources, and more.
GeoLeads PLUS is the upgraded version of GeoLeads that gives you all of the market trend data right inside Vortex. So instead of researching and trying to find information about your market, it will be waiting for you every time you login to prospect!
---
2. Generate Interest for Your Buyers
If you have buyers who are looking for a certain type of home, power prospector Trudy Padilla found a way to utilize REDX GeoLeads on behalf of her buyers. Trudy identifies a handful of features her buyers are looking for in a house and begins to hunt. She then uses GeoLeads to circle prospect for sellers that fit her buyer's criteria, and notifies them that she has someone who might want to buy their home. 
This is a great solution if your buyer's ideal location or house isn't on the market. This is a service you can offer your buyers that brings tremendous value to them and allows you to get both sides of the transaction!

---
3. Make More Connections for Future Business
In real estate, the breadth and depth of your connections can directly influence your success. Just as the old adage says, "It's not what you know, but who you know." Building and nurturing a robust database of connections isn't just a one-time task; it's a continuous endeavor that pays dividends in the long run. Here's how to expand your sphere and make the most of it:
Step 1. Proactively Expand Your Database 
The real estate industry is as much about people as it is about properties. Every person you meet, be it at an open house, a community event, a casual coffee shop conversation, on over the phone – is a potential entry for your database. Always be prepared with business cards, and invest in a high-quality CRM system where you can segment and categorize your contacts. This isn't about merely adding names, but understanding the potential relationship each name represents.
Step 2. Nurture Your Connections
Adding a contact to your database is only the beginning. The real value comes from nurturing those connections. Regularly check in with your contacts, not just with sales pitches but genuine check-ins. Send newsletters with neighborhood updates, remember birthdays, and share industry knowledge that they might find useful. By being genuinely interested in their well-being and real estate needs, you position yourself as not just an agent, but a trusted advisor.
Step 3. Turn Your Database into a Referral Engine
When you've effectively built and nurtured your database, it can become one of your most important referral sources. Happy clients often lead to referrals, but only if you're top of mind. Keep in touch, ask for feedback, and when the time feels right, gently request referrals. Encourage satisfied clients to leave reviews or testimonials, which you can share on your website or social platforms. Remember, a positive word of mouth is worth its weight in gold in the real estate business.
Step 4. Leverage Your Database for Future Business
As you continue to grow and diversify your connections, recognize the potential for future business opportunities. Past clients might be looking to upscale, downsize, or invest. New contacts might have real estate questions or needs. By consistently engaging with your database and offering value, you ensure that when someone thinks of real estate, they think of you.
---
4. Generate Leads by Door Knocking
While door knocking takes more time and effort than dialing on the phone, the benefits can often outweigh the inconvenience. Homeowners let their guard down when you meet them face-to-face versus assuming you're a telemarketer over the phone. This presents a better opportunity for quicker connections and allows you to detail the benefits of selling their home. 
As you walk through a neighborhood, be prepared with relevant information about each home or area. A well-prepared door-knocking strategy could mean the difference between a potential listing and a door slammed in your face. The power of REDX GeoLeads or GeoLeads PLUS will produce powerful door-knocking results.
GeoLeads will help you identify addresses, names, and other property information to find and target the exact doors you want to knock. GeoLeads PLUS provides 5,000 more lead lookups, email addresses, and specific property and homeowner information such as market and lifestyle trends, financial information, and construction data that will add professional value and a personal touch to every conversation. Being informed and prepared before each door-knocking session will help you build rapport and establish trust with every homeowner.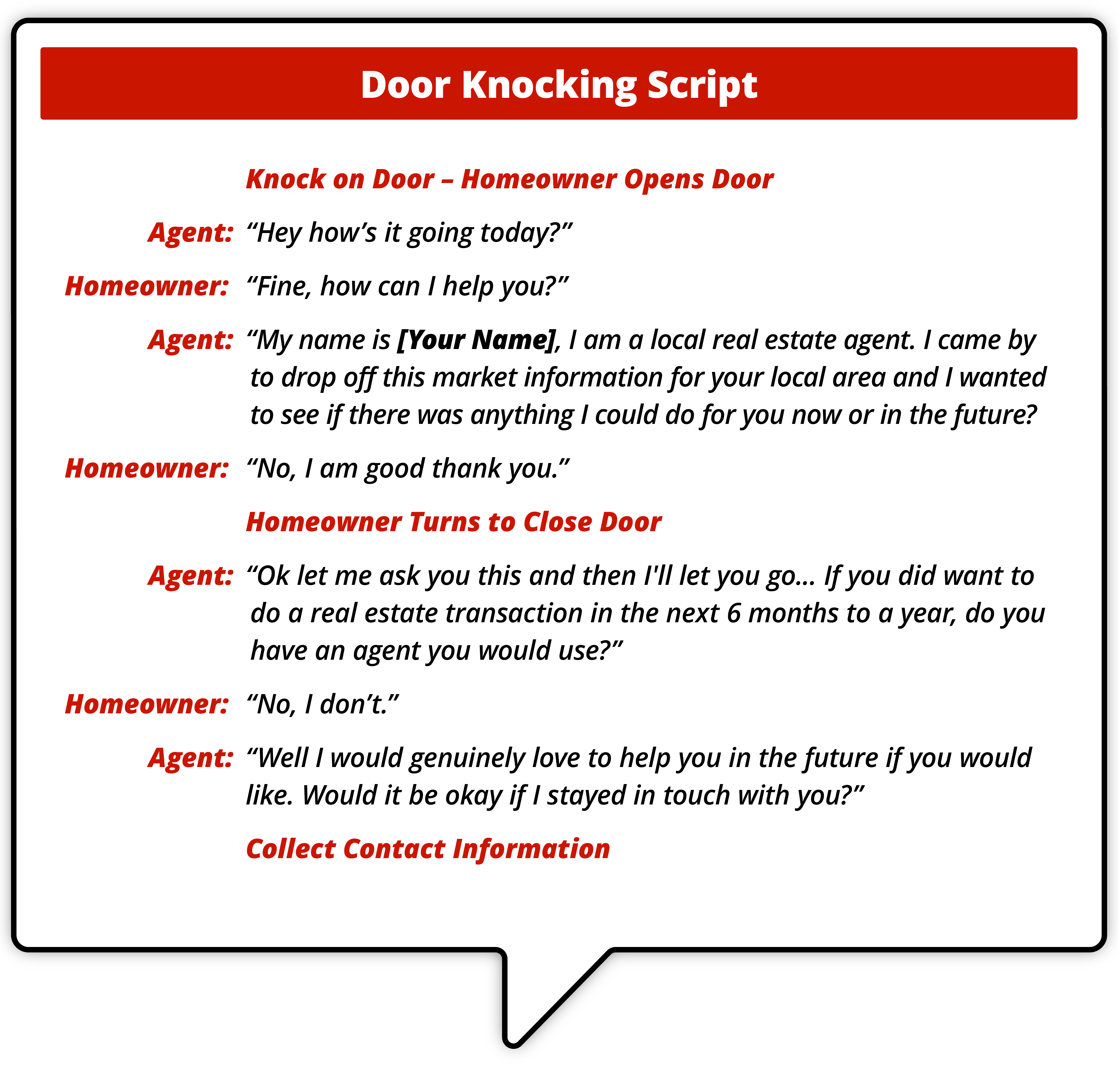 ---
5. Use Market Insights to Stand Out
In such a crowded market, you should always be looking for ways to set yourself apart from other agents in your area. If you aren't knowledgeable about the market, buyers and sellers aren't going to trust you. With REDX PLUS products, you'll have quick access to vital market information while you prospect. Use these market insights to discover specific data such as median list price, price per square foot, and average price increases. 
Imagine the confidence you can build by sharing relevant market information specific to each and every home. Be the source of knowledge for your potential clients by positioning yourself as the market expert.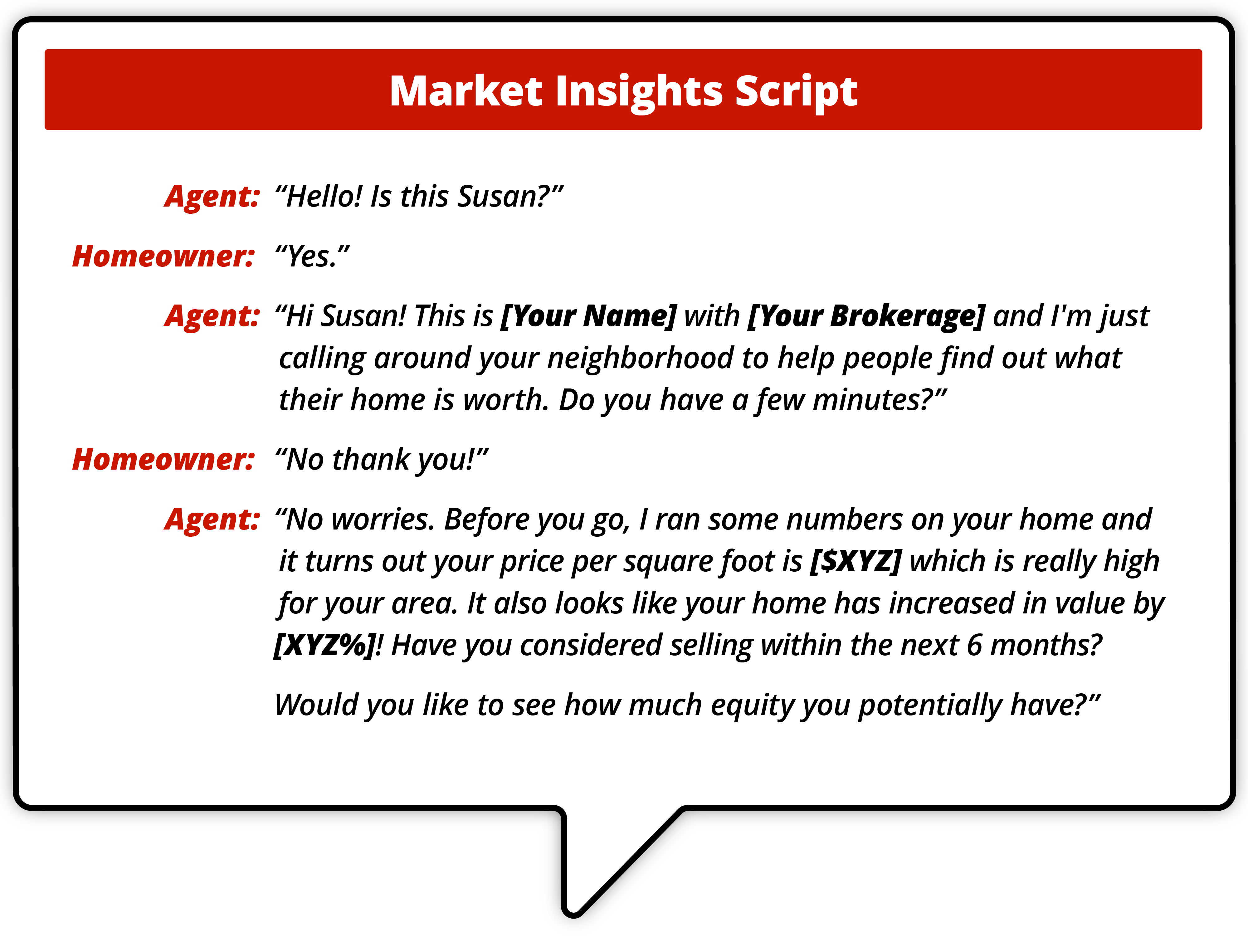 ---
The Opportunity in Front of You
These strategies work if you use them. It's up to you to take action and do what it takes to become the local neighborhood agent. If you do your research, bring value to homeowners, and stay consistent, be prepared to pack your pipeline with limitless listings.
---
More about GeoLeads
First, GeoLeads creates leads on demand. Every agent needs a constant flow of new contacts that turn into transactions both now and in the future. With GeoLeads, you can connect with thousands of homeowners every month to build a powerful pipeline for your business.
Second, GeoLeads are incredibly versatile. They can be used to find motivated buyers and sellers in any neighborhood and at any price point.
And finally, GeoLeads is the very best tool for your just listed and just sold campaigns. All you have to do is select an area on the map near your recent listing or sale, click "create leads," and REDX does all the work to generate a fresh list of leads for you to connect with.
You can get GeoLeads, with 2,500 unique property searches that include addresses, names and phone numbers, for only $69.99/month. Or try GeoLeads PLUSand get 5,000 more property searches, email addresses, and market data insights for $129.99/month.


---
About REDX
REDX is an all-in-one lead data and prospecting platform that helps agents connect with qualified buyers and sellers. The platform includes a skiptrace service for seller leads, a dialer with up to three lines, social media tools, and a lead management system that simplifies first contact and follow up.
Click here to watch a demo, or call (800) 731-7339 ext. 1 to learn more about skiptrace products for Expireds, FSBOs, GeoLeads, FRBOs, Pre Foreclosures, our Power Dialer and Social Media Tools for paid ads and content creation.
REDX maintains the position that all agents should be compliant with state and federal telecom laws – learn more here.